New York Mets: 10 Things We Learned After This Weekend's Subway Series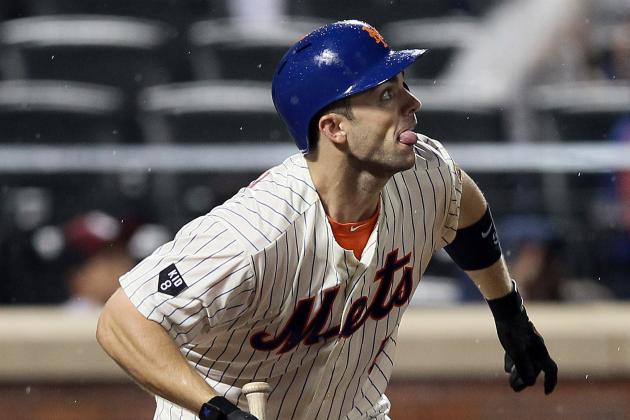 Elsa/Getty Images

In the past weekend, the Mets played relatively well, but still lost their home series against the Yankees, two games to one.
In the opening game, the Mets' offense scored five runs against Andy Pettitte and held on to win by a score of 6-4. Ike Davis' grand slam was the defining moment of the game.
In the second game, the Yankees once again broke out their power swings, as Raul Ibanez hit a game-tying, three-run home run and Eric Chavez hit a pinch-hit home run off the bench to give the Yankees a 4-3 win.
In the series finale, the great anticipated pitching duel between C.C. Sabathia and R.A. Dickey did not live up to its billing, as both starters struggled and Dickey's 44 2/3 scoreless inning streak came to an end. Robinson Cano's home run in the eighth inning was the difference in the game as the Yankees took the series and won 6-5.
Overall, the Yankees relied heavily on their power, while the Mets relied heavily on rallies and clutch hits with two outs and runners on base. Neither of the starters in each game really dominated the opposition, but the Yankees' bullpen certainly outperformed the Mets' underachieving bullpen, and that made a huge difference in the end.
Regardless, no one should start dismissing the Mets from being a postseason contender, just because they lost to a very good Yankees team. The Mets are still in the upper echelon within the National League and should remain in contention for the postseason throughout the entire regular season.
Here are 10 things that we have learned from the Mets following their weekend against the Yankees.
Begin Slideshow

»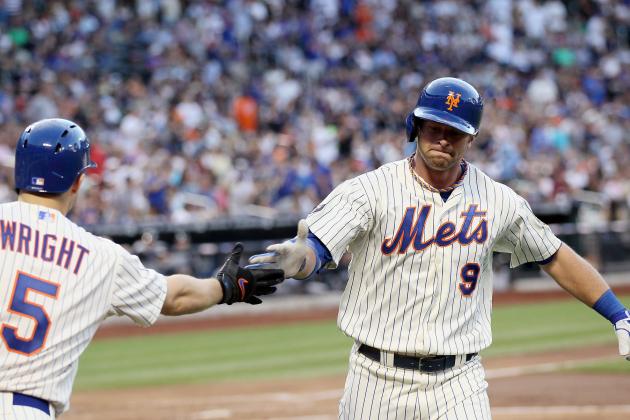 Elsa/Getty Images

Aside from David Wright, the Mets' current lineup is not star studded by any means. In fact, it's a lineup that most teams normally wouldn't take too seriously.
However, this is a scrappy group of players that care as much about winning as anyone. They have hit well in clutch situations, as illustrated by the team's .281 batting average with two outs and runners in scoring position.
There have been quite a few games so far this year in which the Mets looked like they were completely out of it and had no chance of coming back. But in many of these situations, the Mets have fought back and kept the other team on their toes. They may not have won all these games in the end, but no one can say the 2012 Mets have ever given up because they have kept the vast majority of their games close. And a lot of credit for that should go to manager Terry Collins for getting his players to believe in themselves and to never give up.
These hitters will not amaze fans and critics with spectacular run production numbers necessarily, but they will put the ball in play and manufacture runs as well as anyone. And this should not come as a surprise, because over the years, the Mets have always been known to put together runs in similar ways.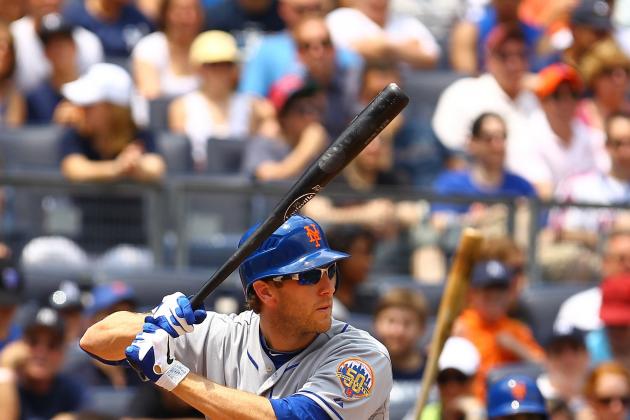 Al Bello/Getty Images

Despite the Mets' heroics so far in clutch situations, there have also been times where their offense's lack of power has hurt them when other teams, such as the Yankees and Reds outslug them.
The Mets are currently tied for ninth in runs scored and tied for fourth among National League teams. However, they are also tied for 25th in home runs and 13th among National League teams in that category with just 57 total home runs.
Among those 57 home runs, Lucas Duda has 11 of them, Scott Hairston has nine, David Wright and Ike Davis each have eight, and Kirk Nieuwenhuis has seven. That makes up for more than two-thirds of the team's home run total.
If the Mets plan on keeping up with power teams such as the Reds, they will need to start hitting more home runs. At this point in the season, it's safe to say that Wright, Davis and Duda have all been underachieving with their home runs. All three were widely predicted to each hit over 30 home runs this year and drive in well over 100 RBI. However, Duda might be the only one that even has a shot at 30 home runs now, unless at least one of them goes on a home run tear in the second half of the season.
Not only do the Mets' power hitters need to live up to their expectations, but the Mets' other hitters need to step up their power numbers as well. If he returns to the field, Jason Bay will need to start hitting more home runs in order to save his job with the Mets, who could very well eat up his remaining contract and release him at the end of the season.
Daniel Murphy has the longest current home run drought in all of baseball. Being that he hit 12 home runs in 2009, there's every reason to believe that the drought will end and Murphy will start showing some power down the road as the weather gets warmer.
Kirk Nieuwenhuis and Scott Hairston have been the two big power surprises this year, and hopefully, they will keep hitting well whenever they play. Others like Ruben Tejada and Josh Thole simply are not going to hit a ton of home runs. It would be nice though if they could hit a lot of doubles, get on base, and maybe each hit over five home runs this year. It would be a great addition to the Mets' offense.
All in all, the Mets' offense is not built around power and home runs, but if they could generate some more instant offense, it will only help more to win.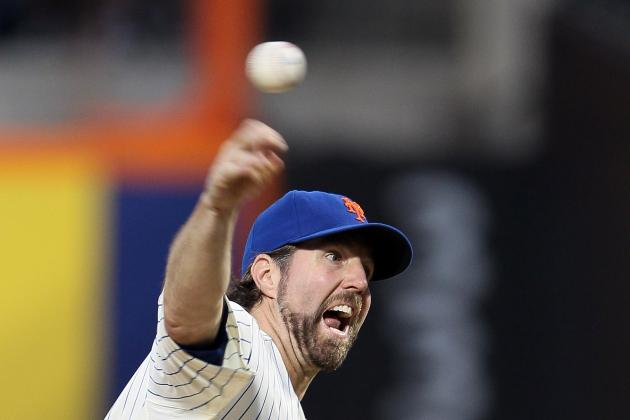 Elsa/Getty Images

R.A. Dickey has shocked and become the best pitcher in baseball this year. Unfortunately, his 44 2/3 inning streak came to an end during his last start this past weekend against the Yankees and his winning streak came to an end as well. He had a no-decision in the Mets' loss that night.
Some may have thought that Dickey was not going to let up for the rest of the year and that it would become the greatest streak of pitching ever. Apparently, it was not meant to be and Dickey showed that he is mortal, just like everyone else.
By no means should fans start thinking that Dickey will decline and not pitch particularly well after the All-Star break. He is still the clear cut favorite to start for the National League in the All-Star Game and still has the potential to win over 20 games, assuming he stays healthy, pitches well and gets solid run support.
Dickey simply had a bump in the road during his last start. He is a very hard worker, will analyze his mistakes, correct them and redeem himself in his next start against the Dodgers.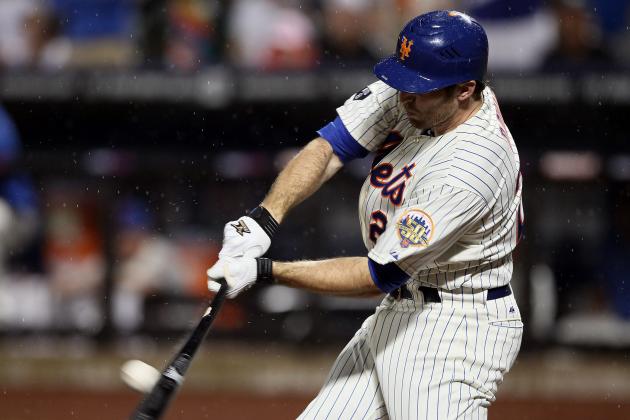 Elsa/Getty Images

Coming into this season, a lot of high expectations were placed on Ike Davis. More than 30 home runs, 120+ RBI, a Gold Glove Award and an All-Star appearance all seemed to be guaranteed for Davis this year prior to the start of the regular season. However, Davis surprised everyone by getting off to a very slow start and having a huge slump that lasted well over two months.
After getting benched periodically against left-handed starters and dealing with the possibility of getting sent down to the minor leagues, Davis has improved his swing and has been hitting much better in the past week. He is still batting under .200, but hopefully, he will keep hitting well and have a huge second half because the Mets will need his bat in order to seriously contend for the postseason.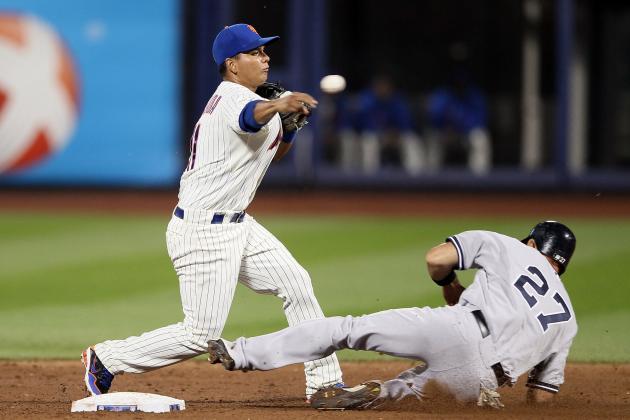 Elsa/Getty Images

Mets shortstop Ruben Tejada was activated from the disabled list prior to the series finale against the Yankees. He had been out since May 6 after falling onto his head while trying to beat out a ground ball.
Prior to the injury, Tejada had been batting .305 (currently batting .312) and had been among the league leaders in doubles. He was a pleasant surprise to the Mets' offense, especially considering the big shoes he had to fill in replacing longtime Mets shortstop Jose Reyes, who now plays for the Miami Marlins.
In fact, Tejada's season so far has been a lot better than that of Reyes, and Mets fans would have never expected that. If Tejada keeps getting on base and playing as well as he did before his injury, he will definitely help the Mets succeed more.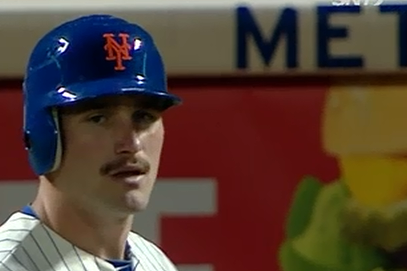 Mets second baseman Daniel Murphy got off to a great start this year, but has been in a slump within the past month or so. As a result, he has recently shaved the majority of his beard, only keeping a mustache.
Some players do this as a good luck charm, which is clearly what Murphy is trying to do. However, Murphy has yet to really break out of his slump, so the mustache may not necessarily be the key to him bouncing back.
If Murphy can start hitting again within the next week or two, that would be great. But if not, he should definitely get rid of the mustache and find a new good luck charm if this one does not work.
Regardless, the fact that the Mets just sent Jordany Valdespin back down to the minor leagues indicates that the Mets still believe in Murphy as their everyday second baseman. Now that he knows his job isn't on the line, Murphy can use this confidence to get on base more often and get back to being the consistent hitter he has always been.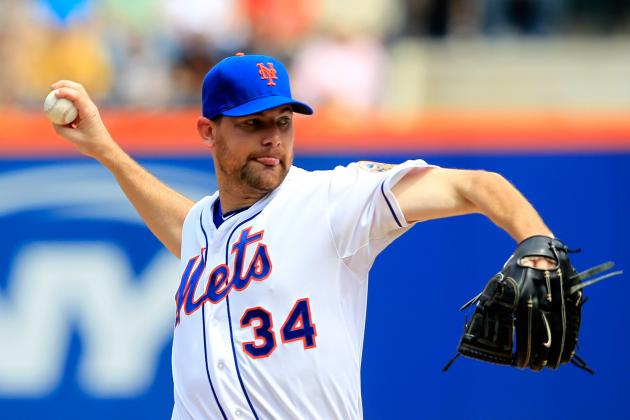 Chris Trotman/Getty Images

Ever since Citi Field opened in 2009, the Mets have underachieved. While at least some of those teams may not have been particularly talented overall, one thing prevented the Mets from reaching their full potential in the 2009, 2010 and 2011 seasons. Injuries were what prevented the Mets from reaching their full potential in those years more than anything.
In 2009, the Mets made 22 separate trips to the disabled list and this list at times included David Wright, Jose Reyes, Carlos Beltran, Carlos Delgado, Johan Santana, John Maine, Oliver Perez, Jonathon Niese, and J.J. Putz, among others. It was simply a lost season due to the injuries and lack of minor league depth at the time.
2010 was more promising at times, but the Mets faded down the stretch and were out of contention by September. Beltran missed the first half of the season due to knee injuries and Santana was shut down once again at the end of the season with a shoulder injury.
The Mets' 2011 season ended up not too much different than 2010. David Wright though was the one whose absence was critical to the team's performance as he missed two months with a stress fracture in his lower back. Santana's injury woes continued as he ended up missing the entire season while recovering from shoulder surgery. Once again, the Mets had a tough time dealing with injuries to their star players.
So far in the 2012 season, the Mets' injury bug has bitten again. Mike Pelfrey is out for the season after having Tommy John surgery and is very unlikely to throw another pitch in a Mets uniform. Ruben Tejada just returned from almost two months on the disabled list and backup infielder Ronny Cedeno had a disabled list stint of his own. This prompted the Mets to promote Omar Quintanilla as the new shortstop due to the lack of major league depth at the position. Andres Torres, Justin Turner, Ramon Ramirez, and Frank Francisco have also spent time on the disabled list.
Injuries happen to every team, but the Mets need to keep their starters, and even their bench players healthy in order to really stay in postseason contention down the stretch. With the way this season has been going, the Mets cannot afford another big injury.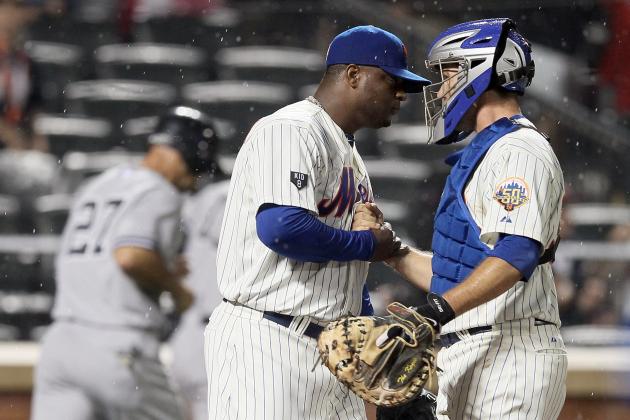 Elsa/Getty Images

Speaking of injuries, Frank Francisco being placed on the disabled list this past weekend has led to Bobby Parnell inheriting the closer duties for the Mets.
While Parnell has not been particularly good in his career as a closer, Francisco had not been spectacular by any means. He has 18 saves, but has often made his job more difficult than the Mets and their fans would prefer. And of course, he has had his occasional meltdowns as well. That, plus his physical appearance can only remind Mets fans of Armando Benitez, the Mets' closer from 1999-2003.
All in all, if there is one area that the Mets really need to improve in regards to trades, the bullpen is by far the top priority. Francisco is signed to a two-year contract to close, but being that his season has been uneven, the Mets really need to get a better closer if they plan on seriously contending for postseason play.
There will certainly be a few closers available by the trade deadline. The two best fits for the Mets would be Huston Street of the Rockies and Jonathan Broxton of the Royals. Street was the 2005 AL Rookie of the Year, and a dependable closer over the years for the A's, Rockies and now the Padres. He's also a pitcher with postseason experience, which is something that few players on the Mets' roster can relate to.
Broxton on the other hand had some good years with the Dodgers, including 36 saves in 2009. However, he battled injuries last year, but has been surprisingly good this year as the Royals' closer. He was originally supposed to be their setup man, but became the closer once Joakim Soria had Tommy John surgery.
Other closers that should be available at the trade deadline include Matt Capps of the Twins, Brett Myers of the Astros and Rafael Betancourt of the Rockies. Hopefully, the Mets can acquire one of these closers and strengthen their bullpen depth as they continue making a run for the playoffs.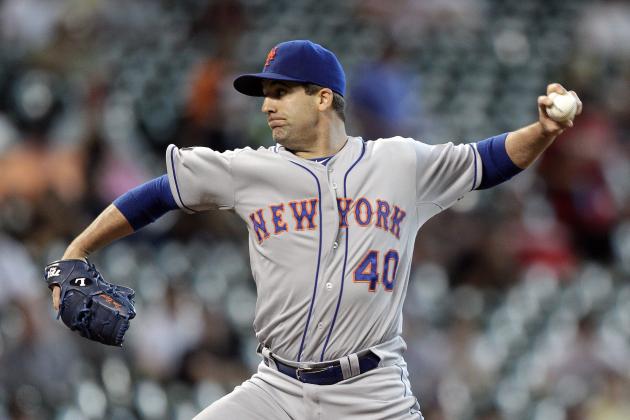 Bob Levey/Getty Images

Not only do the Mets need a new closer, but they also could really use another left-handed reliever in the bullpen.
Going into the season, the Mets were confident that they could survive with Tim Byrdak as their only left-handed reliever because they felt Ramon Ramirez would pitch well to left-handed batters as well. However, Ramirez has struggled against lefties and was on the disabled list for a few weeks before being activated this past weekend.
While Byrdak has pitched very well all season against left-handed hitters, the Mets still need another left-handed reliever. The Mets cannot afford to overwork Byrdak. Byrdak has always been a workhorse, but the Mets need him to last the entire season.
The organization should have learned already based on the experiences of former Met Pedro Feliciano. Former manager Jerry Manuel overworked Feliciano to the point that it felt like he was in every Mets game from 2008-2010.
In reality, Feliciano made 86 appearances in 2008, 88 appearances in 2009 and a Mets' single-season record 92 appearances in 2010. Those numbers are alarming, even for a left-handed specialist. Feliciano then signed a multi-year contract with the Yankees, but has yet to throw a pitch in pinstripes. Why? Feliciano blew out his shoulder due to him being overused in those three years and his career may not be the same because of it.
While young and unproven talent like Robert Carson may not be the answer down the stretch, it would be wise of the Mets to look for another veteran left-handed specialist to not only lighten Byrdak's workload, but just to be there in case an appropriate left-handed matchup occurs and Byrdak has already been used. More depth in this area will only help the Mets. Hopefully, they can pull this off.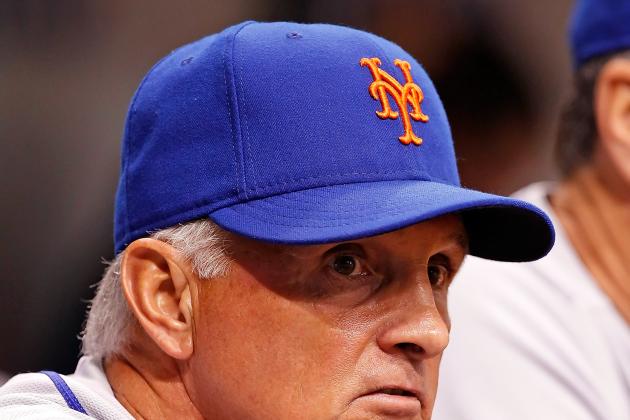 J. Meric/Getty Images

The Mets this year were widely expected to not just contend this season, but to finish in last place with possibly more than 100 losses. While the Mets' organization itself may have found those predictions to be laughable, the Mets' season so far has surprised everyone else.
No one expected R.A. Dickey to become the best pitcher in baseball. No one expected Johan Santana to stay healthy and throw a no-hitter. No one expected Ruben Tejada to fill Jose Reyes' shoes as well as he has. Most of all, no one expected the Mets to be five games over .500 and within five games of the division lead in late June.
The Mets have been overachieving all season long and this should not be stopping any time soon. The NL East division at one point was very close, but it has since been separating a bit and will continue to separate.
The Phillies are too marred by injuries and old age to continue their streak of division championships, which had lasted from 2007-2011. The Marlins have been inconsistent and have faded towards the bottom of the division in the past month. Their offense and bullpen have both been inconsistent, while manager Ozzie Guillen's front page headlines have become big distractions. The Atlanta Braves just lost their ace Brandon Beachy for the rest of the season, and like the Marlins, their own offense has been quite inconsistent as well. Look for them to fade into third place for the rest of the season, but not fade as badly as the Phillies and Marlins.
As for the Nationals, they are the team to beat in the division. They have gotten great starting pitching, solid pitching from their bullpen and timely hitting from an offense that has finally developed thoroughly. Furthermore, the Nationals have been hit hard with injuries all year long, so when players like Jayson Werth and Drew Storen are finally healthy again, the Nationals will be even better.
All in all, the second half of the season in the NL East is going to become a battle between the Mets and the Nationals. Regardless, the Mets still have a great shot at least at getting one of the wild card spots. With the Reds about to run away with the division title in the NL Central, the only other potential contenders there are the Cardinals and the surprising Pirates. The Cardinals will stay in the mix all season, while the Pirates must keep playing as well as they have to stay afloat.
Out west, the Dodgers and Giants have become the two elite teams in the NL West division. One of these teams will win the division and the other will likely take one of the wild card spots. If the Diamondbacks start playing better and get a few more injured players back onto the field, they could make a late season run, but for the most part, the Mets' main Wild Card competition will be against the Cardinals, Pirates, Giants and Dodgers.
It should be an exciting summer. Hopefully, the Mets keep playing well and get back to the postseason for the first time since 2006. It would certainly put a big exclamation point to this celebrated 50th anniversary season.