New England Patriots: Predicting Top Offensive, Defensive Stat Leaders in 2012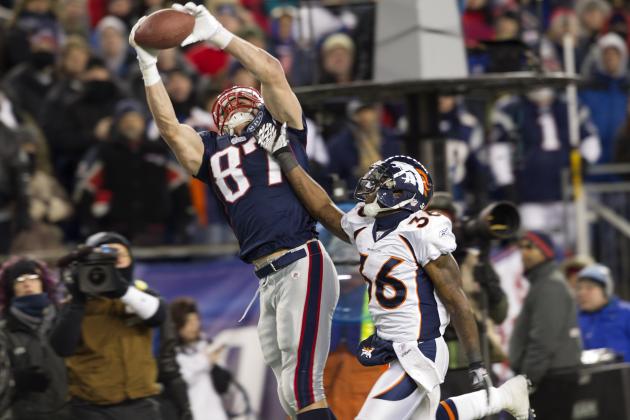 The New England Patriots don't begin training camp until July 26th, and their current roster is nearly double the size it will be when finalized. There's still a lot of offseason to be had and a lot to learn about how this squad will shape up.
With that said, we know a lot more than we don't know heading into the 2012 season. I've applied that knowledge, along with some predictions, to come up with projections for every major stat category.
So let's dive in to see what both sides of the football will be up to next year.
Begin Slideshow

»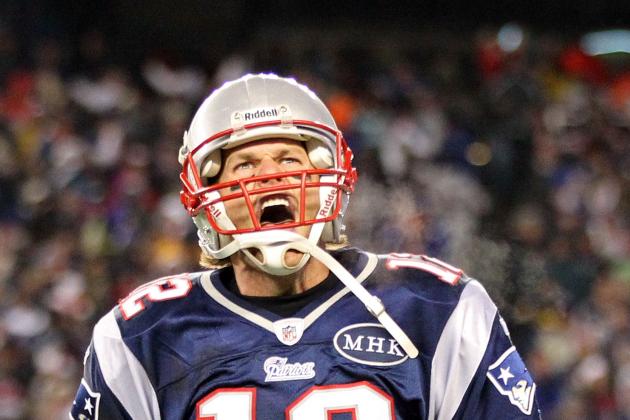 Jim Rogash/Getty Images

No surprise here as Tom Brady is the projected stat leader in this category. The soon-to-be 35-year-old is entering his 13th season in the league, and it has the early ingredients of being one of his best seasons as well.
2011 Stat line: 5,235 yards, 39 TDs, 12 INTs, 105.6 Rating
Brady set career highs in attempts and completions in 2011 along with career marks in passing yards, average per attempt and average per completion.
Recent Career Average: 4,585 yards, 38 TDs, nine INTs, 107.5 Rating
A look at his RCA, which identifies his average production since 2007, gives a bit of a framework to work with when projecting future stats.
2012 Projected Stat Line: 4,900 yards, 45 TDs, nine INTs, 110.0 Rating
Brady posted the second highest yardage total in league history last season, so I find it difficult to project much more than 4,900 yards. It's possible that he could shatter it, especially with the addition of Brandon Lloyd, but that would be quite the feat. His touchdown production should see a spike similar to that of the '07 season.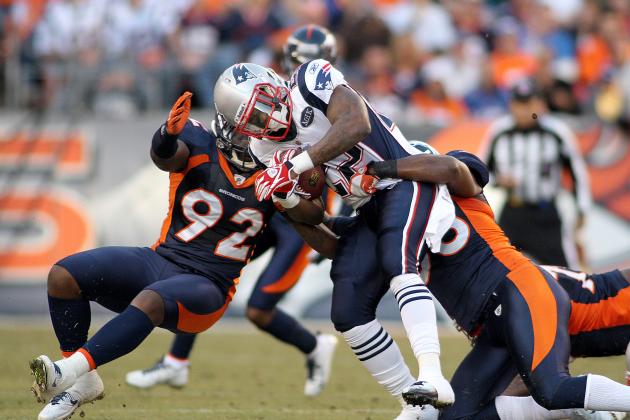 Marc Piscotty/Getty Images

There's no exact science to projecting the production of young players, especially those with two career starts to their name. But we'll work with what we've got with regards to Stevan Ridley, who is my projected starter at running back.
While the Patriots' backfield rarely produces a legitimate No. 1 ball carrier, Shane Vereen's lack of size really limits how much he can cut into Ridley's snaps. It'll be interesting to see how that dynamic works itself out and how the team elects to work veterans Danny Woodhead and Joseph Addai into games.
Ridley should receive the bulk of goal-line carries. While he only had one score on his 87 attempts in 2011, he punched 15 touchdowns through as a senior at LSU. New England's activity in the fullback department this offseason may be with the red zone in mind.
In his 2010 season with the Tigers, Ridley was showcased in the offense, receiving 249 carries. He rolled along to a 4.6 YPC average that carried him to 1,147 yards. With the Patriots' line in front of him as a rookie, Ridley looked even more impressive, posting a 5.1 average.
Ridley received 10 or more touches six times in 2011, twice in the preseason. These were games in which Ridley was given an opportunity to establish himself and create a rhythm. He carried the ball 79 times over these six games while collecting 455 yards. That works itself out to a 5.8 YPC average, proving that this is a ball carrier who gets better the more the ball is fed to him.
If Ridley can earn the snaps, he may break the 1,000-yard mark, but it's a big if.
2012 Projected Stat Line: 175 carries, 822 yards, eight TDs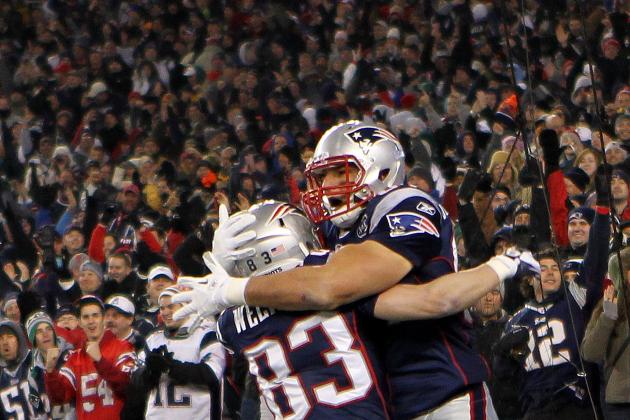 Jim Rogash/Getty Images

As tempting as it is, I won't put the entire receiving corps up for discussion. But with Wes Welker, Brandon Lloyd, Jabar Gaffney, Aaron Hernandez and Rob Gronkowski, the Patriots own five receivers with 1,000-yard ability.
Welker has done it annually, when healthy, since 2007. Gronkowski shattered the league record for his position last year when he posted 1,327 yards. Hernandez missed two games and was only 90 yards shy of the mark himself. Lloyd's 1,448 yards led the league in 2010, and Gaffney posted a career-best 947 yards in 2011.
Obviously they aren't all going to reach the mark, but it ought to be a competitive race to see how many can.
Welker is likely to lead the team in receptions, but he has never played on a squad that highlighted both a dual tight end set and a vertical receiver. He's only had to compete with Randy Moss and the Boston TE Party separately, so his production may suffer, at least according to his standards.
2012 Projected Stat Line: 105 receptions, 1,166 yards and seven TDs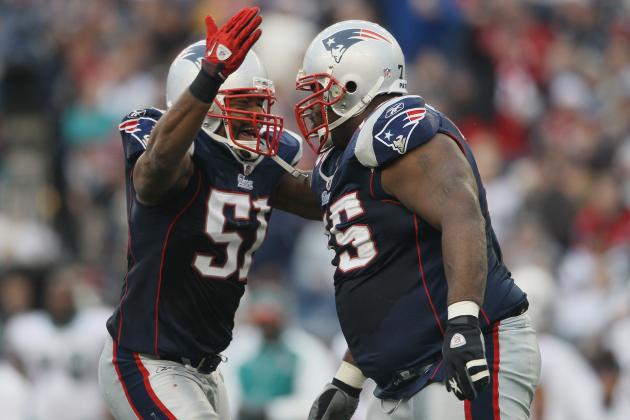 Elsa/Getty Images

The tackle sheet is a near lock to sport Jerod Mayo's name atop it by season's end, so I've taken it a bit farther. We'll take a look at the top five in this category, as there's a bit of a trend developing.
In 2009 the top two tacklers were linebackers (Mayo and Gary Guyton), and they were followed by two safeties and a corner. 2010 saw Mayo lead two safeties and two corners in the tackle department. Last year the top five again consisted of two linebackers, a safety and two corners.
So it's safe to say Mayo will again lead the team, and he'll be closely followed by the likes of Devin McCourty and Kyle Arrington. Pat Chung should make the top five along with Brandon Spikes, health permitting.
2012 Projected Stat Lines
Mayo: 105
Chung: 92
McCourty: 85
Spikes: 78
Arrington: 75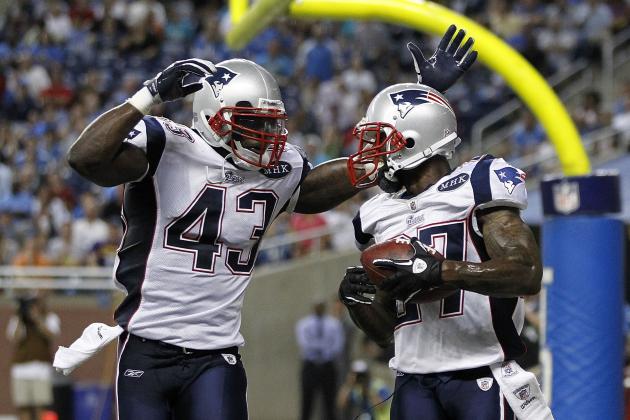 Leon Halip/Getty Images

Vince Wilfork probably won't grace us with his presence in this stat category this season. The 325-pounder finished second on the team with two interceptions in 2011, and he posted a team-best return average.
It was Arrington who led the team in picks, and his seven takeaways were good enough for first in the entire league. Arrington, still only 25, has 20 passes defended and eight interceptions to his name since 2009.
McCourty, a year younger, has 30 passes defended and nine interceptions in the same time frame. Arrington far outplayed his younger teammate last year, but I don't expect that trend to continue moving forward.
Expect McCourty to get his hands on the ball a bit more in 2012. Arrington should still see his chances while he moves to the slot in sub packages, but I don't expect him to lead the team.
2012 Projected Stat Line:
McCourty: 6
Arrington: 3
Sterling Moore: 2
Chung: 2
Ras-I Dowling: 1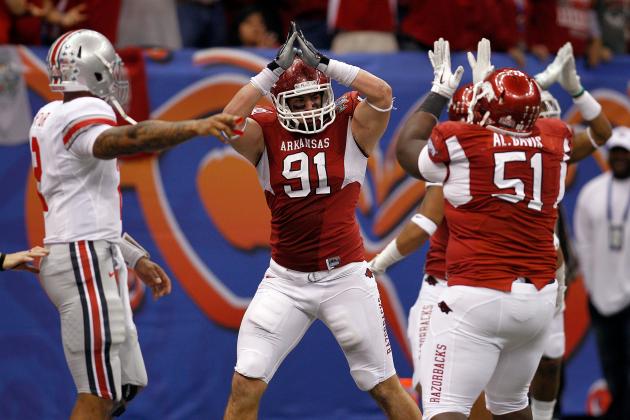 Chris Graythen/Getty Images

I've opined on the topic many times before, but for purposes of this projection, Andre Carter isn't under contract so it's hard to take him into consideration. His re-signing is likely, but we've seen stranger things happen, so nothing is a lock.
With Carter out of the picture for now, there's a lot of snaps to go around. Mark Anderson left via free agency as soon as the Bills proved willing to throw a couple more zeros on the back end of his checks. Mike Wright received his release and will likely retire in the near future, leaving another role open.
New England retains some talented rushers with the likes of Jermaine Cunningham and Rob Ninkovich returning. The Patriots also addressed the position, bringing in Trevor Scott and drafting Chandler Jones and Jake Bequette. All three stand to get a good look in pass-rushing situations, and each brings a unique size and skill combination.
I love the sky-high potential of Jones, but he's only 22 and came out a year early. I doubt we'll see his ceiling as a rookie, but I think Bequette is a completely different story. He strikes me at first glance as a Mike Vrabel on steroids.
The 6'5'', 274-pound hybrid runs the 40-yard in 4.82 seconds and is an absolutely mauling presence from the line. I think he's about to shock some people in a Patriots uniform.
2012 Projected Stat Line: 46 tackles, eight sacks, three forced fumbles