Miami Heat: Breaking Down the Champs' Top Options with 1st-Round Draft Pick
June 25, 2012

Rob Carr/Getty Images
While Dwyane Wade and his Miami Heat teammates continue their four-day bender, Erik Spoelstra and Pat Riley will turn their full attention to the upcoming NBA Draft.
With the 27th pick in the first round, the Heat will have several intriguing options. This is one of the deepest drafts in recent memory, so with some smart scouting and a little luck, Miami could find themselves a draft day gem.
The following players would be excellent fits in Miami. 
Draymond Green - SF, Michigan State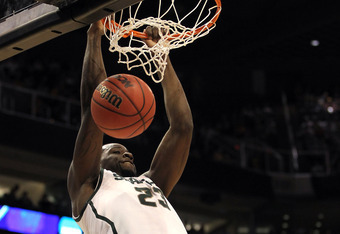 Jamie Squire/Getty Images
The most dangerous aspect of Miami's current roster is its versatility. Chris Bosh is a power forward, but he can play center as well. Dwyane Wade is a shooting guard, but he can defend the other team's point guard if necessary. Shane Battier defends multiple positions and LeBron James does everything one can possibly do on a basketball court.
Add Draymond Green to the mix, and the Heat's versatility would become an even more valuable asset.
The Michigan State product is the epitome of the "point forward." He's 6'8" with a 7'1" wingspan, but he has the passing and shooting ability of a point guard. He also played his best ball on the biggest stage, averaging 17.6 points, 13.6 rebounds and 6.0 assists in the 2012 NCAA tournament, including a triple-double in the Spartans' first-round game against LIU Brooklyn.
Green definitely comes with a few caveats. He's not an explosive athlete by any means and he may not be able to guard anybody at the NBA level. But with the rest of the Heat's defense helping him out, I doubt that would be much of an issue.
Green would be the perfect selection for Miami.
Festus Ezeli - C, Vanderbilt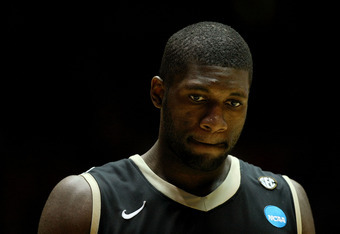 Christian Petersen/Getty Images
Chris Bosh may be the Heat's best option at center, but if the Heat want to save him some wear and tear, as well as add a bigger man for potential meetings with Dwight Howard and Andrew Bynum, then Ezeli is the perfect choice.
The 22-year-old is absolutely massive (7'0", 264 pounds, 7'6" wingspan) and would be an excellent addition to Miami's already fearsome defense. He averaged two blocks in 23 minutes per game for Vanderbilt last season, and with some proper coaching, he could be even more effective at the next level.
He's very raw offensively, but Ezeli would certainly improve the Heat's chances at defending their title.
Doron Lamb - SG, Kentucky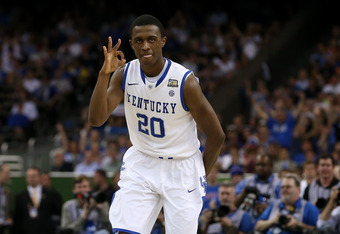 Jeff Gross/Getty Images
Mike Miller was incredible in the Heat's title-clinching Game 5, but with his back issues, he may not be around next season. If that's the case, Miami would be wise to get another outside shooter.
Lamb would be the perfect addition, as the Kentucky sniper shot 46.6 percent on threes last season. He might be two small to play at the same time as Mario Chalmers and Norris Cole, but Spoelstra could definitely throw him in with Wade, James, Battier and Bosh for a super potent offensive lineup.
I would take Ezeli or Green if they were available, but Lamb would be one hell of a consolation prize for Miami's bench.