Miami Heat Parade 2012: Don't Expect Any Title Promises This Time Around
June 25, 2012

Ronald Martinez/Getty Images
The last time the Miami Heat had this much cause for celebration, it was nothing short of an affair to remember.
And, oh how the media remembered.
Not days after LeBron James arrived to his South Beach destination, he began making the kind of promises that can get a guy in trouble—namely those of the "seven titles" variety. It wouldn't be a stretch to imagine similar ruminations amidst the exuberance we all expect to see at Monday's championship parade.
Perhaps we'd even find ourselves more understanding this time around after the collective heart softening that's transformed all but the most hardened of LeBron's critics.
Maybe this post-championship iteration of the Big Three is even entitled to a little braggadocio.
Don't count on it, though. 
This is an older and wiser team. Yes, older by only a couple of years, but wiser by a long shot. 
In Cleveland, LeBron James had never known the firestorm he was capable of producing. He was the biggest of fish in a much smaller market, and he'd given NBA fans at large little reason to have an opinion about him one way or the other.
The move to Miami changed all that, and in so many ways.
From the ill-advised one-hour spectacle that was ESPN's broken news to the engagement party that was premature by almost any estimate, James was surrounded by as much hot water as Southern Florida. Just how much of that controversy was of his own doing depends on who you ask.
According to the Heat's ownership, James at the very least deserves a break for those early title promises (via the South Florida Sun-Sentinel's Mike Berardino):
"That wasn't his party, that was our party," Heat owner Micky Arison said after Game 5. "LeBron had nothing to do with it. He didn't even know about it until the night before, when he signed the contract. It was our fault for not rehearsing everybody properly, but we had no time."
Let there be no doubt that every word uttered since Game 5 and from here on out will be anything but unrehearsed.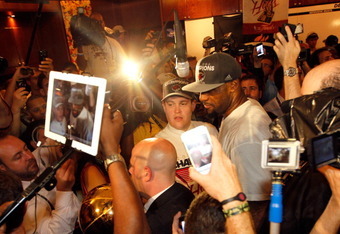 Mike Ehrmann/Getty Images
There's a reason James is becoming more likable: PR coaches know what people like.
Among the many things staged this Monday, expect every word coming out of LeBron James' mouth to be one of them. The same goes for anyone else who has any good ideas for whipping Heat fans into a frenzy.
To be sure, this isn't just about putting one over on the gullible public, and nor is it some existential abandonment of authenticity.
This is simply what the Heat must do to keep their focus where it belongs, which is quite obviously on the court. The parades and the parties are par for the course, but they can't become a rallying cry for this team's most potent challengers.
After all, this club already has a target on its back. The last thing it needs is a reason to pull the trigger.
With the older, wiser and better-rehearsed Heat of today, there almost certainly won't be one.