Arizona vs. South Carolina: Game 1 Score, Reaction and Grades for CWS Final
June 25, 2012

The Arizona Wildcats put a stranglehold on the best-of-three 2012 College World Series Finals with a 5-1 Game 1 victory over the South Carolina Gamecocks.
Andy Lopez's club continued its winning ways by jumping out to an early 2-0 victory on a two-run homer from cleanup hitter Robert Refsnyder.
That's all starting pitcher Konner Wade needed as he went the distance in this one, allowing just one earned run on six hits in a complete-game performance.
Twitter Reaction
Here's one fan's interesting take on what makes Arizona so successful:
Let's be serious, Arizona is dominating because almost all of our players wear stirrups. That's how baseball works.

— Josh Billinson (@jbillinson) June 24, 2012
Tough to argue with this:
If Arizona plays tomorrow like they're playing now, they will be coming home with the trophy.

— Justin Campbell (@just_cam212) June 24, 2012
The Wildcats have been second to none in this tournament:
Arizona is too good. They have been on fire this post season

— kyle pluta (@Plutacris) June 24, 2012
The Arizona Athletics account knows how close a championship is:
Final in Omaha: Arizona 5, South Carolina 1. The Wildcats are one victory away from the NCAA title. BEAR DOWN, Arizona

— Arizona Athletics (@AZATHLETICS) June 24, 2012
Grades for Key Arizona Players
Konner Wade: A
Wade had no trouble with the anemic Gamecocks lineup in this one. He ran into some trouble in the sixth inning but worked his way out of a jam, giving up one run on an Evan Marzilli single.
After throwing a complete game against the UCLA Bruins his last time out, Wade turned in another masterful performance for Lopez tonight. He made his coach look like a genius for running him out there in a pressure situation.
Robert Refsnyder: A
Refsnyder is the best hitter the Wildcats have in their loaded lineup. When he's hitting, there's really no reason for Arizona to lose. 
He's hitting .361 after going 2-for-3 with two runs, two RBI and two walks in Game 1. On a night when it was so important for Arizona to jump out to an early lead, Refsnyder helped them do exactly that with a two-run bomb in the first inning.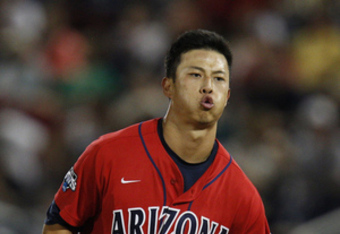 Grades for Key South Carolina Players
Forrest Koumas: C-
Koumas wasn't dreadful, but 2.1 innings won't get you a good mark any way you slice it. He allowed three runs (two earned) on four hits, and was lifted after 42 pitches when he found himself in a bases-loaded jam with one out.
Ray Tanner definitely had Koumas on a short leash, but Koumas wasn't at his best. In a game as important as this, a starting pitcher needs to be on top of his game, and Koumas certainly wasn't, earning the loss.
L.B. Dantzler: C
Walker has been one of the Gamecocks' best hitters all season, but couldn't put his team in a position to win all night. It wasn't that he played poorly, it was just that Wade was so dominant.
South Carolina's second-leading RBI man grounded out to first with runners on first and second to put an end to his team's sixth-inning rally. That was really the only time they had a reasonable chance of piling on some runs, so for Dantzler to come up short in the clutch really hurt them.
Deciding Factor: The First Inning
The Wildcats put themselves in prime position to take a 1-0 series lead when Robert Refsnyder hit his first-inning two-run dinger to get his team on the board. 
South Carolina scored more than five runs in just two games since the regional round of the tournament. That hurts the Gamecocks on the scoreboard, but it also kills them psychologically.
When a team jumps out to an early lead, and you know you have a hard time scoring as it is, it becomes that much harder for a team to dig itself out of a hole.
Game MVP: Konner Wade
Wade pitched his second straight gem in this one. If his crafty performance against UCLA wasn't enough to convince you that this kid has what it takes to succeed in big games, then Game 1 had to change your mind.
He was labeled as a No. 3 option at best for the Wildcats, but he pitched like an ace tonight in Omaha to give his program the inside track to winning its first College World Series title since 1986. 
What's Next?
The Arizona Wildcats will look to close out the series and hoist the trophy tomorrow, Monday night at 8 p.m. ET on ESPN, while the South Carolina Gamecocks will head back to their hotel rooms and try to figure out how to mount a comeback.
They say the second game of a best-of-three is always the most important, no matter who wins. The Wildcats are hoping that it will be the last game they play all season.