Anthony Rizzo to Chicago Cubs: Prospect's Call-Up Will Be Huge for Bryan LaHair
June 25, 2012

Jonathan Daniel/Getty Images
The Chicago Cubs finally made the move that everyone has been waiting for since Theo Epstein and Jed Hoyer took over the North Side.
Anthony Rizzo will be arriving at Wrigley Field on Tuesday, and according to CSN Chicago (via Twitter), the highly touted prospect will be making his debut that same day against the New York Mets in front of the home crowd.
BREAKING: @CSNMooney reporting the #Cubs have called up top prospect Anthony Rizzo, who will debut Tuesday. cmcst.sn/aaa0Y6#CubsTalk

— CSN Chicago (@CSNChicago) June 25, 2012
While this is huge news for the Cubs and their fans, there is another person who could really benefit from this situation—former starting first baseman Bryan LaHair.
LaHair started out the season on the right foot, batting a ridiculous .390 average with five home runs and 14 RBI for the month of April. Of course, this would turn out to be too good to be true from the 29-year-old. This June, LaHair batted just .226 with three home runs and six RBI.
There really hasn't been much relief though for LaHair, who will now likely permanently move to the outfield after making the move last week to right field.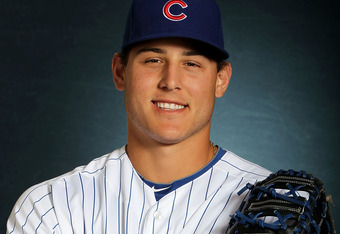 Jamie Squire/Getty Images
There has been effective play from guys in the lineup like Starlin Castro and Alfonso Soriano, but even their inconsistencies are enough to make it a tough battle for this team to find production from the same guys everyday.
Now the team will have a fresh bat—a left-handed one at that—to really bring some firepower into the lineup that has been struggling behind relatively strong performances from the starting pitching staff. 
It will remain to be seen how Rizzo does now that he is in the big leagues, but there is no doubt that his strong minor league numbers give something fans and teammates could really use at this point in this discouraging season.
Rizzo also likely won't be the last potential future Cub to be called up this season.
The Cubs are going to have to give guys like Brett Jackson and Josh Vitters their shot soon. There will need to be an opening, but given the way this year is going, one would have to figure the team has nothing to lose in giving these other guys a chance.
Given the Cubs' current situation, they really need players like LaHair to produce. With Rizzo in the lineup, the two could be a dangerous one-two punch from the left side of the box.
LaHair isn't likely going to start hitting nearly .400 again, but the relief he will receive from Rizzo's presence will hopefully give him an opportunity to produce better numbers—as he was in the early goings.
LaHair has proven he can produce, but now he must do so with this Cubs team starting to insert the pieces for what their future lineups will look like. Now is the time for him to prove that he could be a fixture of this Cubs outfield.
This team is nowhere close to being its final product, but things will start looking much better if both LaHair and Rizzo can prove to be a positive force together.