Wimbledon 2012: Bernard Tomic and Dark Horse Players Who Could Upset Contenders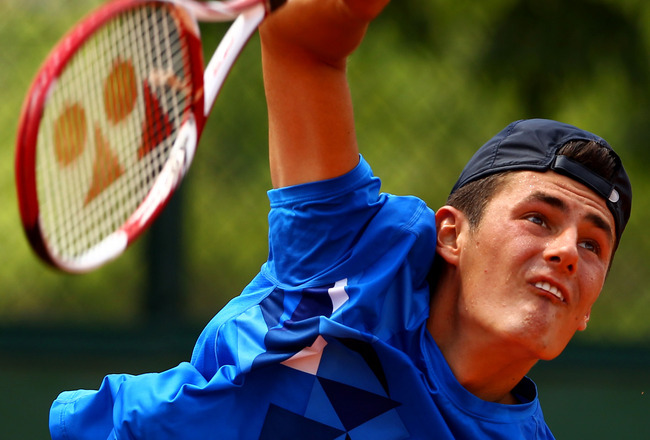 Clive Brunskill/Getty Images
The wait is over, tennis fans. The much-anticipated 2012 Wimbledon is now finally under way, and the tournament's underdogs are ready to make their presence felt.
Bernard Tomic is one of several dark horses at the Championships who has a significant shot at a historic run in 2012, coming off of a 2011 quarterfinals run that was halted by Novak Djokovic.
The enjoyment of the Grand Slam tournaments is in watching the never-talked-about players shine and the good-but-not-great players shock the world against contenders, and that's exactly what these Wimbledon matches should have in store for fans.
Here are Tomic and the five dark-horse players in the men's draw who could take down the greats of the game at Wimbledon.
No. 20 Bernard Tomic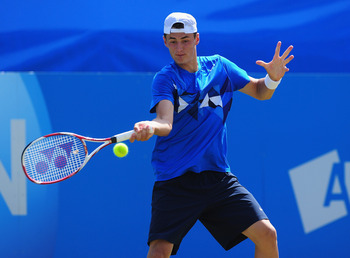 Mike Hewitt/Getty Images
He's just 19 years old and already the No. 28-ranked player in the world.
Talk about impressive.
In spite of a title drought this season, Tomic put up an impressive performance in the 2011 Championships at Wimbledon. His run would go all the way to the quarterfinals, where he finally went down to eventual champion Novak Djokovic in four sets. He was able to really battle Djokovic and was a couple of tough points away from forcing a fifth set in that match.
Make no mistake about it, experience is a significant factor at these Championships. Although he is just 19 years old, the impressive run last season will resonate quite well this season. If he can bring that game with him, Tomic may well be a force to reckon with at this tourney.
No. 15 Juan Monaco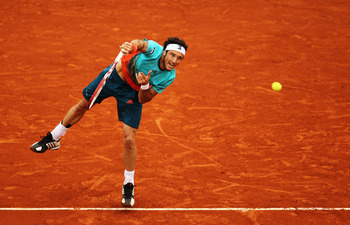 Matthew Stockman/Getty Images
He's 21-8 this season, boasts two titles and is up to a career-best No. 14 ranking in the world.
The Argentinian talent has the ability to make an impressive run at Wimbledon in spite of the fact that he was eliminated in the first round in last year's tournament. At that point, he had the misfortune of playing against Mikhail Youzhny to start things off.
He comes into this year's tournament with momentum, finishing his run in the fourth round at Roland Garros after taking down Milos Raonic. His win at Houston, in which he took down American talent John Isner in the final, was a telling one for Monaco as well.
Monaco has been on the move this season, and soon enough, he will be a top-10 player in the world, as there is no question he will be a big-time threat at this Grand Slam.
No. 5 Jo Wilfred Tsonga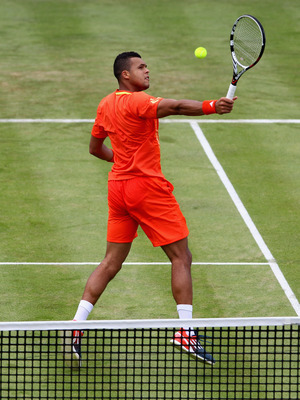 Clive Brunskill/Getty Images
A powerful game and outright success at these Championships make Tsonga a clear favorite to compete with the top-ranked talents in the field at this year's tourney.
France's finest had a 2010 quarterfinals finish and a 2011 semifinals appearance. It was a run that put Tsonga in a top-class of players in the world as it was one of the longest runs he had ever made at a Grand Slam and the deepest at Wimbledon.
Coming off what was easily his best tournament of the last four seasons, Tsonga has it in him to make another semifinals run in this year's Wimbledon.
No. 14 Feliciano Lopez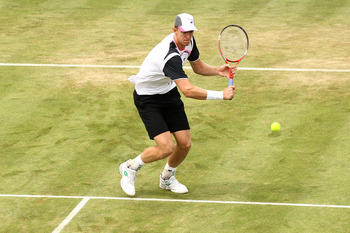 Matthew Stockman/Getty Images
One of the premier Spanish talents in the game has plenty to prove on this grand stage, and he will likely do just that.
This is a player who shines bright at the Wimbledon Championships. He has recorded two quarterfinals appearances in his last four tourneys here and has a significant chance to do just the same in 2012. Not to mention, the last quarterfinals appearance came in 2011.
Lopez boasts a relatively easy draw, as the top talent he would face in the early rounds is a potential third-round matchup against Alexandr Dolgopolov (No. 27). Watch out, field; an experienced, sound player like Lopez could shock the field this season at Wimbledon.
No. 6 Tomas Berdych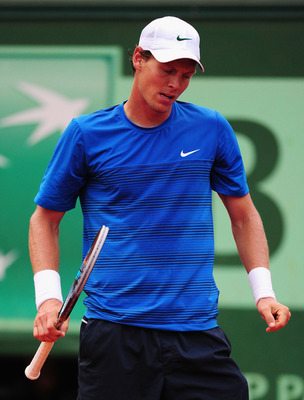 Mike Hewitt/Getty Images
The 2010 Wimbledon finalist will be bringing his A-game in 2012. Make no mistake about it.
Berdych is one of the top players in the sport and has shown every bit of ability to compete with the best of the best. He was able to make a quarterfinals run at the Australian Open and record a fourth-round finish at this year's French Open en route to what has been a promising season.
Watching this talent play, it is clear he wants to and has the ability to get back to the big stage. He will look to take the momentum from a solid year into this tourney and will likely move through with ease. With the exception of Richard Gasquet on his side of the draw, there is little competition for Berdych until he gets to about the quarterfinal stage.
Keep Reading