2012 NBA Draft: Why Tyler Zeller Is Most Underrated Prospect in Draft
June 25, 2012

Andy Lyons/Getty Images
In every professional draft, no matter what the sport, there are always players who fly under the radar and are considered to be a steal for whatever team is able to pick them up on draft day. Well, for the 2012 NBA draft, that underrated player just happens to be 22-year-old UNC center, Tyler Zeller. 
According to NBADraft.net, Zeller is currently slated to be drafted in the No. 12 slot by the Milwaukee Bucks. However, despite being a projected lottery pick, Zeller is still being underrated by NBA couts and will be the "steal" of the lottery, if such a thing exists. Here's why: 
Zeller's Outstanding Athleticism 
For a guy who's a legit seven-feet tall and weighs 250 pounds, Zeller possesses terrific athleticism. Coming into the NBA, Zeller will be faster than most centers, and can run up the floor and score in transition as well as any other big man in the draft. He's got excellent leaping ability, which will help him block shots and continue to be an above-average rebounder at the next level. 
Zeller's athleticism will help him adjust once he gets into the NBA. While he'll have to improve on his strength, he'll be able to fall back on his ability to use his superior coordination and quickness that a lot of other big men in the NBA lack. Zeller will surprise a lot of people with his ability in the pick-and-roll game, as his superior footwork will allow him to beat opponents to the rim.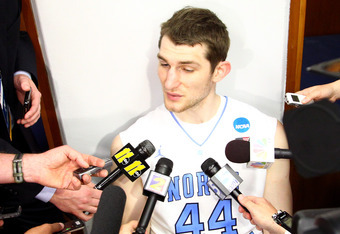 Dilip Vishwanat/Getty Images
His Arsenal of Offensive Weapons
Zeller isn't just a one-trick pony, which is the case for other big men in the draft (Andre Drummond in particular) who don't show the ability to adjust their offensive game to put the ball in the hoop. Zeller doesn't have that problem. He can score off the pick-and-roll, he can post-up down low and score close to the rim, and he can score in transition with the best of them, as previously mentioned. 
Zeller also utilizes a right-handed hook shot that is amongst the best weapons of anyone in the draft. He's shown the ability to score consistently with the hook, which he uses by posting up and spinning to his left before shooting it. It's an extremely difficult weapon to defend against, as he releases from such a high elevation.
If Zeller can find success at the next level with his hook, he's going to be a formidable offensive weapon for whatever team he winds up playing for. 
On top of all of that, Zeller can also shoot from the outside. When he's given the time to set his feet and square up to the basket, he has very solid range for a guy his size, which is just another dimension to his game. And he's an 81 percent free-throw shooter, which should only improve once he gets to the NBA.
Simply put, Zeller is an offensive force who has shown he has numerous ways to score the basketball. He's a threat to score whenever the ball is in his hands on the offensive end, which makes him highly dangerous to play against, and at his best he's a tough matchup for anyone in the league.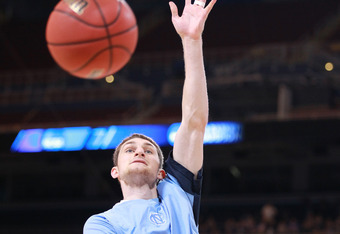 Andy Lyons/Getty Images
The Sky is the Limit For Zeller
If you're an NBA GM and you decide to draft Tyler Zeller, at the absolute worst you're going to get a player who's very intelligent, can score and can give you decent defense. Basically, the minimum you'll get is a big man that can come off the bench, knock down some free throws, give you solid minutes and be a great contributor for many years.
However, the upside with Zeller is enormous. A player with his amount of athleticism and scoring ability, could turn into a terrific player. If Zeller can continue to get stronger and maintain his speed and quickness advantages, he could be scary good. And if he can develop his left hand and add a left hook shot to his offensive arsenal, he'll be a great player for years to come. 
The bottom line is that Zeller could turn out to be a great player, and at the worst he'll be a solid one. That is the main reason why he is the most underrated player in the draft. His upside is tremendous, and if he gets coached the right way and is put into the right system, the sky is truly the limit.
Follow me on Twitter: @rlongo924