Milwaukee Bucks: Why Monta Ellis Will Lead the Bucks to the Playoffs Next Year
June 25, 2012
Chris Chambers/Getty Images
The Milwaukee Bucks sole purpose this season should be to get back to—and have a reasonable amount of success in—the NBA playoffs.
The late season trade to acquire guard Monta Ellis last season was executed in hopes of that very thing, but sadly fell short of expectations.
Heading into the 2012-13 season, the results should be different. The addition of Ellis should make a world of difference in the coming year working with an entire offseason of camps and a full season.
Ellis brings the franchise another bona fide scoring threat to compliment backcourt mate Brandon Jennings. His value as a perennial top-ten scorer is what Milwaukee will be leaning on to lead them back to the postseason.
Obviously, Ellis can fill up the stat sheet. That much is undeniable. While this fact should not be ignored, it will be the intangibles that will matter the most.
Brandon Jennings almost brought this team to the playoffs last season, largely being the center of attention of opponents defensive schemes. The most notable early impact fans will notice is the pressure Ellis will alleviate off of Jennings, freeing him up to be even more effective.
The two should compliment each other extremely well. Both have attacking styles that still fit into the team system. The beauty of it is that Ellis will relieve pressure off of Jennings and vice versa.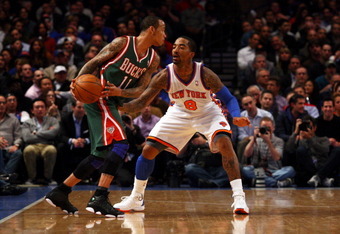 Chris Chambers/Getty Images
Ellis shouldn't only be able to draw attention away from Jennings though.
The biggest offseason concern that Milwaukee is looking at addressing, is finding a big man to replace Andrew Bogut. Most likely, the draft this week will be the route they take.
While the Bucks need a big man to come in and be immediately impactful, Ellis' point production will take expectations—at least offensively—off the chosen young big man.
Finally, Monta Ellis is obviously known for his ability to score. However, he is coming off a career-high 6.0 assists per game. Milwaukee is coming off a year where they had more assists in the shortened 66 game season than the year before in the full 82 game season.
He should be able to fit his score-first mentality into the up-and-down style of sharing the ball seamlessly.
Ellis' offensive stats can be spit out and show that he would be an obvious help to any team (19.5 ppg 4.5 apg). While not denying that fact, Ellis' real help to Milwaukee making the playoffs next season will be his contributions that don't show up on the stat sheet.  
He'll fill it up anyway though.