NBA Draft 2012: Boom or Bust Picks & Latest Free Agency Speculation (Podcast)
June 25, 2012

Streeter Lecka/Getty Images
In anticipation of the 2012 NBA draft, it's time to predict which players will exceed, meet and fail the expectations and buzz that precedes them.
In this episode of Basketball by Association, NBA Featured Columnist Joel C. Cordes and NBA Assistant Editor Ethan Norof conclude the "Boom of Bust" game they began here.
(If the embedded player fails to load, you can find the episode here.)
Sure-fire lottery picks like Kentucky's Anthony Davis and UConn's Andre Drummond have a lot of buzz, but can they become true franchise cornerstones? Just turning out to be a solid rotation player is rarely enough to avoid the "bust" label when taken that high.
Mid-tier guys are especially hard to peg, but endlessly fun to debate. On tap are Duke's Austin Rivers, Washington's Tony Wroten Jr. and Terrence Ross, Syracuse's Fab Melo, North Carolina's John Henson and Tyler Zeller, Mississippi State's Arnett Moultrie, Iowa State's Royce White and many more.
Also in this episode, the guys discuss which NBA free agents are likely to re-sign with their home teams, and which restricted free agents aren't worth matching a huge contract for.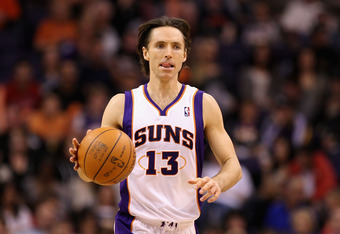 Christian Petersen/Getty Images
Finally, while the New Jersey Nets' Deron Williams and New Orleans Hornets' Eric Gordon are attracting all the free-agent buzz, which under-the-radar guys can be reliable starters at the right price?
Ryan Anderson of the Orlando Magic, the Phoenix Suns' Steve Nash, Philadelphia 76ers' Lou Williams, Cleveland Cavaliers Alonzo Gee and Charlotte Bobcats' D.J. Augustin are just a few of the players in this discussion.
Basketball by Association is your final destination for all things NBA at Bleacher Report.