Which Relative NFL Unknowns Will Play Huge Roles in 2012?
Ronald Martinez/Getty Images
Everyone knows about everything in the NFL. No sports league, maybe no other organization in America, gets more heavily scrutinized by more people. Nobody in the NFL escapes the searing gaze of the 24-hour digital news cycle.
But some players are a little less well known than others.
During the offseason, NFL rosters swell to 90 spots. That means 2,880 players get a chance to show NFL coaches what they've got before the season starts, and any one of them could find themselves in a big spot and make a big contribution.
Last year, like every year, several little known players were thrust into the limelight, if only for a short while, and made the most of it. This season, some of those players have a chance to establish themselves as impact contributors, if not starters.
Here are some players who could go from anonymous to household football names in 2012.
Doug Baldwin, Seattle Seahawks WR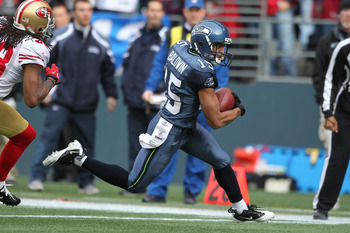 Otto Greule Jr/Getty Images
Seattle Seahawks WR Doug Baldwin is one of the lucky ones: an undrafted free agent who made his team's final roster. But not only did Baldwin make the team, he hauled in 51 catches for 788 yards and four touchdowns his rookie year.
Baldwin's 5'10", 189-pound frame and quality speed make him a weapon in the slot, but his ambitions are bigger. Baldwin told the Tacoma News-Tribune, "I want to be known as the greatest receiver who ever played the game, and it's going to be hard to do that strictly out of the slot."
Christian Ballard, Minnesota Vikings DT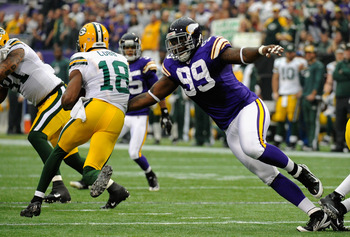 Hannah Foslien/Getty Images
The Minnesota Vikings relied on their massive defensive tackle pair, Kevin and Pat Williams, for years. After Pat elected not to return for his 15th season, the Vikings drafted Iowa DT Christian Ballard with the 106th overall pick.
The 6'4", 283-pound Ballard can play every spot on the line, and he flashed both pass-rushing and run-stopping talent in the 244 rotational snaps he saw last season.
Per Pro Football Focus, Ballard had two QB hits, six QB hurries and 13 total tackles—eight of which were "stops." His PFF run-stopping percentage would have been among the NFL's best with a few more snaps to qualify.
Ballard rotated with veterans Fred Evans and Letroy Guiron, and he'll be rotating with them again in 2012. However, the Vikings will give Ballard every chance to build on his tantalizing rookie year.
Isaac Redman, PIT RB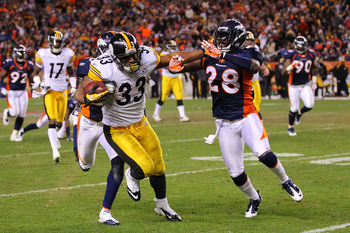 Doug Pensinger/Getty Images
Running back Isaac Redman had 110 carries for the Pittsburgh Steelers last season. While fantasy football owners in dynasty leagues surely know him well, kids on playgrounds aren't exactly trading their lunches for his football card.
But Redman not only played well in relief of starter Rashard Mendenhall, he was more effective. Redman averaged 4.4 yards with his 110 carries, besting Mendenhall's 4.1.
With Mendenhall likely to start the season on the PUP list, Redman's going to have every chance to carry Pittsburgh's banner all by himself.
Marcus Cannon, New England Patriots OT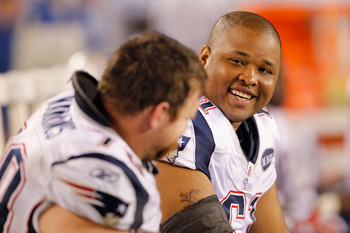 Rich Schultz/Getty Images
For 11 years, the New England Patriots have relied on left tackle Matt Light to protect franchise quarterback Tom Brady. But Light has retired, and right tackle Sebastian Vollmer is still recovering from offseason back surgery.
That's left a huge space for Marcus Cannon, a 2011 fifth-round draft pick, to step up into. When Vollmer went down last season, Cannon turned in 168 solid snaps in relief.
Cannon's still holding down the starting RT spot in Vollmer's absence, but if Vollmer can't get healthy, Cannon could find himself an integral part of one of the best teams in football.
D.J. Smith, Green Bay Packers LB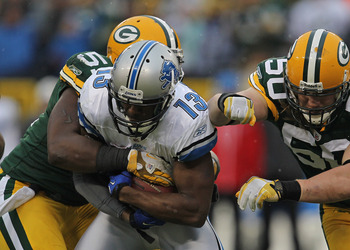 Jonathan Daniel/Getty Images
D.J. Smith, a 5'11" linebacker from Appalachian State, wasn't supposed to crack the Packers' defensive lineup. The undersized, small-school kid had "special teams" written all over him.
But in 2011, Smith had a four-game stretch in relief of A.J. Hawk that proves he's ready for much, much more.
As Pro Football Focus wrote in their "Secret Superstar" article on Smith, he was much more effective than Hawk, and will come much more cheaply. His on-field leadership and ability to relay play calls to the rest of the defense kept his unit running smoothly, and his production was impossible to ignore.
Smith may again be stuck behind Hawk this year—or, possibly, not. If Smith proves he's ready to handle the full load, Hawk could be sent off for, er, not-so-green-and-gold-pastures.
Mackenzy Bernadeau, Dallas Cowboys OG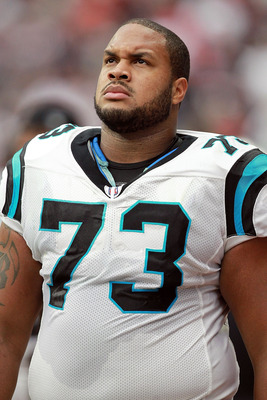 Ronald Martinez/Getty Images
Mackenzy Bernadeau played in more than 10 snaps for the Carolina Panthers only twice in 2011. Both performances were graded out positively by PFF, and the Dallas Cowboys took notice.
The 6'4", 308-pound 26-year-old was rewarded with a four-year, $11 million deal to join the Cowboys, and he was penciled to start at right guard...or possibly center.
A hip injury (and subsequent surgery) left him unable to practice at center during OTAs and minicamp, making a switch unlikely. But when Bernadeau returns, he'll have every opportunity to lock down a starting spot.
Willie Young, DET DE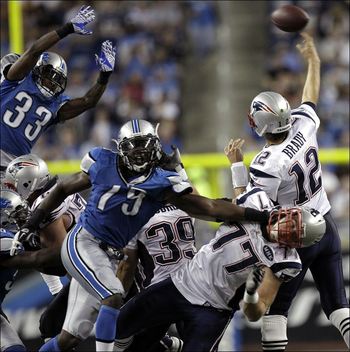 Photo credit: AP
The Detroit Lions have one of the deepest defensive lines in the game, and 2010 seventh-round draft pick Willie Young has a whole lot of good players ahead of him.
Kyle Vanden Bosch, Cliff Avril and Lawrence Jackson all boast more impressive tool sets, and the Lions have more invested in each of their success. For that matter, fourth-round pick Ronnell Lewis will compete with Young and Everette Brown for a DE roster spot, too.
But Vanden Bosch is getting on in years, Avril may play this season under a franchise tag contract before skipping town, and the Lions need consistent pass rush off the edge. Young, when played, has certainly provided that.
In fact, Young's three sacks, four hits, 19 QB hurries and nine stops would have been good for PFF's third-best "pass-rush productivity" rate in the NFL, were Young's 259 snaps enough to qualify.
In a maybe-too-convenient story, DetroitLions.com's Tim Twentyman reports that Lions GM Martin Mayhew thinks Young has been "outstanding" this offseason during Avril's holdout.
Keep Reading