NASCAR: Dirt-Track Racer Clint Bowyer Holds on to Win Sonoma
June 24, 2012

Jerry Markland/Getty Images
Racin' with Russ - Who would have thought a dirt-track racer from the Midwest could land a win at the tricky, twisty road course by the name of Sonoma.
But that's exactly what occurred on a hot Sunday afternoon in California when Clint Bowyer won his very first road race after many years of trying.
And it certainly wasn't easy, as road-racing aces Kurt Busch and Tony Stewart chased the Waltrip Toyota driver to the finish line.
The race started with another road-race ace, Marcos Ambrose, on the pole. The Aussie driver led for a while before his Ford started to fade as the handle left the building.
He would later recover to finish eighth as Bowyer ironically won with the car Ambrose stalled and lost the same race with a couple of years ago.

Jeff Gordon took over the top spot and led for many laps. It appeared the seven-time road-course winner was ready to add yet another mark in the win column, only to run out of the go-juice mid-race, yet he recovered to wind up sixth.
After Gordon was out front, Martin Truex Jr. led for many laps before Bowyer showed the field the fast way around the tricky lefts and rights.
Lap after lap, Kurt Busch hounded the Toyota driver, on occasion tapping the back bumper to let Bowyer know he was definitely nearby.
A very late race caution for a spun Paul Menard bunched up the field to set up a green-white-checkered finish. Stewart was able to take over the second spot after realizing there was something wrong with the rear suspension on Busch's Chevrolet.
At the checkers, it was Bowyer, Stewart, Busch, Brian Vickers and Jimmie Johnson.
The latest results finds Matt Kenseth still on top of the points, but only by 11 over teammate Greg Biffle and by 14 over Dale Earnhardt Jr.
Nationwide
This event turned out to be a real barn burner (lots of paint swapping) on the famed Road America road course. Nelson Piquet Jr., in only his third Nationwide race, wound up the winner in dominating fashion.
The Brazilian driver drove fast and smooth on the very fast circuit, holding off the likes of Michael McDowell, Ron Fellows, Max Papis and Sam Hornish Jr with ex F-1 ace Jacques Villeneuve finishing in sixth.
Danica Patrick was among the top ten for most of the day until Villeneuve spun the diminutive driver on the last lap, netting the GoDaddy.com girl a 12th-place finish.
Points leader Elliott Sadler had a tough day, being spun during the race and earning a 15th-place finish.
Sadler still tops the charts, but only by 11 over Austin Dillon and 23 over Ricky Stenhouse Jr.
Indy Cars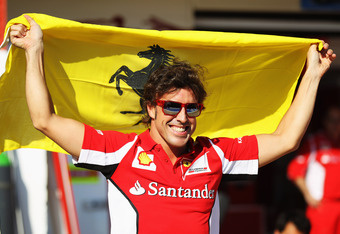 Mark Thompson/Getty Images
Certainly one of the fan favorite venues, the Indy Cars ran at Iowa Speedway with Ryan Hunter-Reay coming out on top for the second week in a row.
The race began rather strangely with pole sitter Dario Franchitti blowing up his Honda engine during the pace lap! The veteran racer's latest dismal outing has more or less stuck a fork in his shot at yet another title.
Hunter-Reay's teammate Marco Andretti led for a while, as did Scott Dixon, but it was Reay with a slightly stronger car to grab his second checkers of the season.
Not far behind at the stripe were the cars of Andretti, Tony Kanaan, Dixon and Simon Pagenaud.
Both Penske drivers Will Power and Ryan Briscoe crashed out of contention with teammate Helio Castroneves landing a sixth-place finish.
Power has a single-digit lead over hot shoe Reay, with Dixon 15 back of Power.
Formula One
The European GP found Sebastien Vettel out front until the half when his Renault engine sputtered to a halt, opening the door for hometown favorite Fernando Alonso to take over out front.
Alonso, driving the bright red Ferrari, was able to stay out front ahead of ex-champions Kimi Raikkonen and Michael Schumacher to the finish.
Alonso now leads the points standings by 20 over Mark Webber.
From Rumorville
Veteran racer Robby Gordon may have run his last Sprint Cup race for 2012 at Sonoma, according to the Associated Press (h/t Fox News). Gordon has cut back on his NASCAR efforts over the past few years citing, what else, sponsor problems.
Throw in his starting an off-road stadium series and competing himself in several big off-road events and he's working with a relatively full plate.
Some rumors starting circulating over the weekend concerning the future of NASCAR Sprint Cup driver Matt Kenseth. He has left Roush Fenway Racing and is rumored to be heading to Joe Gibbs Racing, according to The Associated Press (h/t Boston Herald).
That's it for this week. Next week, RWR will review the NASCAR action from Kentucky along with more racing news from around the globe.           .