Cristiano Ronaldo and 5 Best Players Remaining at Euro 2012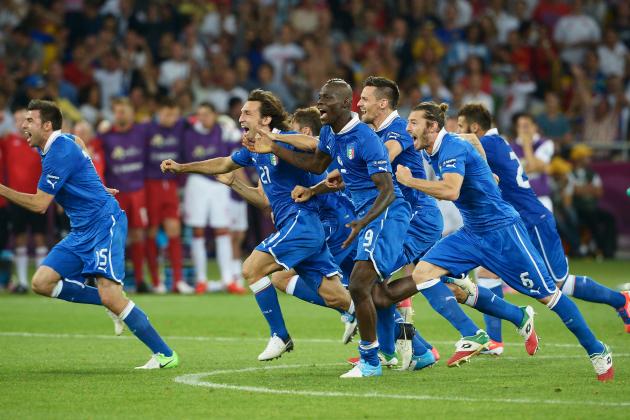 Claudio Villa/Getty Images

With England being ousted by Italy this morning, the quarterfinals have been set for Euro 2012.
Spain will now be going head to head with Portugal, and Germany will take on Italy. That means four of the best teams in the world—filled with some of the best players in the world—will be in action.
Euro 2012 is now in its most pressure-packed and exciting stage, and the big names will have to step up and play to their pedigree if their respective teams are to progress into the final.
Over the next week, heroes will be born, and the following players may just be one of them.
Begin Slideshow

»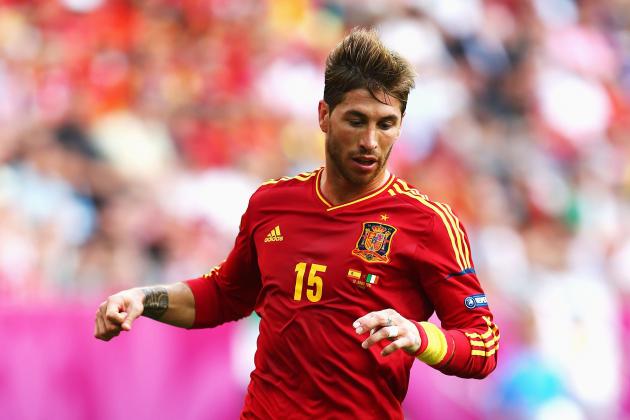 Michael Steele/Getty Images

Sergio Ramos—The rock of Spain's defense, Ramos has increased his play throughout the tournament, despite playing away from his preferred right-back position. With most of the Spanish defense struggling, Ramos has emerged as arguably the best defender in Europe.
Pepe—Ramos' Real Madrid teammate has been just as good for Portugal, cutting off attack after attack with his scissor-like legs. A real growing-up tournament for Pepe, his temperament and leadership have been outstanding.
David Silva—Man City and Spain's gifted left-footed winger has been one of the best attacking threats throughout the tournament. His silky ball skills have tormented defenders at Euro 2012, and he has lifted his game when needed.
Nani—Often overshadowed by Cristiano Ronaldo, Nani has been terrific at Euro 2012. Devastating defenders on the flanks, he has become more consistent lately, something that has boded well for Portugal.
Bastian Schweinsteiger—Germany's midfield dynamo has somewhat cooled off after starting the tournament with a bang. Still, it's his hard work that allows Mesut Ozil to be the creative genius he is.
Alex Grimm/Getty Images

One of the many attacking midfielders who are dominating Euro 2012, Ozil's silky passing and outstanding vision have been the key factor in Germany's potent attack.
Ozil's touch on the ball is truly world class, and his ability to create chances for his teammates has been terrific. Excelling in the same way he has for his club Real Madrid, Ozil has been Germany's best player so far in Euro 2012.
If Italy are to upset Germany, stopping Ozil and Germany's attack will have to be their top priority.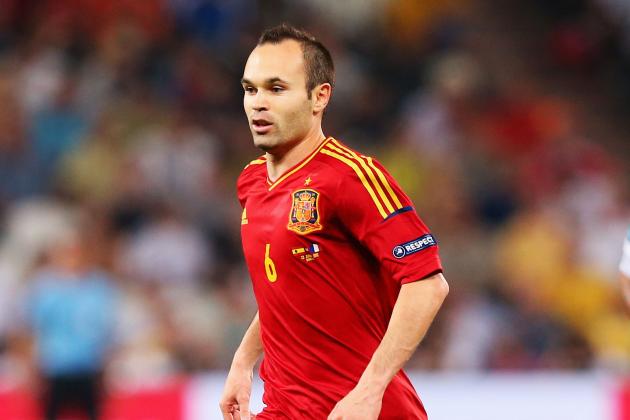 Alex Livesey/Getty Images

The magician behind most of Spain's tiki-taka style of play, Andres Iniesta has picked up right were he left off for Barcelona.
His combination with Xavi is arguably the greatest midfield combination in the game today and perhaps the primary reason behind Spain and Barcelona's success over the last four years.
Despite his small stature, he is able to pull the strings in the midfield or on the wing masterfully, using his world-class touch and vision. One of the keys to Spain's unbelievable midfield, Iniesta's genius isn't always front-page news, but his teammates definitely realize how much he means to Spain's success.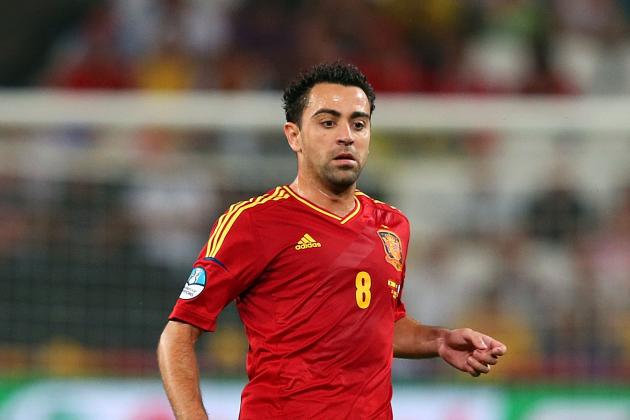 Alex Livesey/Getty Images

Like compatriot and Barca teammate Andres Iniesta, Xavi is the creative genius behind Spain's spectacular play throughout Euro 2012. His position on this list is interchangeable with Iniesta, as it is their devastating combination that makes them so great.
They may be small, but they make up for it with vision, smarts and precision.
Xavi has cooled of slightly after two masterclass performances in the group stages, but there is no doubt he will bring his A-game into the semifinals. Xavi has had a tendency to drop a little deeper throughout the tournament, but he will have to play further forward against Portugal if Spain are to win.
His class and patience with the ball at his feet is sublime, and he has done no harm to his standing as one of the best, if not the best, central midfielder in the game.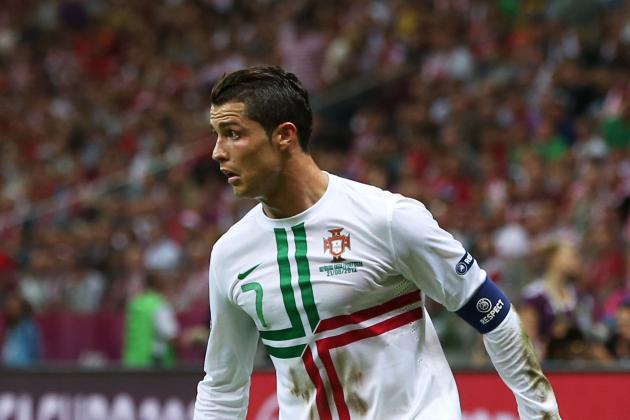 Alex Grimm/Getty Images

Arriving in Poland as the best player in Europe and arguably the world, Cristiano Ronaldo has delivered as expected for Portugal.
After a disappointing first two games in which he uncharacteristically missed several chances, Ronaldo came to life in a must-win game against Holland. Two goals against the Dutch secured Portugal's progression through the group stages and onto a quarterfinal matchup with the Czech Republic.
Against the Czech, Ronaldo had the performance of the tournament in which he almost single-handedly won the game. Hitting the post twice and coming close several other times, Ronaldo scored the winner with a great diving header.
Going up against several Real Madrid teammates in Xabi Alonso, Sergio Ramos and Iker Casillas when Portugal faces Spain in the semis will be a interesting match for Ronaldo. If Portugal are to have any chance of defeating favorites Spain, he will have to have an incredible performance.
Judging by the way he has played so far, I wouldn't rule that out.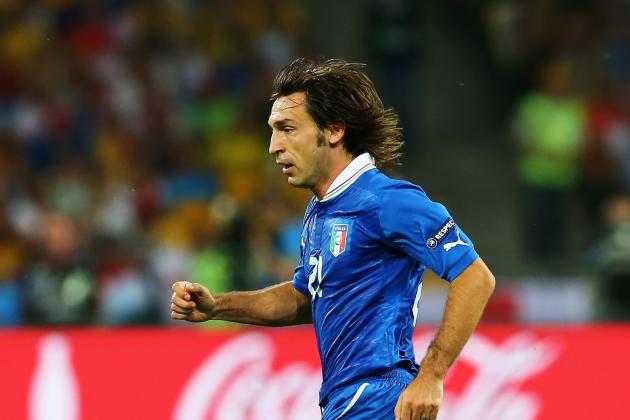 Martin Rose/Getty Images

The player of the tournament so far, Andrea Pirlo has been the main reason for Italy's success in Euro 2012.
The puppet master in Italy's squad, Pirlo has orchestrated attack after attack with his perfect touch and amazing vision.
Pirlo has put forward man-of-the-match performances in all of Italy's games, including a masterclass against Croatia and a similarly brilliant performance against Spain. His ability to control the game from the deep midfield position has been amazing to watch.
Another great game against England, capped with an audacious penalty kick, has made Pirlo the best player at Euro 2012. If he continues his sterling form, Italy has a great chance at an upset over Germany.