4 Players Facing Do-or-Die NFL Training Camps
June 26, 2012

Al Messerschmidt/Getty Images
July in the NFL means training camp, but despite what you may think, it isn't some fun-in-the-sun affair.
Sure, Aaron Rodgers can breathe easy knowing that he'll be under center for the Green Bay Packers this fall, but for many NFL players, training camp is a battle arena in which they must wrestle for their livelihoods, desperately fighting to earn starting roles and prove their worth.
Here are four players facing a make-or-break July.
Felix Jones
The pressure is on for Dallas Cowboys running back Felix Jones this training camp.
Jones is entering the final year of a five-year contract, and he needs to rack up a big season if he wants to stay in Dallas long-term and earn good money.
But Jones' likely replacement, DeMarco Murray, is hovering and could go in for the kill this training camp.
In fact, ESPN Dallas even projects that Murray will start in the upcoming season.
Murray put up big numbers after Jones was sidelined by injury last September.
To date, Jones is still nursing a shoulder injury. He skipped the Cowboys' organized team activities and missed minicamp, but he will probably be on the field for the start of training camp.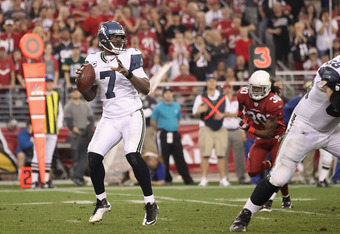 Christian Petersen/Getty Images
This is where he needs to shine. If Jones can prove he deserves as many or more carries than DeMarco Murray, he will at least get a chance to make an on-the-field case for a new contract this fall.
Tarvaris Jackson
Though Tarvaris Jackson was Seattle's starting quarterback last season, he has a lot to prove at this year's training camp.
Jackson is locked in a three-way battle for the starting role under center.
In one corner, Jackson will go toe-to-toe with the Seahawks' third-round draft pick, Russell Wilson, who hails from Wisconsin. Wilson set the NCAA record for single-season pass efficiency and led the Badgers to the Rose Bowl.
In the other corner, Jackson faces Matt Flynn, a guy who has spent his four-year NFL career as Aaron Rodgers' apprentice.
In his single start for the Green Bay Packers last season, Flynn looked like a promising prospect. He broke Packers records, throwing for almost 500 yards and six touchdowns in a single game.
While that's a small sample size on which to judge a quarterback, Jackson has yet to play a game with stats that even come close.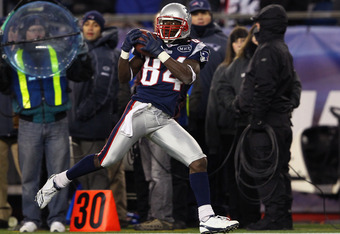 Al Bello/Getty Images
Jackson started 15 NFL games last season for the Seattle Seahawks, but did little to convince fans that he deserved the role.
He recorded just two games in which he threw for over 300 yards and finished the season having thrown just one more touchdown (14) than interceptions (13).
But according to the Sporting News, the Seahawks affirm that the starting quarterback role is anyone's.
According to NFL.com, Jackson will be on the first team to start training camp next month, and he has the chance to retain his spot on the depth chart if he plays it right.
Tim Hightower
Although Pro Football Weekly describes the starting running back role on the Washington Redskins as Tim Hightower's to lose, I'd be surprised if he waltzes into the gig so easily.
Hightower was known as a fumbler on the Arizona Cardinals and played just five games in Washington before a torn ACL relegated him to the sidelines in October of last year.
That allowed Roy Helu to shoulder more of the load in the backfield, and the rookie recorded three 100-plus-yard rushing games in the 11 he played after Hightower's injury.
Helu will provide Hightower with some genuine competition this training camp as both fight over carries in 2012, meaning that Hightower will have to make an extraordinary effort to heal and improve this offseason. He's still nursing his ACL injury and is not even certain that he can make the start of training camp.
Despite Pro Football Weekly's opinion, the starting running back role is Helu's to win—and it will happen on Hightower's watch if he doesn't treat this training camp like it's do-or-die.
Deion Branch
This will be an emotional training camp for New England Patriots veteran wide receiver Deion Branch.
Branch was the solid No. 2 receiver on New England's depth chart last season.
The wideout had 51 receptions for 702 yards in the 2011 regular season—and that was with Wes Welker recording the second-most regular season yards in the league (1,569) and Rob Gronkowski breaking the single-season yardage record for tight ends (1,327).
But despite Branch's compelling showing, his career was practically pronounced dead after the Patriots' Super Bowl loss.
The soon-to-be 33-year-old receiver is slowing with age and probably won't be able to get open next year as often as he did last season.
Based on Branch's excellent on-field rapport with Tom Brady and an uncanny knowledge of New England's offense, it's unlikely that he'll get cut.
But with a beefy roster at receiver, it's looking increasingly like Branch's career could finally take a back seat to other younger talents—unless he has something to say about that during training camp.