Dolph Ziggler: Could He Get Lost in Ric Flair's Shadow?
June 30, 2012

Jason Smith/Getty Images
Rumors about Ric Flair coming back to the WWE have been going strong lately (via Wrestling Newsletter Observer, h/t nodq.com). Anything is possible, so it wouldn't surprise me if Flair did return to the company before the end of the year. If he does return, you have to wonder in what capacity. Many have talked about the possibility of Flair managing current superstar Dolph Ziggler. Would Flair be a good fit for Ziggler or would he overshadow Ziggler?
Ric Flair is the greatest of all time. He still commands respect despite personal issues that have plagued him over the years. Having Flair as a manager would be a good thing, at least on paper. This man could do wonders for anyone's career.
In his hands, a superstar like Dolph Ziggler's career would be complete, the payoff being the heavyweight championship. Just ask Triple H, Randy Orton or Batista just what kind of impact he has had on their careers. Why wouldn't Ziggler want Flair in his corner?
Flair is a tough act to follow. That's what Ziggler will find out if he hasn't thought about it already. Flair is larger than life. At times himself Flair has been overwhelmed by his own legacy, carrying a boatload of baggage with him wherever he goes. So how would Ziggler fair with Flair?
It's possible that one of two things may happen. Ziggler could finally fulfill his potential and win the big one, thanks to Flair's experience. They could become a successful combination, with Flair guiding him to a number of world titles. Or on the other hand he could become an afterthought  as Flair steals the spotlight that rightfully belongs to Ziggler with his over the top antics.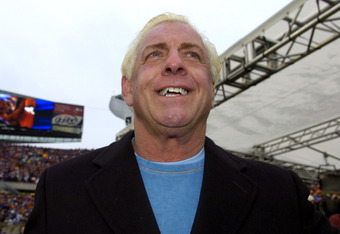 A. Messerschmidt/Getty Images
Ziggler is on the cusp of greatness. Why the WWE won't pull the trigger and let him carry the ball is beyond me. Pound for pound, he is the best the company has to offer.
One things for sure, he does not need Vickie Guerrero. He's been living in her shadow since they hooked up. Vickie did serve a purpose. She brought the heat necessary to make Ziggler a must see performer. Mission accomplished in that respect. Ziggler needs to move on. Vickie is small time. Ric Flair is a whole different story. Ric Flair is the big time.
Ziggler needs to make some serious decisions. I think he's good enough to stand on his own. He doesn't need Guerrero or Flair to help define him or his career. Granted he's benefited from Vickie's management and would benefit from having Flair in his corner, but whatever happens ultimately will be  up to him.
What do you think?