Cincinnati Bengals: Why Pacman Jones Will Make a Difference in 2012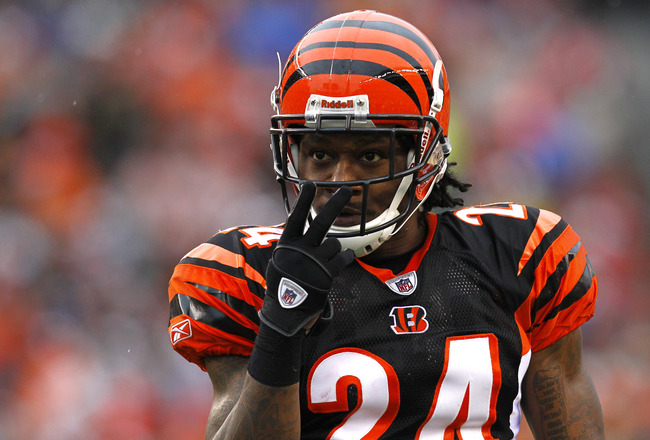 Tyler Barrick/Getty Images
In the competitive AFC North, the Cincinnati Bengals will look to Adam "Pacman" Jones to have a breakout season and hope the defense finishes in the top 10 in the NFL for a second consecutive season.
On a team that ranked ninth in the NFL in pass defense, the Bengals could be even better this season against the pass. Injuries tested their depth in the secondary last year, and a healthy group would be tough for opposing teams to handle.
Recently ordered to pay over $11 million to victims in a strip club shooting from years ago, Pacman should be motivated to perform well this season. He needs to play well in a contract year, and he has the talent to be a tremendous player.
He has been a model citizen for the Bengals, so it looks like he has put his off-field issues behind him.
A productive Pacman would help Cincinnati in many areas, and he hopes to have a breakout season in 2012.
Special Teams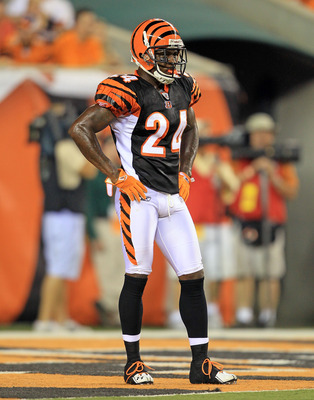 Andy Lyons/Getty Images
For years, the Bengals have struggled to have a reliable punt returner. Pacman Jones could be the answer for them in 2012.
In his first game back from a neck injury in 2011, Pacman returned a punt 63 yards to give Cincinnati control of the game against Seattle. While it was great to see an explosive punt return, he suffered a hamstring injury on the return and missed the rest of the game.
Ironically, Brandon Tate, his replacement, returned a punt 56 yards for a touchdown later in the game. Tate will be used more on kickoffs, while the Bengals use Pacman for punt returns.
The two returners complement each other and can give the other a break. With Jones coming off multiple injuries, it will be important to ease him back into punt returns. He has the ability to make a big play, but injuries have kept him from making a difference.
Specials teams can change the outlook of a game, and punt returners are becoming more important as kickoffs are being taken out of the game. In his career, he has returned four punts for a touchdown.
Punt returning is where Pacman is most dangerous, and he will look to prove his value this season.
Depth at Corner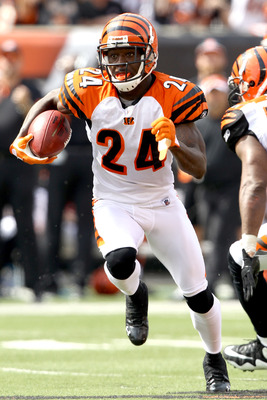 Matthew Stockman/Getty Images
When Jonathan Joseph left for Houston before last season, Cincinnati relied on young players to replace him. Pacman Jones missed the first half of the season with a neck injury, but he has had time to recover from his injuries.
A season after going through many cornerbacks, the Bengals addressed their depth through free agency and the draft.
Leon Hall, who was playing at a high level, injured his Achilles tendon and only played part of one game with Jones. Hall signed an extension last year, and he will be expected to lead the secondary this season.
Veteran corner Nate Clements was a pleasant surprise last season, but he may not be on the team when the Bengals open the season in Baltimore. If he returns, Pacman will need to focus on special teams.
Joining this already deep group of corners is rookie Dre Kirkpatrick. The Bengals' first-round pick will be expected to contribute immediately, but the veterans on this team should help him adjust to life in the NFL.
In free agency, the team picked up Terence Newman and Jason Allen. Both corners had four interceptions last season, and they will provide much needed depth in Cincinnati.
With the secondary being one of the deepest units in the league, Pacman will have less pressure on him this year. He will be used less on defense, and it will keep him fresh for special teams. When he does play on defense, he will be able to replace players who are tired.
It will be interesting to see who makes the team, but the Bengals have plenty of options to improve their pass defense.
Experience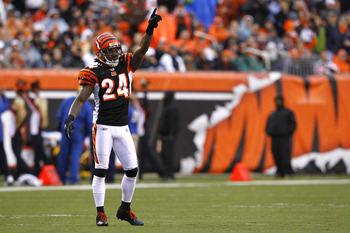 Tyler Barrick/Getty Images
As he enters his sixth season in the league (not counting when he was suspended in 2007), Pacman may finally be ready to take the next step.
While he may or may not spend a lot of time on defense, he will be able to stay healthy. The team's depth in the secondary allows him to take breaks when he gets banged up. The team needs the secondary to stay healthy if they hope to have the same success they had last season.
Although he may be a veteran, he is one of the younger defensive backs. Outside of Kirkpatrick and Hall, he is the youngest impact player in the secondary.
Defensive coordinator Mike Zimmer is one of the best in the league, and Jones will now be in the system for a third season. Zimmer gets the most out of his players, so I expect Jones to have a breakout season on defense.
He has been able to stay out of trouble with the law lately, and he has started to become a role model for younger players. He spoke at the rookie symposium this week and share his story. I like how he is able to talk about his mistakes, and he looks like he has learned from his past.
With his skills on special teams, Pacman will make a difference in Cincinnati. A big season from him will have the Bengals playing in January.
Keep Reading

Cincinnati Bengals: Like this team?