Arizona vs. South Carolina: Game 2 Start Time, Live Stream, TV Info and More
June 25, 2012

Harry How/Getty Images
The opponents keep changing, but the Arizona Wildcats keep on rolling through the 2012 College World Series. Game 1 against South Carolina was a perfect summary of all the things Arizona has done well: dominant pitching, timely hitting, stonewall defense. 
The Wildcats were an underrated team heading into the tournament. They were overshadowed in their own conference by Stanford, UCLA and Oregon, yet here they are one win away from their first College World Series since 1986. 
The Gamecocks are in search of their third straight championship. This team was on the brink of elimination last week against Arkansas before winning two straight games to make it here. Don't underestimate them with their backs against the wall. 
Where: TD Ameritrade Park in Omaha, NE
When: Monday, June 25 at 8:00 p.m. EST
Watch: ESPN
Live Streaming: Watch ESPN
Arizona's Keys to Victory
Ride starting pitching until it breaks; late-inning; batter South Carolina into submission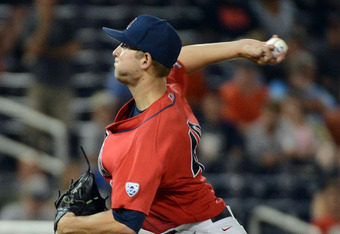 Harry How/Getty Images
Arizona has been the most complete team in the College World Series this year. The Wildcats have had dominant pitching game after game. No one has been able to figure them out up to this point. Why should it stop now?
Even if the pitching were to falter, the Wildcats lineup is so good and so deep that it can put up more runs that it has been. They have eight hitters batting over .300 right now. This team is having one of the best runs in recent memory. 
South Carolina's Keys to Victory
Outpitch Arizona; Don't be put in a position where it has to score runs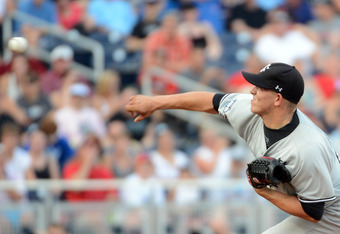 Harry How/Getty Images
The Gamecocks have been able to stay alive, despite numerous chances where they could have fallen flat on their face, because of incredible pitching and timely hitting. 
At some point, you would think, one or both of those skills would falter. With this team, you can never bet against them. They almost seem comfortable with their backs against the wall. It's not an ideal position to put yourself in, but this team doesn't do fade.
What They Are Saying
Anyone who has watched this College World Series knows that Arizona's starters have done a remarkable job of getting the team to this point. Mitch Sherman of ESPN.com put in perspective just how critical the starters have been throughout this tournament. 
Nine games and nine wins into this NCAA postseason, Arizona starters have pitched into the eighth inning nine times. They've thrown five complete games—not counting ace Kurt Heyer's 9 1/3-inning performance in a 10-inning win in the super regional.

In today's era of specialized relievers and pitch-count obsessions at every level of baseball, Arizona's antics on the mound rank as extraordinary. Its pitchers have thrown eight complete games in 19 opportunities since May 11 and 16 for the season.
Normally that would be a problem, because there are some college coaches that have a knack for leaving starters in until their shoulder is ready to fall off. Arizona coach Andy Lopez is not hanging his starters out to dry, so it is hard to argue with the results so far. 
Prediction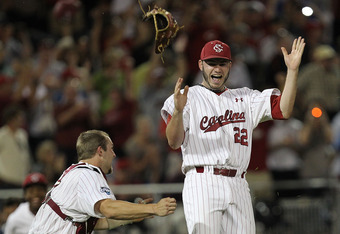 Ronald Martinez/Getty Images
South Carolina's momentum has to run out at some point. Given what we have seen so far in this College World Series, I don't think it will be tonight. We are going to a third and final game.
South Carolina wins 3-2