8 Olympic Athletes Who Could Play in the NFL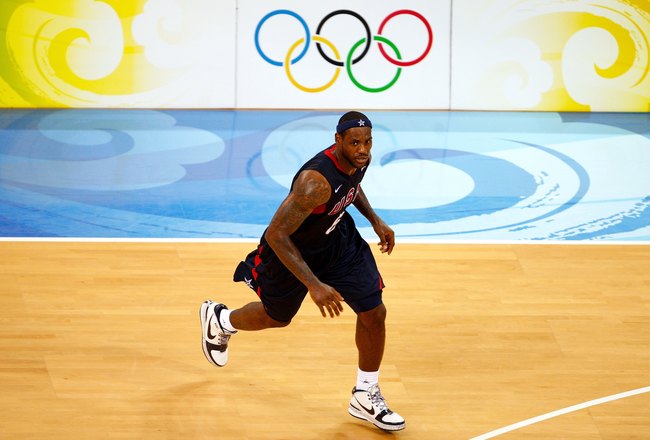 Jamie Squire/Getty Images
For one month every four years, the Olympics steps into the forefront, dominating the highlights, headlines, etc. But during the other 47 months, even when it's out of season, the NFL reigns supreme in the mind of all American sports fans.
Olympic athletes are the best in the world at their craft, training since a young age for the noble responsibility of representing their country.
But which ones would be capable of stepping out of their comfort zone, and proving themselves in America's new national pastime?
Here are eight Olympic athletes who could be capable of the transition.
Feel free to chime in with anybody you think we missed.
David Beckham (GBR) – Soccer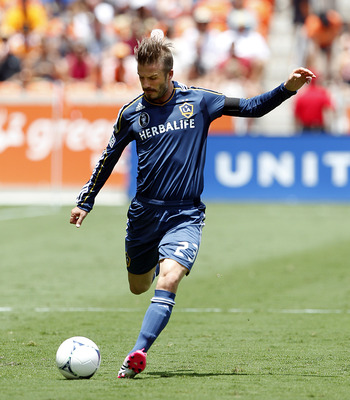 Bob Levey/Getty Images
Position: Kicker
The 37-year-old British sex symbol is slated to join England's U-23 squad this summer, as one of its over-23 inclusions. Beckham has often had his prowess in the run-of-play questioned, but his mastery of set pieces is almost mythical.
What is an NFL field goal if not a free kick?
Sure, Beckham would have to learn the intricacies of kicking a football rather than a futbol, but he's a quick learner. More importantly, he's a quick learner with a cannon for a leg.
Think kicking from a hashmark would be problematic? Just wait until Beckham learns how to bend the pigskin.
Phil Dalhausser (USA) – Beach Volleyball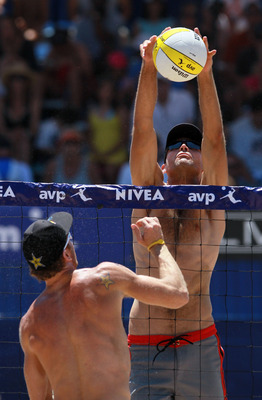 Jeff Gross/Getty Images
Position: Rotational Wide Receiver; Special Teams
The 6'9'' beach volleyball player led the AVP in blocks for six consecutive seasons between 2005 and 2010.
He's long, cut, and jumps for a living. He'd probably be useless between the 20s, but inside the red zone, he'd be one of the most feared targets in the league.
More importantly, between his size, athleticism and timing, he could develop into one of the most unique kick-blocking weapons the NFL has ever seen.
David De Gea (ESP) – Soccer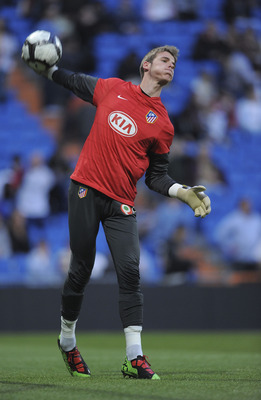 Denis Doyle/Getty Images
Position: Punter
The Manchester United prodigy is well-versed in high pressure situations, despite his tender age of 21.
He overcame his early jitters well this season, finished strong, and led the Premier League in save-to-shot ratio.
But what makes him an intriguing NFL option is his booming leg. It would take a small transition process, but if he could punt a football nearly as efficiently as he can punt a soccer ball, he could find himself in the same league as Shane Lechler.
Again, he's only 21 so his leg is still blossoming, and he still has time to learn.
Justin Gatlin (USA) – Athletics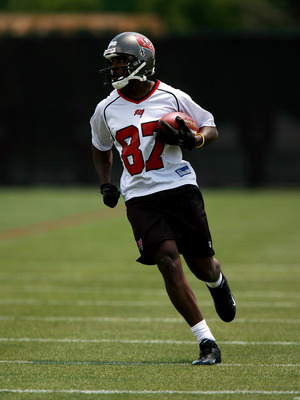 Doug Benc/Getty Images
Position: Wide Receiver
When Gatlin was sentenced to serve a four-year doping ban from the track, he began to pursue an NFL career.
Despite not having played since 10th grade, Gatlin was invited to numerous camps, including the Texans, Titans and Bucs.
He never caught on, but a lot of that had to do with the fact that he never committed himself to the sport. With the right motivation and coaching staff, he could become a valuable NFL commodity.
Gatlin runs a 4.42, great speed for a man who stands 6'1'', and would be a dangerous vertical threat. He could also return kicks, a position that would take advantage of his prodigious straight-line speed.
LeBron James (USA) – Basketball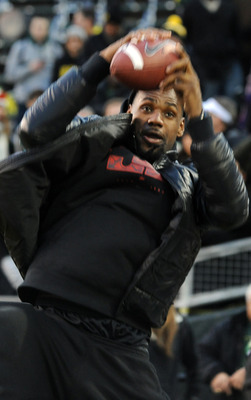 Steve Dykes/Getty Images
Position: Tight End
Newly-coronated King James has coquettishly poked his nose around the NFL for years now. First there was this commercial, where he pretended to sign with the Cleveland Browns (who, in spite of the city's disdain for LeBron, would still probably welcome him with open arms). And later, during the NBA lockout, he sent this cryptic message to ESPN's John Clayton.
LeBron was a 5-star wide receiver prospect in high school, but he would be even more dominant in a properly-utilized tight end role. Think Rob Gronkowski if he was four inches taller, and infinitely more athletic.
LeBron's massive frame would make him a good blocker (if he learned to stop being such an over-dramatic priss) in addition to one of the most unique receiving threats in NFL history,
If winning titles ever gets to easy for him, as it did for MJ, we hope he retires into football instead of Minor League Baseball.
Matthias Steiner (GER) – Weightlifting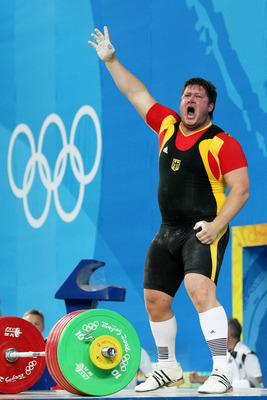 Al Bello/Getty Images
Position: Center
The massive German checks in at only 6'0'', a little short for an NFL lineman, but still capable of playing along the interior.
He weighs 310 pounds and, most importantly, won gold in the weightlifting competition in Beijing. In case you can't tell, that means he's pretty strong.
His weight-to-height ratio implies that he has a low center of gravity, and he could become a great interior blocker in the NFL. If he can't move a pile, then I don't know who can.
Jake Varner (USA) – Wrestling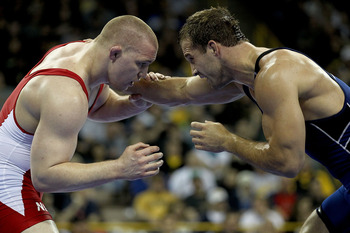 Matthew Stockman/Getty Images
Position: Fullback
Varner, only 26 years old, won two NCAA individual titles, before taking home an impressive bronze medal at the 2011 World Championships in Istanbul.
Varner is built like a truck, measuring in a 6'1'', and wrestling in the 96 kg weight class, which makes him roughly 211 pounds. That's 211 pounds with almost no body fat.
Wrestlers are great technicians who love contact, and that, along with his size and strength, would make Varner an impressive fullback prospect, He seems like the kind of guy who would love his assignment on every play to be "hit somebody."
Russell Westbrook (USA) – Basketball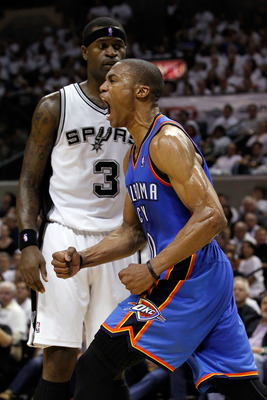 Tom Pennington/Getty Images
Position: Running Back
For the sake of brevity and variability, only two basketball players have been included on this list.
Westbrook is built strong, fast and compact like an NFL running back, only he fits it all into a 6'3'' frame, rather than a much shorter one.
In the NBA, Westbrook's bull-headed proclivity for going north-to-south sometimes gets him in trouble, but in the NFL it could make him one of the best hole-hitters in the league.
He plays fast and relentless, and could beat you with both his size and his speed. He's also got those big old basketball hands, which would make him a unique threat coming out of the backfield.
NBA teams try to get under Westbrook's skin, knowing that he's more mistake-prone when he's angry. In the NFL, people would try to keep him subdued as much as possible.
Keep Reading