NBA Draft 2012: Tier Rankings for Projected 1st-Round Picks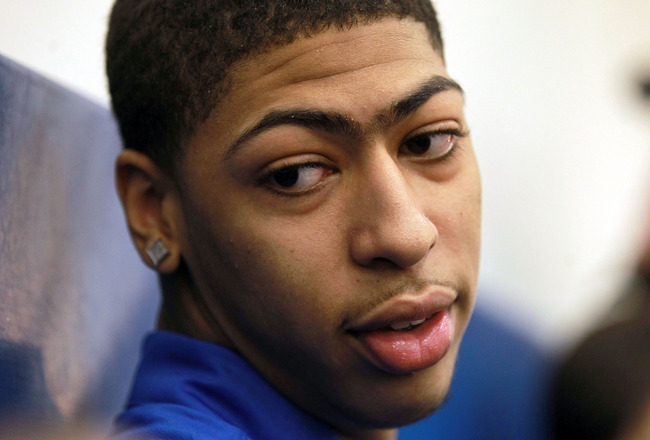 Andy Lyons/Getty Images
The NBA draft is this Thursday, and at this stage, most teams have likely established their big board.
That makes this a good time to group the projected first-round picks into tiers. Barring anything drastic, these tiers will be largely similar to what they would be on draft day.
I have chosen 35 prospects and placed them into six groups that, for the most part, are a good indicator of where a player's draft stock currently sits.
While some players will be reached for and others will slip a few picks, these tiers show roughly where these guys can expect to go.
Tier 1: The Unibrow Tier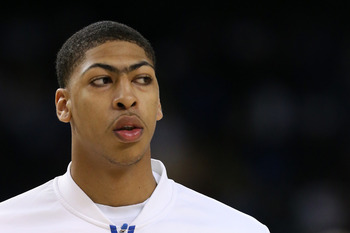 Ronald Martinez/Getty Images
Tier 1:
You could also call this the Anthony Davis Tier or the New Orleans Hornets Tier because those will be the only two parties involved at this level, but that's just not as fun.
Davis has established himself as the No. 1 prospect in this draft, and it's not even close. Thomas Robinson may beg to differ, and it's hard to fault him for doing so, but the reality is that Davis is on another level.
The Unibrow has incredible potential, and he may be one of the very best prospects to come out since the fabled 2003 draft. If he can reach his maximum potential, multiple All-Star Game appearances are well within his reach, and there is no telling just how far he will go with his NBA career.
It is safe to say, however, that he will be the first overall pick.
Tier 2: The Tier 1 If There Was No Unibrow Tier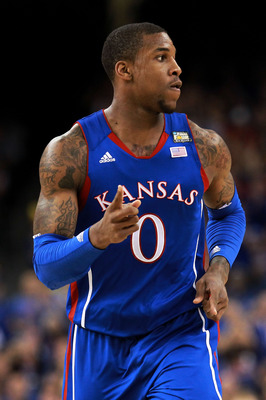 Ronald Martinez/Getty Images
Tier 2:
Bradley Beal
Harrison Barnes
Michael Kidd-Gilchrist
Thomas Robinson
It's not easy to be in the same draft class as a guy like Anthony Davis. Every year, guys are trying to convince teams that they are worthy of the first overall pick, but with a guy like Davis in the draft, there is almost no use.
These guys would be Tier 1 material in most other draft classes, but this year's class is one of the most hyped in recent years, with some saying it's the best one since the 2003 draft class that brought us LeBron James, Dwyane Wade and several others. And these guys are a big reason why.
After Davis, these four could be picked in any order. While they don't have as bright a future as Davis, these prospects still have a lot of things going for them. All of them have All-Star potential and could be stars of the league when they hit their prime.
Rumors out of Charlotte say that the Bobcats are very interested in selecting Kansas forward Thomas Robinson with the second overall pick if they don't trade it away. However, they could easily go in a different direction and select, say, Michael Kidd-Gilchrist, or any of the other players listed.
That alone could change how the next four or five picks go, showing the depth of talent even within the top couple of picks.
Tier 3: The Safe Tier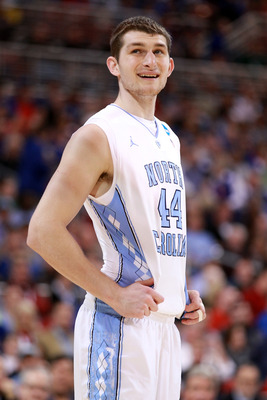 Andy Lyons/Getty Images
Tier 3:
John Henson
Andre Drummond
Jeremy Lamb
Meyers Leonard
Damian Lillard
Austin Rivers
Dion Waiters
Tyler Zeller
These players will fill out the rest of the lottery in some order. It's called the safe tier because it's very hard to predict a scenario in which any one of them drops out of the lottery, but at the same time, it's just as unlikely that any of them gets picked before the Tier 1 and 2 players are all gone.
Apart from Weber State guard Damian Lillard, who has been heavily linked to the Portland Trail Blazers with the sixth overall pick, Connecticut guard Jeremy Lamb is considered to the best player in this tier. Most mocks have Lamb going to the Toronto Raptors at No. 8.
Directly before and after Lamb, the picks are very hard to predict. The seventh overall pick of the Golden State Warriors remains a mystery, as they could a number of positions.
The Detroit Pistons are expected to draft a big man to with the ninth overall pick, but it could be Meyers Leonard of Illinois or either of the bigs coming out of UNC. The Milwaukee Bucks (No. 12) and the Houston Rockets (No. 14) are also interested in big men and could end up with the two bigs that Detroit passes on.
Finally, the Phoenix Suns, with the 13th overall pick, are rumored to have given a draft promise to Dion Waiters, although he could be plucked well before then.
Tier 4: The Could Be Lottery but Probably Not Tier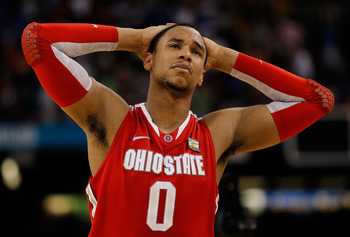 Chris Graythen/Getty Images
Tier 4:
Moe Harkless
Perry Jones
Terrence Jones
Kendall Marshall
Arnett Moultrie
Terrence Ross
Jared Sullinger
Any of these guys could sneak into the back end of the lottery (the last three tiers combined only had 13 players in total), but the odds are against each and every one of them. While at least one will get picked in the lottery, it's hard to say who it's going to be.
If Houston, with the 14th overall pick, doesn't see a big man fall to them, they might reach on Mississippi State power forward Arnett Moultrie. Meanwhile, the Portland Trail Blazers, with the 11th overall pick, might have to go with Kendall Marshall or Terrence Ross if superior backcourt options like Austin Rivers and Dion Waiters are unavailable.
There are also a couple guys in this tier with a volatile draft stock. Prime examples are Baylor forward Perry Jones, Kentucky forward Terrence Jones and Ohio State forward Jared Sullinger. All of them were definite lottery picks a couple of months ago, but have since fallen out for various reasons.
A lot of mock drafts currently have them in the late teens and early 20s, but it's possible that the Rockets take any one of them with the 14th pick (or the 16th pick, for that matter) if they can't the big they were looking for.
Tier 5: The Rest of the First Round Tier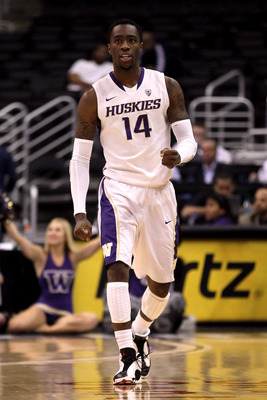 Stephen Dunn/Getty Images
Tier 5:
Evan Fournier
Fab Melo
Quincy Miller
Andrew Nicholson
Jeffery Taylor
Marquis Teague
Royce White
Tony Wroten
These prospects are most likely all players picked in the 20s. It's hard to imagine any of them rising into the teens, and odds are that won't happen. However, it's also very unlikely that any of them fall out of the first round, either. In that regard, this is very similar to the Safe Tier earlier.
If anybody does get selected in the teens, it could be Kentucky guard Marquis Teague, the brother of the Atlanta Hawks' Jeff Teague. His draft stock is also subject to volatility, much like Perry Jones, Terrence Jones and Jared Sullinger in the last tier.
If Teague doesn't rise into the teens, then the most likely guy to get picked first from this tier is Saint Bonaventure forward Andrew Nicholson. He's been mocked a lot to the Boston Celtics, owners of both the 21st and 22nd overall picks.
The Celtics could easily draft two big men with both of their picks, although it's looking more and more likely that they will get to select one of the aforementioned Tier 4 forwards (the two Joneses and Sullinger) with one of their picks. If they don't, however, they could also select Syracuse center Fab Melo, who made headlines earlier this season when he had a 10-block game, or Iowa State forward Royce White.
After the Celtics, many mock drafts have the Atlanta Hawks picking Vanderbilt forward Jeffery Taylor 23rd overall. After him, things could play out in any order. Players of note include French swingman Evan Fournier, a young international prospect that offers immediate production, and Washington guard Tony Wroten Jr., an oversized 6'6" combo guard.
Tier 6: The Probably Not Tier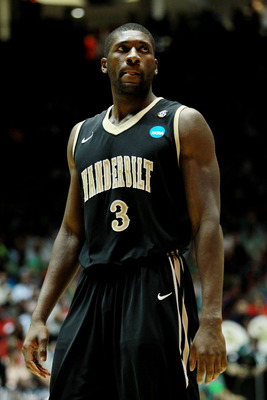 Ronald Martinez/Getty Images
Tier 6:
Will Barton
Jared Cunningham
Tyshawn Taylor
Draymond Green
John Jenkins
Doron Lamb
Festus Ezeli
These guys could be first-rounders, but it's hard to bet on any of them. I only put 28 players in the earlier tiers, so at least two and possibly more of these players will be first-rounders. However, trying to predict which ones will be isn't easy.
Vanderbilt center Festus Ezeli is one of the more likely players on this tier to go in the first round. Many of the teams picking late (like the Indiana Pacers at 26th overall, Miami Heat at 27th overall and the Oklahoma City Thunder at 28th overall) wouldn't say no to adding some young size and could opt to select him.
Ezeli's teammate, sharpshooting swingman John Jenkins, could also go to one of the contending teams picking late that needs a young sharpshooter. The Chicago Bulls, picking 29th, have been a popular destination for Jenkins in more than a few mock drafts. Alternatively, Kentucky guard Doron Lamb could be the sharpshooter that gets picked. He isn't quite the shooter Jenkins is, but does have better ball-handling abilities.
Memphis swingman Will Barton and Michigan State forward Draymond Green are also other players worth noting. Barton hasn't really been considered a first-round worthy prospect until very recently, but has shot up draft boards as of late due to his ability to put the ball in the rim.
Green, meanwhile, is a versatile forward that can stretch the floor and bang down low. He has been hanging around the end of the first round for a while and could very well end up being picked by a contending team looking for immediate production off the bench.
Keep Reading