NBA Finals 2012: Oklahoma City Thunder Shouldn't Go Back to Drawing Board
June 25, 2012

Ronald Martinez/Getty Images
The initial instinct after postseason disappointment is for coaches and front-office management to think through a litany of long-term adjustments, and the Oklahoma City Thunder are no exception.
Forget that this club ended the San Antonio Spurs' winning streak with four straight wins of their own. Forget that the Dallas Mavericks and Los Angeles Lakers appeared hopeless in the face of their younger opposition.
The reactionaries of the sporting world will call for changes—perhaps not an overhaul, but changes nonetheless.
It didn't take long for general manager Sam Presti to dispute rumors about OKC attempting to land a big-name coach like Phil Jackson (according to the Associated Press, per NJ.com).
Nor should it. The Thunder weren't blown out of the water in the NBA Finals by any stretch of the imagination, at least until Game 5. Taken as a whole, the series was closely contested, and the outcome could have changed dramatically if a couple of shots went in or a few calls went the other way.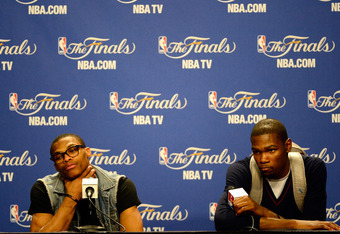 Ronald Martinez/Getty Images
That's basketball.
These finals were hardly a referendum on who qualifies as the best team in the league, and they're still less relevant as a prognostication for next season. At the end of the day, they were simply a barometer for who got hot at the right time.
Just as the Spurs hit an untimely rut in the Western Conference finals, so too did the Thunder a series later.
Could the Thunder be a little bit better?
Sure, and the same goes for the other 29 teams. But, most of that improvement will come from within. The club must learn how to get Kevin Durant more than the 20-25 shots he was taking in each game of the finals.
They also must find ways to keep its half-court ball movement clicking against quick defensive teams like the Heat.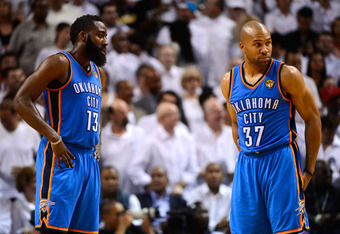 Ronald Martinez/Getty Images
As successful as these guys have been, it's easy to forget that Durant and Russell Westbrook are still just 23 years old. James Harden and Serge Ibaka are just 22, so perhaps they can be forgiven for their untimely disappearing acts.
The worst thing this organization could do is pursue an offseason agenda of endless tinkering. If Westbrook isn't the right point guard for this team—despite his undisputed talent as a scorer—now is the time to move him and never look back.
If it's financially impossible to retain the likes of Harden, Ibaka and Kendrick Perkins down the road, this offseason may be a good time to address those situations as well.
Otherwise, OKC should keep building on what's proven to be a rapidly successful formula. Those calling for more drastic measures have fallen prey to the kind of short-attention spans that don't make for effective roster management.
Fortunately for this organization, Sam Presti appears to know better.