Euro 2012: Breaking Down the Semifinals
June 24, 2012

Alex Grimm/Getty Images
Portugal 1, Czech Republic 0
Cristiano Ronaldo missed two sitters (by his standards) against Denmark in the group stages, and it was almost impossible to believe. He graced the field against Germany in Portugal's opening game, but he was more of a ghost than the dominant player the world has seen. He broke out of a slump and finally scored against [insert name]. That goal didn't bode well for the Czech Republic. Ronaldo took over the game and showed the kind of skill and goal-scoring prowess people have come to expect from the Real Madrid winger. Portugal will need him to keep firing on all cylinders with Spain, the reigning European and World Champions.
It will be tough for Spain to break down what looks like the stingiest, and meanest, backline in the tournament. It will be interesting to see the two teams match-up.
Czech Republic just didn't have it
The Czechs had two attempts all game against Portugal, and neither was on net. That about sums it up for a team that lacked a real attacking threat. Conceding the goal to Ronaldo was going to happen eventually, the Czech's just needed it to happen after they scored rather than before. There was no way of digging out of that hole.
Germany 4, Greece 2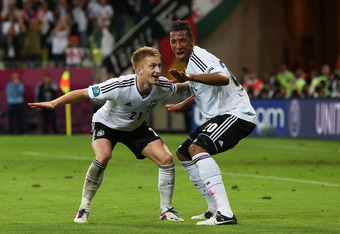 Alex Grimm/Getty Images
Germany's deep, deep bench
Joachim Löw made three major changes to his attacking trident after a perfect round of group stage games and ahead of the game against Greece. It seemed as though he was risking a lot by taking out Mario Gomez (scorer of two goals in the first three games), the experienced Lukas Podolski and Thomas Müller for Miroslav Klose (who is the all-time leading goalscorer in World Cup history) and the up-and-coming Marco Reus and André Schürrle. There were questions about the changes, but the moves paid off against a Greek side lacking in pace and big-bodies in the back. The moves paid off, and Germany won, 4-2, and the game wasn't as close as the scoreline.
"After three wins here, I wasn't dissatisfied with my team in the slightest, but I had been planning on making the changes to the lineup for a while," said Low to UEFA.com after the game about making changes to the Germany lineup.
"I thought we had to be unpredictable against Greece, because I felt they would be ready for us. It is good to be cheeky like that from time to time. I thought the plan worked out quite well.
It's a scary prospect to think that Germany has players of this quality to come off the bench in any game. What's really scary to think is that Mario Gotze—the next best thing in German soccer—got his first minutes late in the game and Lars Bender and Toni Kroos didn't even grace the field; both are widely experienced and would slot into just about any other countries midfield.
England/Italy will have plenty of work to do to stop all the ways Germany can break down a side and score goals.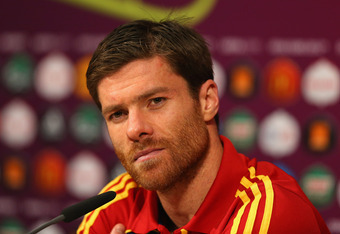 Handout/Getty Images
Greece had heart but didn't get the bailout it needed (I had to)
Greece didn't really have a chance. This isn't 2004, when Greece surprised everyone and won the European Championship, and the struggles the Greeks were up against with Germany on the other side of the ball was too much. Germany is a well-maintained machine that continues to pump out world-class talent, and Greece doesn't have the world-class forward that separates the best from the rest at tournaments like the Euros.
Greece didn't have the pace at the back or in the midfield to contain and hold back the German attack, which was switched up for this game. Klose is still a world-class forward, and he broke down the Greeks with ease and precision. Beating Russia and getting into the semifinals was a great achievement. Greece will go home proud.
Spain 2, France 0
France's disappointing crew of "me, me, me and me."
There seemed to be little fight on the field from Laurent Blanc's team after plenty of fighting in the dressing room. Spain took the game and killed it with possession, and only a few players on the French side even decided to fight to win the ball back.
Top that off with Samir Nasri's pitiful display with a French journalist after the game.
Good work making up for the disaster at the 2010 World Cup, or not.
Spain likes to play keep-away, sometimes score.
The Spain vs. France game was the most enticing one on paper before the semifinals began. Then Spain decided to slow the game down to a crawl and bore the French to death with little passes that went nowhere. Eventually Spain attacked and scored an opener.
Italy 0, England 0 (4-2 pens.)
Italy owns possession but doesn't impose its will

Andrea Pirlo enjoyed all the space in the world and orchestrated a masterful game, setting up chances, releasing Mario Balotelli on more than one occasion, finding pockets of space and even tackling at times, but the Italians wasted their chances and didn't put England away. Despite hitting the woodwork twice, having 12 chances blocked and putting 20 chances on net, Italy couldn't find a way past Joe Hart in the England goal until extra-time ran up and the ball was placed on the six-yard spot.
Italy needs to do better in possession and finish its chances because the other opponents left will break with more haste and finish off their chances.
England plays slow, refuses to cross
Ashley Young epitomized England's performance against Italy. He was sloppy in possession, slow in transition and poor when playing out of the back. Young and the other England wingers, Theo Walcott and James Milner, all seemed poised to avoid crossing the ball and to lose possession while bursting down the wing.
When Andy Carroll came on, it looked like England might go for the direct approach and began whipping in crosses, but it's hard to even remember any crosses flying into the Liverpool forward. It was amazing to see him take the ball down only to see his teammates squander possession after his touch.
Roy Hodgson will feel hard done by because England should have scored early on when Glen Johnson found space in front of goal, but could only muster a weak shot on net that was fairly easy for a flopping Gianluigi Buffon to palm away.
Eventually, the game went to penalties and the English did what they do best: lose big games on penalties.
"We gave our all but weren't quite good enough in the 120 minutes," Hodgson told UEFA.com after the game. "And when it went to penalties it went as it so often does for England. We go away unbeaten in normal time; but we go home because we can't win on penalties."