Sergio Romo: It's Time for San Francisco Giants to Make Him New Closer
June 24, 2012

Jason O. Watson/Getty Images
For the third day in a row, Santiago Casilla surrendered runs in the ninth inning against the Oakland Athletics.
On Friday, the San Francisco Giants closer gave up a solo home run to Oakland's Josh Reddick in the ninth but still earned the save. On Saturday, Casilla failed to get an out in the ninth inning, allowing a walk, two hits and an earned run.
Giants manager Bruce Bochy had to call on Javier Lopez and Clay Hensley to secure the win.
On Sunday, Casilla's ineffectiveness finally cost the Giants. Casilla entered the game with a one-run lead and promptly surrendered a single to Yoenis Cespedes.
After striking out Seth Smith, Casilla gave up another single to Brandon Inge. Again, Casilla rebounded by striking out the next batter—A's first baseman Brandon Moss.
Then, Derek Norris, the A's catcher with precisely 11 major league at-bats on his resume, stepped up with two men on. He promptly cranked a three-run homer to left.
Norris' walk-off bomb saved his A's from being swept. More than that, it put an exclamation point on Casilla's atrocious three-game series.
It bears mentioning that Sergio Romo, the Giants' best reliever in each of the past three seasons, didn't get a chance to pitch on Sunday. Romo's absence from this game was a problem, but the bigger issue is the Giants' inability to recognize that Romo, and not Casilla, should be closing games.
Now, in the advanced metric community, there's been an increasing amount of data that says a team's best relief pitcher should not necessarily be its closer.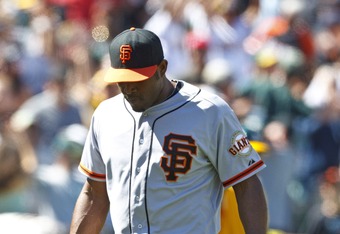 Jason O. Watson/Getty Images
Instead, that pitcher should be used in a game's most high-leverage situations.
This means that the best reliever should be used in the most crucial spots—when the game is hanging in the balance—and not necessarily inserted with a three-run lead in the ninth with no runners on base. Like a traditional closer would do.
I'd say Sunday represented one of those high-leverage situations.
The Giants needed to close out a one-run game to preserve a win and a series sweep. Moreover, they needed to pick up a game on the Dodgers, who dropped their contest to the Angels later that afternoon.
Casilla's failure cost the Giants that opportunity.
But, Romo didn't enter Sunday's game. That's a problem.
Making a case for Romo is simple. His numbers have been remarkable in each of the last three seasons.
In that span, he's struck out 168 in 130.1 innings while surrendering only 25 walks. His WHIP has never been over 1.00.
It's not rocket science. Sergio Romo is the Giants' best relief pitcher by an enormous margin and has been for three years now. For that reason, he should be used in the most critical situations.
Casilla is a passable reliever, but using him instead of Romo—especially when the game hangs in the balance—is inexcusable.
It's time for Romo to close.