Texas Football: What You Need to Know About Longhorns RB Johnathan Gray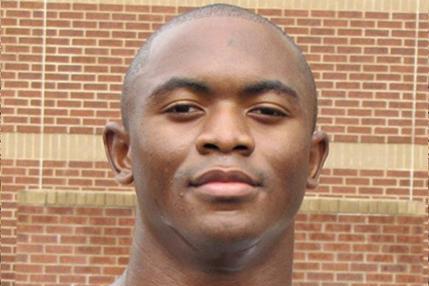 Austin-American Statesman
Without even setting a foot on Joe Jamail Field, freshman running back Johnathan Gray is already a household name for Texas Longhorns fans. He is fast, strong, quick and as likable as they come but most of all he is the face of a new era in Austin.
This offseason the Longhorns have committed themselves to a run-first approach on offense, effectively abandoned the gun-slinging mentality for a more smash-mouth brand of football that the team excelled at in 2011. Fans can partially thank Gray, one of the most complete backs ever recruited to don the burnt orange, for this change in philosophy as his signing gave Texas the most talented group of young running backs in the country along with sophomores Joe Bergeron and Malcolm Brown.
With the season opener only two short months away, there are still questions remaining about Gray's role in the offense and how he fits with his backfield mates. How many carries will he get per game? Will he run the Wildhorn?
Read on for the answers to these questions and more on the next member of Texas' Mt. Rushmore of running backs.
Begin Slideshow

»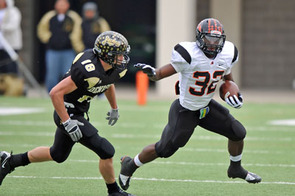 Kyle Dantzler/MaxPreps.com
Born April 22, 1994 to a former college football star, it is tempting to say Johnathan Gray was born to play football, but that is a cop-out.
There is no doubting football, namely the running back position, is in Gray's blood. His father James was an All-American running back at Texas Tech and left there with the school's rushing record that he has since yielded. Now James has passed on all he knows about the position to his son Johnathan to the tune of more national record and accolades than any person would bother to count.
At 5'10" and 205 lbs, Gray is about as prototypical as they come from the running back position. He has a thick lower body and low center of gravity that allow him to run over tacklers, and wastes no time hitting the hole to get downfield. Gray's 4.51 speed is not blazing by any means, but his quickness and acceleration allow him to distance himself from defenders all the same.
However gifted and talented he is on the football field, Gray's greatest qualities are best displayed off the field. Despite all of his talent and accolades, Gray truly is one of the most humble and genuine people you could imagine. Take for example his classmate Leah Vann, who was diagnosed with leukemia during Gray's junior year and received more-than-frequent visits from the school's celebrity running back throughout her recovery (full story here).
With all of these tangibles and intangibles in his arsenal, it is very easy to understand why Gray was the 2012 class' top running back. But first, let's break down Gray's sensational high school career.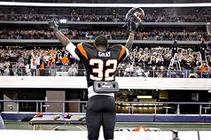 John F. Rhodes/Dallas Morning News
What's better than setting a national record for career touchdowns, winning back-to-back Gatorade National Player of the Year and Mr. Football USA awards, and just about re-writing Texas high school football's record from the running back position? The answer: winning three consecutive state titles in the process.
That is Johnathan Gray's high school career in a nutshell. After shocking his coaches to make the varsity squad his freshman year, Gray seized the job as the feature back his sophomore year and never looked back.
His sophomore year Gray rushed for 2,813 yards and 50 touchdowns en route to winning his first state title. He followed that with 3,221 yards and a state-record 59 touchdowns during his junior year, finished off by an unbelievable 323 yards and eight TD to lead his team to its second consecutive state title. At this point, Gray's senior season where he amassed 3,891 yards and 65 touchdowns was just icing on the cake, but with another state title. Throw in some national awards and records, and you get the most decorated high school career possibly in the history of the most award-heavy position in the game.
Since I am certain almost all of you have heard all of this before, here is one nugget of information that has not gotten as much attention. In his three state title game appearances Gray rushed for a combined 818 yards and 13 touchdowns, meaning Gray is an outright gamer. It is one thing to go out and do it in the regular season, but being almost unstoppable on the biggest available stage is something else entirely.
If ever there existed/will exist a more complete high school career than Gray's, it is a grave understatement to say that it would be hard to come by.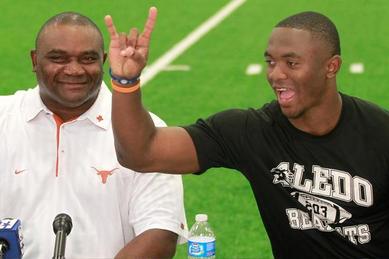 Ron Jenkins/Star-Telegram
Surprise, surprise. In thanks to his herculean efforts on the field, Johnathan Gray earned himself a 5-star rating and was the second-ranked overall player in ESPN's recruiting rankings, as well as garnering suitors from the best programs in the country.
One of the most impressive feats of Gray's high school career was his ability to balance his on-field success with the attention it brought him from top-tier Division I football programs across the country. He has his father James to thank for that.
As previously stated, James Gray was an All-American running back at Texas Tech and was therefore no stranger to the perils of the recruiting trail. James' experience with the process allowed him to shield his son from much of what was going on around him and made sure he kept a team-first approach with teams both current and future. By the end of it all, Johnathan had received offers from eight schools including TCU, Baylor and Texas A&M.
It all culminated after practice on Johnathan's 18th birthday when he gave Texas fans and coaches, especially recruiter Major Applewhite, an ear-to-ear smile by choosing to don the burnt orange. Gray's commitment gave Texas the third-ranked recruiting class of 2012 and a 5-star running back for the second year in a row.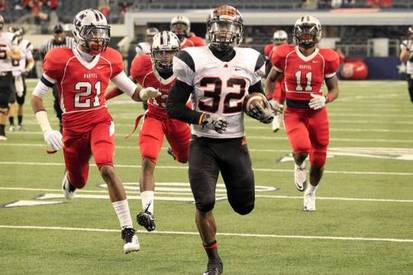 John F. Rhodes/Dallas Morning News
Joining star sophomores Joe Bergeron and Malcolm Brown in the backfield, Gray may take a little while to find his niche in the offense but once he does, look out.
Gray will likely enter the season as the team's third running back on the depth chart behind his backfield mates. Bergeron is more of a power back while Brown is more likely to lean on his speed, so Gray will have to find a way to distinguish his all-around game from these two in order to start taking carries away from them. One way would be to establish himself as a pass-catching threat as neither of his companions were very proficient in the respect last season.
One of the most intriguing options for getting Gray the ball would be to let him run Fozzy Whittaker's role in the Longhorns' Wild formation. Last season, the Longhorns were almost unstoppable running this formation before Fozzy went down with a torn ACL and the offense suffered in its absence. The coaches see in Gray the same type of playmaking skills that made Fozzy successful in the formation. However, the coaches are not going to simply hand Gray the job as they are also giving fellow freshmen Daje Johnson and Jalen Overstreet the chance to win the job.
The great thing about having two very talented players already in the backfield is that the coaches can afford to take their time with Gray. This way the coaches have a chance to progressively work him into the game plan as they figure out where he is most successful. The last thing they want to do is hurt his confidence by giving him too much too soon.
With all of that said, expect Gray to get anywhere from 10-15 carries per game once he gets his legs. As of now, his most likely role will include some third-down duty because of his receiving skills as well as taking snaps as a change of pace in the Wild. Anything to get him in space.
By season's end, I anticipate Gray becoming a focal point of the offense and that he will do enough to earn Big 12 Freshman of the Year honors. After that he will be well on the road to stardom and the sky is the limit.