Manu Ginobili and the 10 Biggest Round 2 Steals in NBA Draft History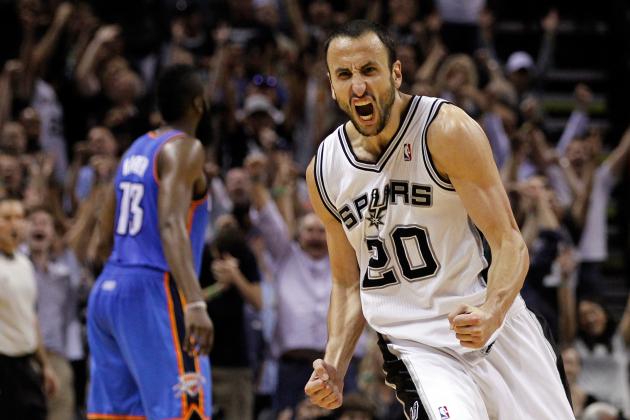 Tom Pennington/Getty Images

The NBA Finals are over, the Miami Heat are Champions, and it's now officially draft week.
On Thursday night, most attention will be on the No. 1 overall pick Anthony Davis and the few picks that follow, but there will certainly be some hidden gems to be found in the second round.
Throughout the history of the NBA draft, the second round has produced numerous All-Star selections, an abundance of NBA champions and a handful of Hall of Famers. Whether it's clear to basketball fans by now or not, this year's draft class will likely produce several second-round steals.
In its current format, the NBA draft features 30 selections in each of the two rounds; however, that hasn't always been the case.
Over the years, the draft has undergone a dramatic evolution.
From 1947-1965, the NBA Draft featured "territorial picks," which allowed a team to forfeit its first-round pick to select a player from its specific region. As documented by the NBA's official website, several territorial selections had a direct effects on Championship teams:
In 1956, the Celtics used a territorial pick to select Tom Heinsohn from Holy Cross in nearby Worcester, Mass. He went on to average 18.6 points and 8.8 rebounds, helping the Celtics to eight NBA championships in his nine-year career.
The New York Knicks struck gold when they selected Hall of Fame forward Willis Reed with the first pick in the second round, but if Reed would have been drafted in 2012 instead of 1964, he would have been considered a "lottery pick" as the eighth overall selection.
Six years later, the second round of the 1970 NBA draft produced eventual All-Stars Calvin Murphy and Nate "Tiny" Archibald, but as the 18th and 19th picks, respectively, they would have been drafted in the middle of Round 1 by today's standards.
Because the draft's format and the overall layout of the league have changed so much, there are obvious discrepancies in regard to who should be considered on a list of second-round "steals."
The current NBA features 30 franchises, which is the result of numerous additions over the past few decades, so for that reason, this list of the 10 biggest second-round steals will consist only of players selected after the first 20 selections of their given years.
Many of the members on the list are still currently playing in the NBA, while others are either on the sidelines as coaches or far, far away from the game of basketball.
Let's take a look at the 10 biggest second round steals in NBA history.
Begin Slideshow

»
Jonathan Daniel/Getty Images

(43rd pick in 2000, Milwaukee)
Shooting Guard
Height: 6-6
Weight: 215
Two Picks Prior: SG Chris Carrawell, PF Olumide Oyedeji
43rd Pick: SG Michael Redd, Ohio State
Two Picks After: PF Brian Cardinal, C Jabari Smith
The former Buckeye sharpshooter quickly became a star for the Milwaukee Bucks.
Initially buried on the depth chart behind All-Star Ray Allen, Redd eventually filled Allen's shoes as the Bucks' go-to scoring threat. Armed with one of the quickest releases in the NBA, Redd was an All-Star selection in 2004 before being a member of the USA's "Redeem Team" in 2008.
After battling numerous injuries in his career, Redd currently comes off the bench for the Phoenix Suns.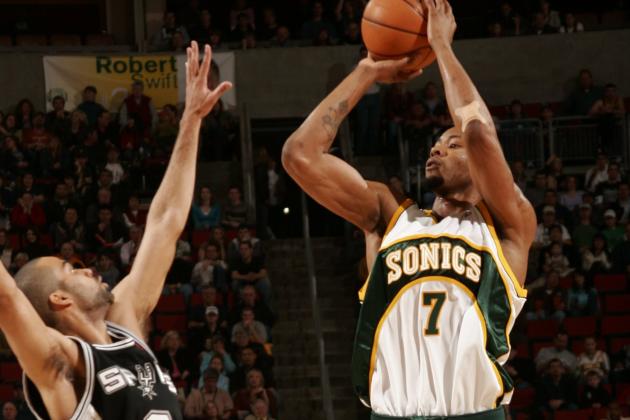 Otto Greule Jr/Getty Images

(32nd pick in 1998, Seattle)
Small Forward
Height: 6-10
Weight: 230
Two Picks Prior: SF Ansu Sesay, SF Ruben Patterson
32nd Pick: SF Rashard Lewis, Alief Elsik High School

Two Picks After: C Jelani McCoy, PG Shammond Williams
Lewis was heavily recruited by the likes of Florida State and Kansas, but instead, he chose to enter the NBA draft fresh out of high school and became the Aaron Rodgers of the 1998 NBA draft, as he was the last player remaining in the "green room."
After a couple average seasons in Seattle, Lewis burst onto the scene and averaged double-figures in each of the next 11 seasons, earning All-Star selections in 2005 and 2009.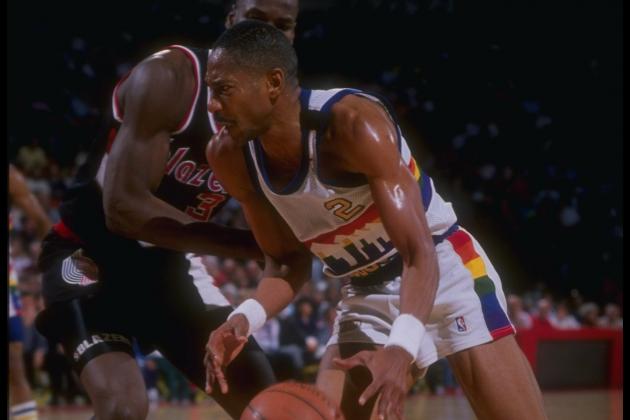 Tim DeFrisco/Getty Images

(23rd pick in 1976, Milwaukee)
Small Forward
Height: 6-7
Weight: 190

Two Picks Prior: G/F Earl Tatum, G Johnny Davis
23rd Pick: SF Alex English, South Carolina

Two Picks After: C Scott Lloyd, C Lonnie Shelton
After two modest seasons with the Milwaukee Bucks, English became one of the game's most efficient scorers, averaging at least 16 points per game in 12 straight seasons.
The eight-time All-Star was the NBA's scoring champion in 1983, when he averaged 28.4 points per game. English led the Nuggets to the Western Conference finals in 1985 and is still the leading scorer in team history.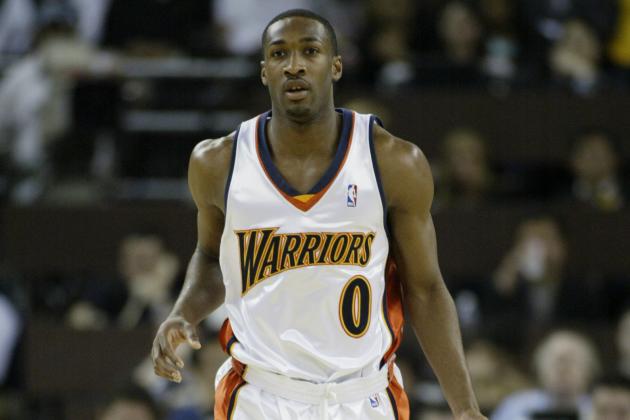 Jed Jacobsohn/Getty Images

(30th pick in 2001, Golden State)
Point Guard
Height: 6-4
Weight: 215
Two Picks Prior: PG Tony Parker, SG Trenton Hassell
30th Pick: PG Gilbert Arenas, Arizona

Two Picks After: PG Omar Cook, PG Will Soloman
This past season was—by far—Agent Zero's quietest in the NBA.
Prior to 2012, Arenas averaged double figures in scoring, with an impressive career high of 29.3 in 2005.
A three-time NBA All-Star, Arenas has been one of the most feared point guards in the league, with a career scoring average of 20.7.
Arenas has had his share of struggles in recent years, but he was a steal as the 30th pick in 2001.
Agent Zero was a reserve for the Memphis Grizzlies last season, and he's currently an unrestricted free agent.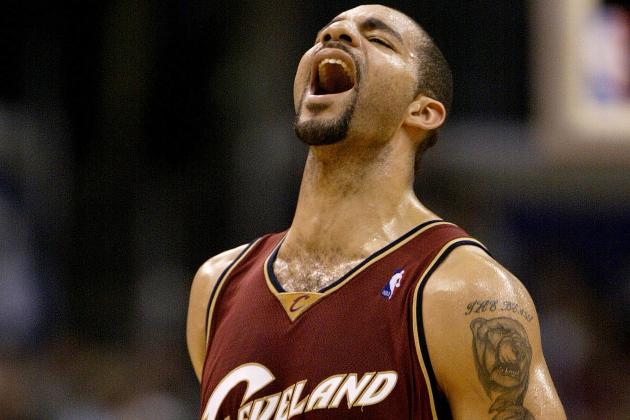 Robert Laberge/Getty Images

(34th pick in 2002, Cleveland)
Power Forward
Height: 6-9
Weight: 266
Two Picks Prior: SF Vincent Yarbrough, C Dan Gadzuric
34th Pick: SF Carlos Boozer, Duke

Two Picks After: PG Milos Vujanic, C David Andersen
A respected leader and hard worker at Duke University, Boozer was criminally overlooked in the 2002 NBA draft.
As a rookie, he averaged a double-double for the Cleveland Cavaliers, and he's since averaged similar statistical lines in every season but one.
Although he's often criticized for not living up to his contract with the Chicago Bulls, Boozer's career average of 19.0 points and 11.1 rebounds have cemented his status as one of the biggest second round steals in recent history.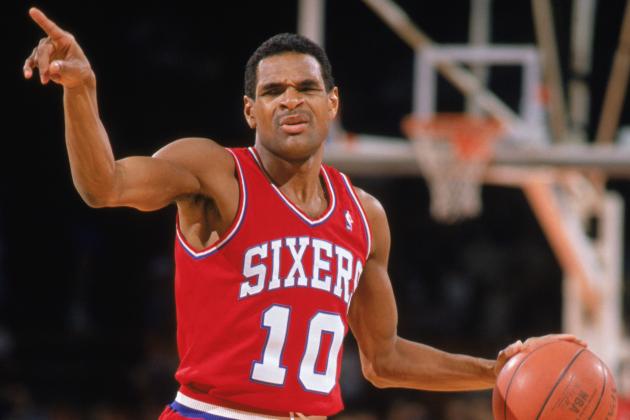 Mike Powell/Getty Images

(36th Pick in 1978, Philadelphia)
Point Guard
Height: 6-1
Weight: 180

Two Picks Prior: F Greg Bunch, G Tommie Green
36th Pick: PG Maurice Cheeks, West Texas A&M

Two Picks After: F Terry Sykes, G Lew Massey
Prior to becoming a head coach in the league and the current assistant coach for the Oklahoma City Thunder, "Mo" Cheeks was a four-time NBA All-Star with the 76ers.
Cheeks registered a career average of 11.1 points and 6.7 assists per game before retiring after the 1992 season.
Following a stellar 15-year career, his No. 10 jersey was retired by the Philadelphia 76ers.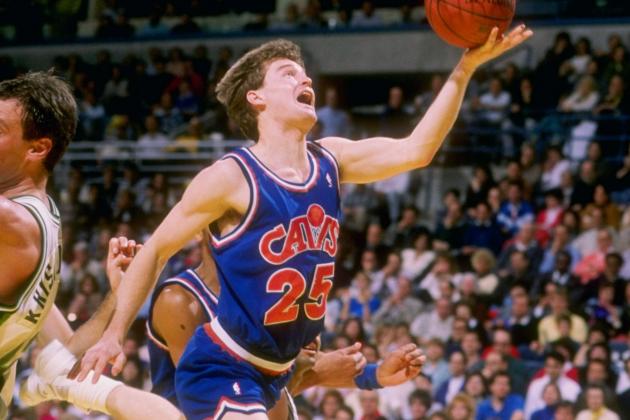 Jonathan Daniel/Getty Images

(25th pick in 1986, Dallas)
Point Guard
Height: 6-0
Weight: 170
Two Picks Prior: F Ken Barlow, F Arvydas Sabonis
25th Pick: PG Mark Price, Georgia Tech

Two Picks After: C Greg Dreiling, PF Dennis Rodman
Price was a second-team All-American with Georgia Tech in 1985 before being the first selection in the second round of the 1986 NBA Draft.
A two-time champion of the NBA three-point shootout, Price dazzled basketball fans with his smooth stroke behind the arc.
As a four-time NBA All-Star and a member of the All-NBA first team in 2003, Price posted a career per-game average of 15.2 points and 6.7 assists, while shooting over 40 percent from behind the arc.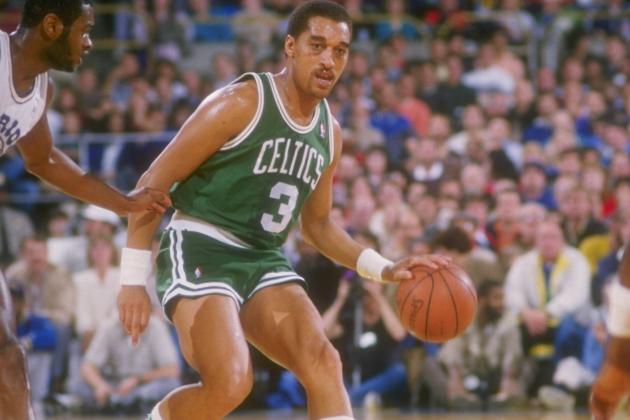 Otto Greule Jr/Getty Images

(29th pick in 1976, Seattle)
Point Guard
Height: 6-4
Weight: 182
Two Picks Prior: F Phil Hicks, G/F Bob Carrington
29th Pick: PG Dennis Johnson, Pepperdine

Two Picks After: F Al Fleming, C Joe Pace
Dennis Johnson was a highly respected, unselfish point guard on three championship teams.
Despite carrying a reputation as a lock-down defender during his playing days, Johnson averaged at least 18.8 points, 4.6 rebounds and 3.7 assists during an elite three-year stretch from 1979-1981.
A five-time NBA All-Star selection, Johnson's No. 3 has been retired by the Boston Celtics.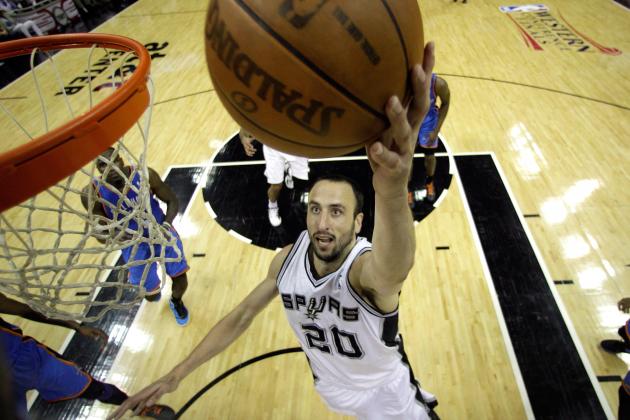 Pool/Getty Images

(57th pick in 1999, San Antonio)
Shooting Guard
Height: 6-6
Weight: 205
Two Picks Prior: SG Kris Clack, C Tim Young
57th Pick: SG Manu Ginobili, Argentina

Two Picks After: G Eddie Lucas (Last pick of draft)
After being the second-to-last pick in 1999, Ginobili didn't join the Spurs until the 2002 season.
It didn't take long for Ginobili to catch the league's attention, as he made 38 starts and averaged 12.8 points per game in just his second season in the NBA.
Ginobili was named the 2008 sixth man of the year and he's a three-time NBA All-Star and a member of three championship teams with the Spurs.
Ginobili was not only a second-round steal, but he is also one of the most successful foreign-born players in league history.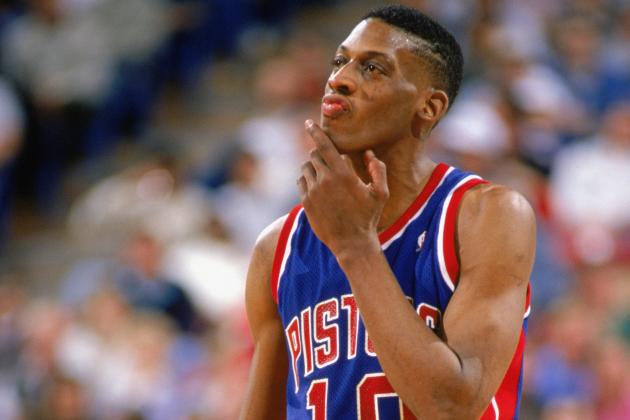 Otto Greule Jr/Getty Images

(27th pick in 1986, Detroit)
Power Forward
Height: 6-6
Weight: 220
Two Picks Prior: PG Mark Price, C Greg Dreiling
27th Pick: PF Dennis Rodman, Southeastern Oklahoma State

Two Picks After: PF Larry Krystkowiak, SF Johnny Newman
Prior to becoming perhaps the best rebounding forward in NBA history, Rodman was a largely unknown, undersized forward from Southeastern Oklahoma State.
On top of being a tremendous rebounder, Rodman was a seven-time member of the NBA's all-defensive first team, despite being much smaller than most players he matched up with.
Despite averaging a modest 7.3 points per game, Rodman posted a career average of 13.1 rebounds.
After he posted an incredible 18.7 rebounds per game in 1991, it's easy to see why the five-time NBA champion is the biggest second-round steal in NBA history.