Philadelphia Flyers: 2 Important Keys to Success for 2012-2013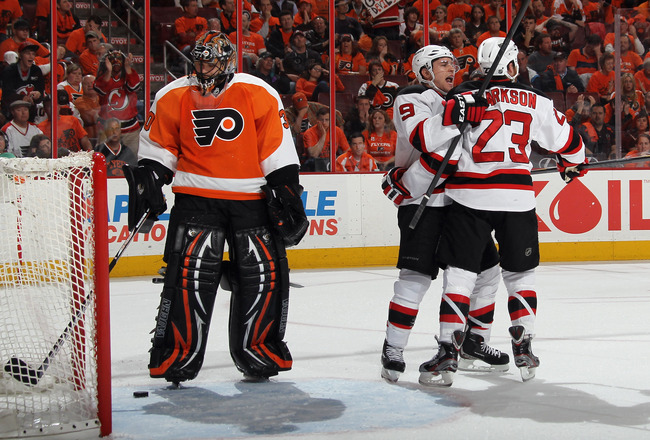 Flyers Defensive Giveaways Cost Them Dearly in 2011-2012
Bruce Bennett/Getty Images
The 2012-2013 season will be another period of growth for a Flyers team who are looking to fix areas in which there were shortcomings last season.
There are two keys to success for a talented team who are hoping to bring a Stanley Cup to Philadelphia for the first time since 1975.
One of the glaringly obvious problems in the playoffs was their defense. Regardless of who was playing defense for the team, there were too many giveaways at crucial moments.
Granted it is tough to play fast and intense hockey and remain accurate in passing. I completely understand how hard that is.
However, if the team wants to win the ultimate trophy, they must improve in this area. Here are the things that must not happen next season.
Giveaways in Their Own Zone

Bryzgalov Gives Up Crucial Goal On Giveaway

In Game 5 against the New Jersey Devils, this major error on the part of Bryzgalov in the midst of such an important game helped to deflate a comeback.
Instead of trying to pass the puck in front of himself with an offensive player immediately in front of him, he should have either dropped on it or pushed it behind the net. This would have at least bought his defensemen time to make it back to where the offender was lurching.
He is not Ron Hextall with the puck. At least not at the moment. I believe people can make improvements to their game if they so desire but the Flyers need to prevent Bryzgalov from being forced to make these kinds of plays.
Defensively, they need to be better. Much better.
Last season, I saw many players make costly mistakes in their own zone. Matt Carle especially made some crucial turnovers which cost them. Even Kimmo Timonen made these mistakes this past year.
The key to success for the next season is accurate passing and responsible puck possession. I was witness to way too many careless blind passes, sometimes to no one in particular.
In the 2010 playoffs, the Flyers were great passers. In the 2011 and 2012 season, there was a decrease in quality passing. This must be stressed to players in the upcoming season.
Hopefully there is a new focus on overall defense for the upcoming season.
Solving Neutral Zone Traps and Defensive Strategies from Some of the Best Teams

Opposing Defensive Traps Must Be Solved

The Flyers offense is one of the best in the league. However, there are some teams that seem to be able to shut them down in some of the most important games.
The New Jersey Devils and the New York Rangers were able to prevent the Flyers from scoring adequately enough to win the most important games against them. The Devils were successful in the postseason while the Rangers were able to win every game against the Flyers during the regular season.
Maybe the trap is too hard to solve, but surely there is a way.
It is up to Peter Laviolette and his staff to do their homework, be creative and try to solve this somehow over the summer. It may take an act of genius to unlock the defensive secrets of some of these talented defensive teams. But if anyone can do it, Laviolette will.
He did a very good job of figuring out the Tampa Bay Lightning's neutral zone trap and exposing it for what it was. Maybe the league needs to crack down on the trap.
A key to success for next year will be figuring out how to score on one of the tougher defensive squads.
Keep Reading

Philadelphia Flyers: Like this team?