NBA Draft 2012: Most Devastating Dunk Highlight from Every Projected 1st Rounder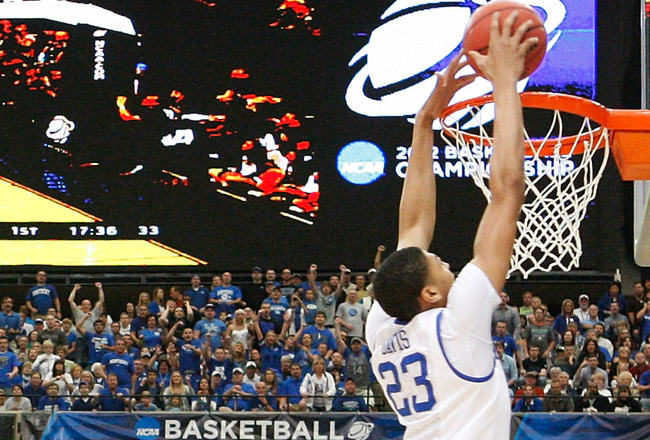 Kevin C. Cox/Getty Images
Breaking down the merits of Anthony Davis, Thomas Robinson, Bradley Beal and others as NBA draft prospects is important, but boring. You know what's more fun? Watching their best dunks.
So screw how well they cover the pick-and-roll! Who cares if they can hit an outside jump shot or set hard screens?
Today we're going to look at the best dunk highlights for every projected first rounder. Better get your popcorn ready.
Anthony Davis
Does anyone want to volunteer to try to defend that guy?
I didn't think so.
Michael Kidd-Gilchrist
This is why I love Michael Kidd-Gilchrist as a draft prospect. He's a smart enough defender to make a big steal, but also athletic enough to do...that.
Playing against Kentucky must not be very fun for other teams. Before Gilchrist's monster jam, we saw yet another throw down by Anthony Davis.
Can we somehow allow Jason Kidd to sign with Davis or Kidd-Gilchrist as a free agent so we can see some more crazy alley-oops? I'm sure he wouldn't have to take a huge pay cut.
Thomas Robinson
When the title of a video includes the words "dunk of the year" nominee, you know you're about to watch something special.
Well that's what Thomas Robinson just gave us. Some say he relies too much on his athleticism, and if you watched this video you may have a bit of evidence for that, but man, how can you knock a guy who just went Blake Griffin all over Baylor?
Bradley Beal
Before I break down this dunk, I'd like to chastise the announcers for not showing more excitement. Really? That doesn't get you to raise your voice?
Anyway, what isn't there to like about Beal on this play? Look at his control of the ball and his body control. Just watch that athleticism. And he's known as a jump shooter?
This guy is a stud. He's going to score 20 points per game in the NBA for a long time.
Harrison Barnes
First of all, I feel bad for the guy who had the misfortune of defending Harrison Barnes on that play. Not only did he just get posterized, but he also got knocked on the floor. Not a fun series for the Clemson player there.
Second of all, this is why Barnes was so hyped coming out of high school. He's athletic enough and skilled enough to burn an entire team's defense and throw down a jam like that.
It's a shame he doesn't do it more often because he's not great at creating his own shot. That's something he has to work on at the next level.
Andre Drummond
Yes I know this wasn't during a game, but who cares.
How many seven footers have you seen go between the legs? It's not exactly a very long list. This is why he gets comparisons to Dwight Howard despite doing virtually nothing to warrant them on the court.
He's an incredible athlete with very little actual skill. Oh well, at least he'll give us a few highlights next year.
Damian Lillard
Fast forward to around the 20-second mark. Lillard isn't a dunker, so don't expect much.
I will say though, that this video really gave me a better impression of Lillard's athleticism. I think he's gonna make it in the NBA. Just not as a dunker.
Dion Waiters
Yes there is an asterisk here considering this dunk was in high school. But...
ARE YOU KIDDING ME? DID HE JUST JUMP OVER THAT GUY?
You're not gonna see a better dunk in this slideshow. You may not see a better dunk ever. As far as I can remember, we've only seen this happen in an NBA game once, and the dunker's name rhymes with JeBron Lames.
Jared Sullinger
Look at that elevation. Look at the movement to get into position. I really don't understand the knocks on Jared Sullinger.
I haven't seen his medical reports (and if I had I couldn't hope to understand them), but this guy seems like a flat-out gamer to me.
He reminds me of Paul Millsap. Someone's getting a steal with this guy.
Jeremy Lamb
Say what you will about Jeremy Lamb, but that guy is an athlete. Just look at that dunk. He looks like a young Vince Carter.
I don't care if that was a charge (and from my angle, it looked like it), getting that kind of athleticism and having that much power on the slam is a sign of good things to come.
Meyers Leonard
Yet another high school dunk, and yet another...
ARE YOU KIDDING ME? DID HE JUST JUMP OVER THAT GUY?
Seven footers aren't supposed to be able to do...that. Pause the video at 24 seconds. Leonard looks just like the Air Jordan jump man logo. I'm sold.
Remember how I said you wouldn't see a better dunk in this slideshow than the one by Dion Waiters? Well...maybe I was wrong.
Kendall Marshall
In fairness to Marshall, he's no dunker. He's a prototypical pass-first point guard, the type of floor general most teams are looking for.
But still. Not one nice college dunk, Kendall? Really?
If I didn't love him so much as a pure point guard I'd rip into him more, but man, I'd love to see at least one real dunk.
Perry Jones III
I can't say I'm particularly impressed with the dunk alone. Don't get me wrong, alley-oops are always fun to watch, but it's not like Jones did a back flip on the way up or anything.
What I like is Jones's explosion to the basket. He burned his defender and put himself in position for the easy basket.
That's the type of athleticism that scouts love. If he can somehow harness it he'll be a star.
John Henson
This one created a bit of a controversy because Henson threw down the dunk with only 1.6 seconds left and the outcome no longer in question.
That's exactly what I like about it. He's sending a message to the other team. We need more of that in today's NBA. Oh, and it was a nice dunk.
Austin Rivers
Yet another set of high school dunks, but you've got to give Rivers credit on these because they really are nice.
Rivers is a pure scorer. He knows how to put the ball in the hoop. On these dunks he shows that he knows how to do it with some style.
Side note, I want Rivers to somehow end up in Boston. Not only would he get to play for Doc, watching him and Rajon Rondo play together would be awesome.
Come on Danny, No. 21 and 22 for No. 12 is a reasonable trade. Go make it.
Terrence Jones
I always love these dunks. Getting any sort of offensive rebound on a free throw shows great hustle, positioning and leaping ability; but to throw down a dunk while you're at it?
That's why Jones is going to be a solid NBA player.
He's athletic, skilled and versatile. One of my favorite dunks on this list so far.
Arnett Moultrie
Not too much to say here. Just a strong throw down after Moultrie gets into position for the slam. He's going to be a solid player.
I will give Moultrie some credit for doing this with his size though. He's really athletic for a big man.
Royce White
And they say Royce White is afraid to fly. Not only does he throw down a solid dunk, he does it while being defended by Anthony Davis.
Not many people can get by Davis and then dunk on him. He kept Iowa State in a game against Kentucky. That's a pretty nice accomplishment.
Terrence Ross
Not many guys can pull of a 360 alley-oop in the middle of a tight game, but Terrence Ross does it here.
He tricks his defender with a clever move and then gets a clear path to the basket for the awesome slam.
If he can pull off moves like that as a pro, he'll have a nice career.
Tyler Zeller
I have to admit I didn't think Zeller had that type of athleticism. He got way more air than I ever thought he could, and he got into position with a really good pump fake.
Those are the types of moves NBA big men need. Zeller is coming into the league a far more developed scorer than most.
Marquis Teague
And they say point guards can't dunk. Look at the elevation and hang time Teague gets here. He's an incredible athlete.
He's not nearly ready to be an NBA floor general, but we're going to see plenty of athletic plays like this from Teague as a rookie.
He's a Kentucky guy. They aren't exactly known as mature floor generals, but at least you know they're awesome talents.
Moe Harkless
Is it just me or does Harkless look like he's using that Fordham defender as a stepping stool? That's a classic Michael Jordan and the end of Space Jam move.
He gets plenty of air on this dunk and absolutely posterizes his defender.
This is a dunk St. Johns fans will not soon forget.
Andrew Nicholson
What's up with all of these dunks against Fordham? I guess I need to start going to their games if exciting stuff like this is happening.
I'd say Nicholson posterized his defender, but I'm not quite sure any photographers attend games between Fordham and St. Bonaventure.
Tony Wroten
Since when did Washington have such a great collection of dunkers? Seriously, I can't name anyone before Nate Robinson, but now it seems like we see these kinds of dunks all of the time.
Wroten gets great elevation here, but also manages to throw it down with a ton of power, an excellent combination for any aspiring dunker.
Fab Melo
First of all I want to point out how unnecessary this dunk was. The game was over. Why risk an injury on a flashy dunk like that?
That doesn't exactly do much to dispel my "Fab Melo is one of the stupidest players in college basketball" theory.
In terms of the dunk itself, though, I have to give Melo props. Most big men can't do a 360 like that.
Evan Fournier
First of all, Euro scouts don't get enough credit for watching tape in other languages. I did it for less than five minutes, and it bothered me.
The dunk itself was nice but unspectacular. Fournier made a nice move along the baseline to get in position for a solid slam. Nothing too flashy about it, but a solid move nonetheless.
Quincy Miller
This dunk pretty much sums up Quincy Miller to me. Great athlete but a disappointment in college as part of a real team.
No wonder I couldn't find a spectacular dunk during his year at Baylor. Some team is going to be disappointed when they take Miller. He may give them a few highlights, though.
Draymond Green
I just love Draymond Green. The guy is a basketball player. Look at the power he used to throw down that dunk, and look at the heads up defensive play that put him in position to do it.
He's going to have a solid career as a role player. He's too tough and cares too much not to.
Jeff Taylor
I love alley-oops, I love dunks off of inbound passes, and I love one-handed dunks. This fits all three.
Oh, and look how high off of the ground Taylor gets here. This is one of the better dunks in the slideshow.
Will Barton
This is why I love Michael Kidd-Gilchrist as a draft prospect. He's a smart enough defender to make a big steal, but also athletic enough to do...that.
Playing against Kentucky must not be very fun for other teams. Before Gilchrist's monster jam, we saw yet another throw down by Anthony Davis.
Can we somehow allow Jason Kidd to sign with Davis or Kidd-Gilchrist as a free agent so we can see some more crazy alley-oops? I'm sure he wouldn't have to take a huge pay cut.
Keep Reading