5 Essential Needs That Could Make the Sixers Contenders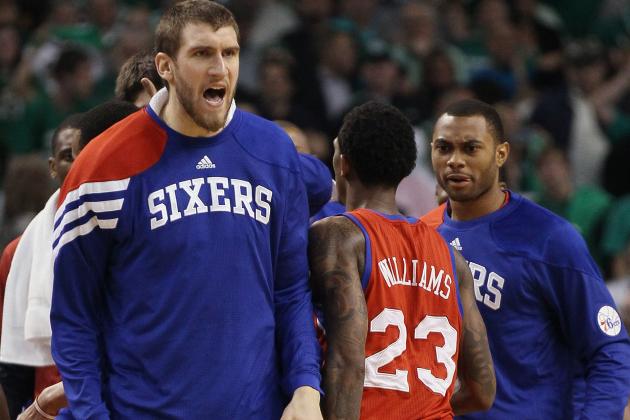 Elsa/Getty Images

The road to the top is an arduous one and the Sixers have a ways to go.
Sure—they made it to the second round of the playoffs, buts that's only half the work.
Chicago and Boston exposed Philadelphia's deficiencies, but they have an opportunity this offseason to patch-up those holes.
Hey are five key needs the Sixers must address in order to be considered legitimate.
Begin Slideshow

»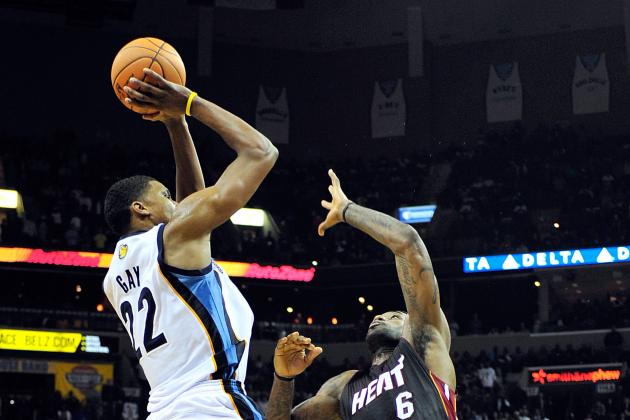 Grant Halverson/Getty Images

Everybody and their mother knows that the Sixers don't have a go-to scorer.
It's that obvious.
15 points a night from Lou Williams is nothing to dismiss, especially when you're coming off the bench, but what they really need is a proven, legitimate scorer—someone you have to game plan for.
They haven't really had one since AI left town.
Man I miss those days.
"We're sitting here talking about practice."
They may be without Lou Williams services next year anyway, as he is an unrestricted free-agent this offseason. He's expressed interest to stay in Philadelphia, but at the same time he wants to explore the market and see how much he is worth.
In the event that Williams doesn't return, it puts more pressure on the Sixers to fill his role as the leading scorer.
For the second consecutive year, trade rumors are circulating around the NBA that Andre Iguodala could be on the move.
One of the teams reportedly interested is Memphis. A trade between Philly and Memphis would revolve around Iguodala and Rudy Gay, their star forward.
Gay is only 25, but in his first five years in the league, he's established himself as a respectable scorer. Although he doesn't defend as well as Iguodala, he knows how to get out on fast breaks and finish at the rim.
Harry How/Getty Images

The Sixers are a team that pride themselves on defense, however they lack a true defensive presence in the middle.
Their starting center Spencer Hawes is talented on the offensive side of the ball, but he's not the type of player that fits the Sixers profile on D.
Not to mention, he's an unrestricted free-agent this season, so there are no guarantees he'll be back.
Once again, this is where trading Andre Iguodala could be beneficial.
The Los Angeles Lakers are rumored to have interest in Iggy—the athletic, versatile small-forward they'd been looking for.
In exchange, the Sixers would get big man Pau Gasol, who's consistently averaged a double-double the last three years.
What Pau brings to the table is a dominant low post presence with a sweet 17-foot jumper and an exceptional rebounder.
Lord knows the Sixers need help in that department.
The only problem with trading for Pau is that its just a quick fix. The Sixers are the third youngest team in the league and Pau turns 32 in July.
Another name floating around is Kris Humphries, who's blue-collar style of play could blend well with this team. Unlike Pau, he's only 27 and as a free agent, he would cost the Sixers any players.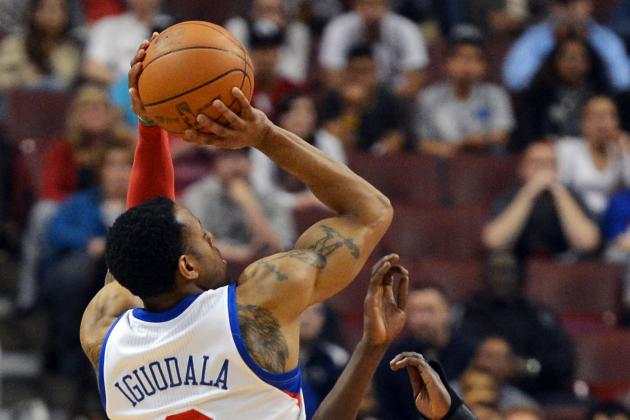 Drew Hallowell/Getty Images

During the regular season, the Sixers were one of the better 3-points shooting teams in the league, ranking eighth, thanks in large part to Jrue Holiday and Andre Iguodala.
But it never hurts to have too many shooters.
One of the keys to the Sixers making there offense more potent is to add a 3-point specialist—someone like a Kyle Korver or Mike Miller.
Stretching the floor is only going to open up the lanes for better cuts and easier passes.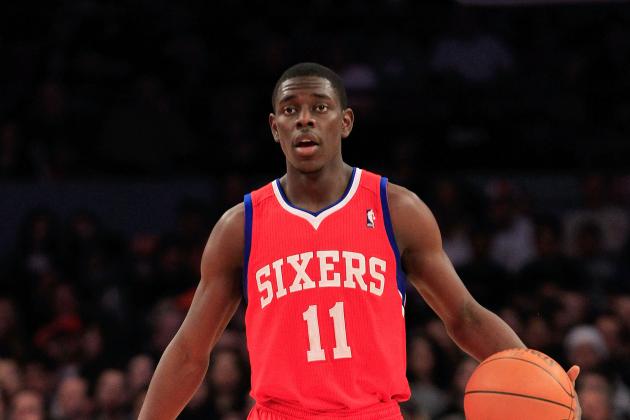 Chris Trotman/Getty Images

At the age of 22, Jrue Holiday's career is only getting started, but it goes without saying that its off to a impressive start after his performance in this year's playoffs.
Nonetheless, he's still young, raw and inexperienced.
It will be years before Holiday reaches his full potential but the best way to ensure that he does is by giving him a mentor—a knowledgeable point guard with valuable experience. Jrue needs someone he can study and bounce questions off of whenever it suits him.
In the long run, it'll prove to be more beneficial to Jrue and ultimately for the team, rather than the everyday trial and error.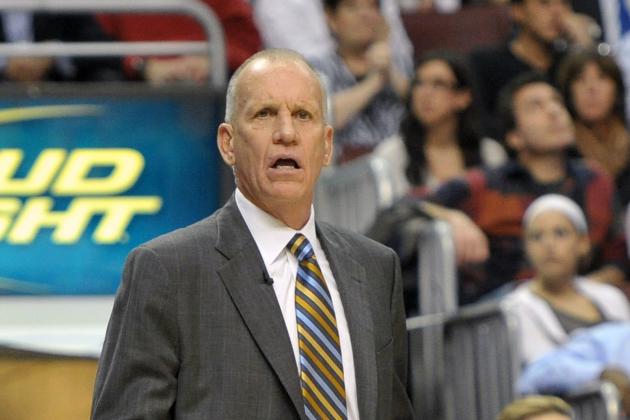 Drew Hallowell/Getty Images

A huge part, maybe the biggest part of the Sixers recent success, is second-year coach Doug Collins.
Collins is known for getting the best out of his players and he's doing just that with these young guys.
The Sixers are relevant again. And they don't appear to be going anywhere.
The season before Collins took over, they were 27-55. The very next year, they made a 14-game turnaround, finishing with a 41-41 record with the seventh seed in the playoffs.
Collins isn't always the easiest coach to play—sometimes engaging in shouting matches with his players—but at the end of the day, they always respond.
There's an old saying, "If it ain't broke, don't fix".
Doug Collins has turned this team around and has them headed it the right direction.
Resign the man.