Carmelo Anthony: Now That LeBron James Has His Title, Does Focus Shift to Melo?
June 25, 2012
Jeff Zelevansky/Getty Images
Finally and forever, LeBron James is an NBA champion. After years of waiting, fans will no longer be galvanized by LeBron's theatrics and his pursuit of an NBA title. Those days are over.
So as one storybook ending comes to a close, a door opens for the next one to unfold. The media will have to weed through a short list of elite athletes in order to find their next poster child to pummel until they too are crowned a champion.
Is that athlete Carmelo Anthony?
While many have thrown around names like Kevin Durant, Chris Paul, Roy Halladay and Phillip Rivers, Anthony takes precedent as the most prominent figure in his prime, while also playing in the world's most recognized city.
Durant's still just 23, Paul isn't a scorer and Halladay plays in the wrong sport to be considered an average fan attraction. Rivers is a close second, considering that he and Anthony are looking to keep pace with their respective draft classes, but Anthony holds much more star power than Rivers ever will.
Not only that, but most importantly, Anthony needs a title more than any of these athletes to define his career.
Anthony has been one the greatest pure scorers of this generation, averaging 24.7 points a game on 46 percent shooting over his career. He has consistently played at an elite level and has gotten his teams to the playoffs every year of his career.
However, Anthony has failed to get out of the first round in eight of those nine seasons. As a result, Anthony has frequently been referred to as a "ball-stopper" in reference to his shot selection and demand for the basketball in order to be effective.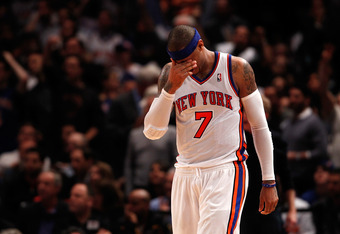 Jeff Zelevansky/Getty Images
If Anthony fails to win a title, he could easily fall into the same realm as Allen Iverson. While Anthony has a better mindset and attitude than Iverson, their need to constantly shoot a basketball is comparable.
Not only that, but Iverson's game was never enough to carry his team in the playoffs. Anthony needs to focus on becoming a better all around player in order to bring the Knicks to the next level.
It would be a huge disappointment if Anthony never reaches an NBA Finals. His scoring abilities would simply go to waste, and in playing for New York, everyone would know about it.
While we may never see another athlete covered so tightly by the media like James, Anthony is certainly a capable star whose chase for a title could make some headlines.