Laker Fans Need to Calm Down: These Trade Rumors Are Getting Absurd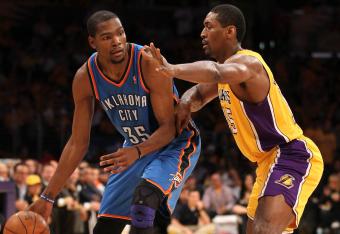 Stephen Dunn/Getty Images
"Trade for Deron Williams!!!"
"We need to get rid of Pau!!!"
"Bynum's never going to grow up!!!"
"The Lakers can never win as long as Kobe is the leader!!!"
These are all absurd statements that have been uttered by Laker fans and haters alike. And frankly, it's getting tiresome.
You see, the Lakers don't need to trade anybody. Our starting lineup is just fine as is. All the Lakers need to do is:
1. Re-sign Ramon Sessions.
2. Sign Lamar Odom or another backup Power Forward.
3. Give Mike Brown a kick in the ass.
In response to the ridiculous assertions that our team needs an overhaul, let me remind you that the Lakers currently have a top-three starting lineup in the NBA.
Ramon Sessions wasn't the problem at the PG position: Mike Brown was. The Lakers, as a veteran team, are best served by running their offense in the half court.
Someone had better inform Mike Brown that the best way to do that is run the pick-and-roll. And very few point guards run it as well as Ramon Sessions.
Is the panic in Lakerland warranted?
When Sessions first joined the team, the Lakers ran the pick-and-roll for him quite a bit, and he thrived. It was in the playoffs, when Mike Brown (for some reason) deviated from that, where Ramon began to struggle.
Ramon Sessions is a fine starting point guard; he just needs to be better used.
Now, as for Kobe, if anyone actually watched the games, they would have noticed that Kobe was a great team player the majority of the year.
He did a great job moving without the ball, but when the Laker offense stagnated, the default answer was to throw Kobe the ball, often with very little time to make anything happen.
People who claim Kobe is a hindrance to the Lakers are clearly wrong, and they should actually watch games before saying such things.
As far as Metta World Peace is concerned, has everyone already forgotten how great he played at the end of the season?
Outside of Kobe, nobody, and I mean nobody, shows as much heart and hustle on the basketball court as Metta World Peace. People in favor of amnestying him in a league that has the likes of LeBron James, Kevin Durant, Rudy Gay, Danny Granger, etc., are forgetting just how dominant he can be on the defensive end.
Pau and Drew are the top power forward-center duo in the NBA. Playing the offense through Pau and Drew means easier shots for everyone, including Kobe. And Kobe understands this. But when the two big men are lackluster in their effort, Kobe has no choice but to take over.
Give Drew and Pau some certainty. Tell them, unequivocally, that they will not be traded. Doing so will allow them to focus on getting rested and ready for the season, rather than having to deal with distractions.
The one area the Lakers do need to improve is depth. One way to do that is get Lamar Odom back.
And yes, people, that is possible. There is a loophole that will allow Odom to return to the Lakers sooner than would normally happen under the new CBA.
A bench of Steve Blake, Andrew Goudelock (play him, Mike Brown!!!), Matt Barnes, Lamar Odom and Jordan Hill is plenty good enough.
The Lakers do not need to trade any of their starters, nor do they need to overhaul their team. They just need depth, and they need Mike Brown to make adjustments for Ramon Sessions, which in turn will free up the offense for the rest of the Lakers. Otherwise, Brown needs to be shown the door.
The Laker roster needs tweaks, not overhauls. The sensationalism and the panic needs to stop.
This article is
What is the duplicate article?
Why is this article offensive?
Where is this article plagiarized from?
Why is this article poorly edited?

Los Angeles Lakers: Like this team?