Kansas City Chiefs: Predicting Top Offensive, Defensive Stat Leaders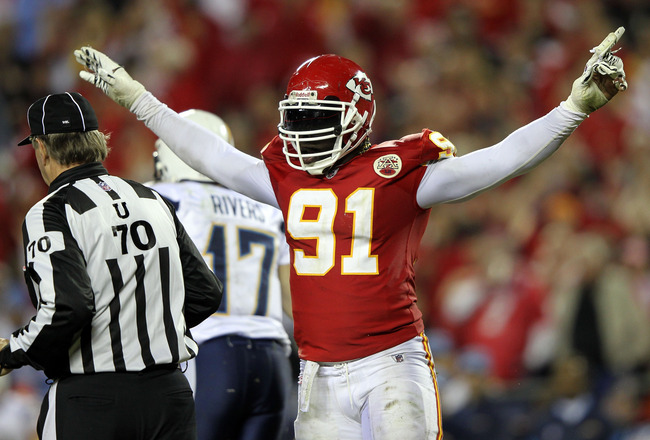 Jamie Squire/Getty Images
The Kansas City Chiefs kick off training camp next month, and the regular season is a little over two months away!
Chiefs fans are looking forward to the 2012 season after an active offseason. After not being able to repeat as AFC West champions in 2011, the Chiefs and their fans are preparing to compete and take back the division title.
While fans patiently wait for the season to get underway, this slideshow forecasts some of the key individual statistical leaders for the Chiefs in 2012.
Passing Yards, Touchdowns and Completions: Matt Cassel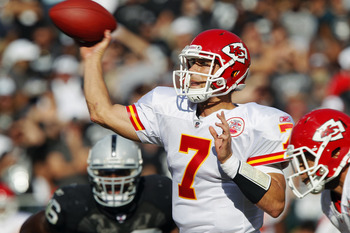 Brian Bahr/Getty Images
Even though Matt Cassel missed seven games in 2011, he still managed to be the team's passing leader in yards, touchdowns and completions. Cassel still struggled during the nine games he played in and hopes to produce better numbers in 2012.

Cassel has a strong core of players at the running back, tight end and wide receiver positions. The numbers of pass-catchers that he will have this year are unlimited. Moving the football through the air with a better offensive line won't be an issue for Cassel.


Stat Predictions


Yards: 3,500


Touchdowns: 23


Completions: 275
2011 Leader (in all three categories): Matt Cassel with 1,713 yards, 10 touchdowns and 160 completions
Rushing Yards: Jamaal Charles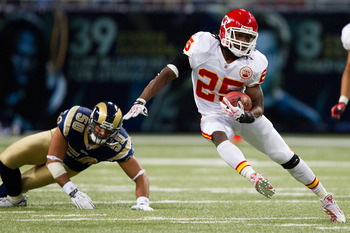 Dilip Vishwanat/Getty Images
Jamaal Charles is preparing to make a comeback after suffering a torn ACL last season. While history shows that a torn ACL has slowed past players down, Charles' situation is unique as he suffered his injury in Week 2 of the 2011 season, giving him ample time to recover.

Charles should be more than ready by the time the season kicks off on Sept. 9 when the Chiefs host the Atlanta Falcons.
From that point forward, Charles will be in his 2010 form, rushing through defenses, especially with a new right tackle in Eric Winston. Charles will want to take advantage of Winston's run-blocking ability through the right and break through to amass a large sum of yards.
Even when Thomas Jones had 15 more carries than Charles in 2010, Charles still ran for over 1,400 yards.
Stat Predictions
Rushing Yards: 1,350
2011 Leader: Jackie Battle with 597

Rushing Touchdowns: Peyton Hillis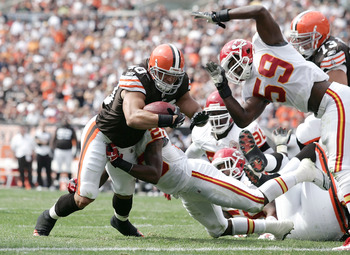 Matt Sullivan/Getty Images
At 6'2" and 250 lbs, not even some of the league's best run-stoppers can bring Peyton Hillis down on their own. Sometimes it can take more than two defenders, as Hillis uses his size and stature to bulldoze his way forward.

That type of power back can benefit the Chiefs when they are close to the end zone. The Chiefs are better off using Hillis in the red zone rather than Charles because of the size difference, although Charles will still get his fair share of carries in the red zone.

Offensive coordinator Brian Daboll, who is familiar with Hillis from Cleveland, wants to see Hillis pound it in with the ball at the 1-yard line. After the Chiefs finished 31st in rushing touchdowns and last in red-zone efficiency, the Chiefs are hoping that Hillis can help the Chiefs improve in those areas.


Stat Predictions


Rushing Touchdowns: Eight


2011 Leader: Jackie Battle with two
Receiving Yards: Jon Baldwin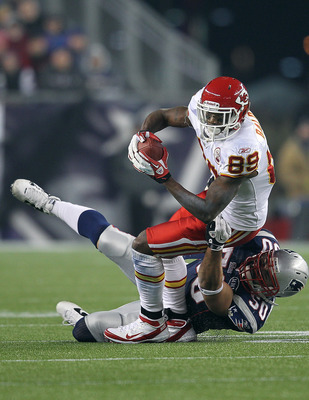 Jim Rogash/Getty Images
In a recent column, I spent some time talking about Jon Baldwin and how his second year in the league will be nothing like his first, making sure that his rookie season will be a long-distance memory for Chiefs fans.
Baldwin was not taken in the first round of the 2011 NFL draft by accident. The former Pittsburgh standout had a successful college career and impressed scouts with his vertical leap. Baldwin, who may not be considered the No. 1 wide receiver right now, spent all of the offseason working through Daboll's new offense while impressing Cassel.
If Baldwin keeps his head down and stays with the team for all of training camp, he will play in Week 1 for the first time in his career and catch the eyes of football fans around the world.
Stat Predictions
Receiving Yards: 1,150
2011 Leader: Dwayne Bowe with 1,159
Receiving Touchdowns: Dwayne Bowe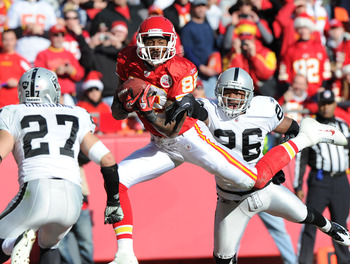 Peter Aiken/Getty Images
It was two seasons ago when we saw Dwayne Bowe have his breakout season after leading the league in receiving touchdowns with 15. Last year, Bowe scored four touchdowns in the span of three games before going nine games without catching another pass in the end zone.
Fans might defend Bowe for the multiple switches at the quarterback position in 2011, but it does not come off good when a receiver drops passes. Especially ones in the end zone.
Bowe needs to bring back his 2010 form where he bounced back after an embarrassing touchdown drop against the Indianapolis Colts. Even though Bowe missed all of OTAs because of a contract dispute, Cassel will consider him a top option when throwing down field to the end zone.
Bowe's total won't be as high because of the amount of pass-catchers Cassel will work with in 2012.
Stat Predictions
Receiving Touchdowns: Seven
2011 Leader: Dwayne Bowe with five
Tackles: Derrick Johnson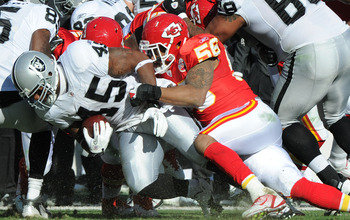 Peter Aiken/Getty Images
The Chiefs defense was up and down last season with some inconsistency. But Derrick Johnson was positively consistent in 2011, earning him his first Pro Bowl invitation.
This year, Johnson should do even better. Johnson, as any middle linebacker would, was excited when learning that the Chiefs drafted a big nose tackle in Dontari Poe. The addition of Poe can only make Johnson and the Chiefs defense better in 2012.
Stat Predictions
Tackles: 140
2011 Leader: Derrick Johnson with 131
Sacks: Tamba Hali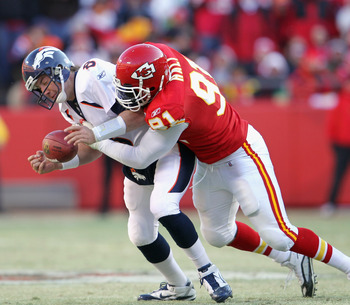 Jamie Squire/Getty Images
The Chiefs defense has some reliable veterans who are stepping up and making big contributions. Tamba Hali is one of those defenders.
With Justin Houston having a good rookie season, Hali may not have a high sack total like he did in 2010 where he led the AFC in sacks with 14.5; but he will still be the team leader in that category.
Hali was placed No. 1 in Bill Williamson's AFC West linebacker rankings. Hali has good speed for a pass-rusher in the 3-4 defensive scheme and hopes to continue apply pressure on opposing quarterbacks and eventually get his defensive teammates off the field in a quick manner.
Stat Predictions
Sacks: 11
2011 Leader: Tamba Hali with 12
Interceptions: Eric Berry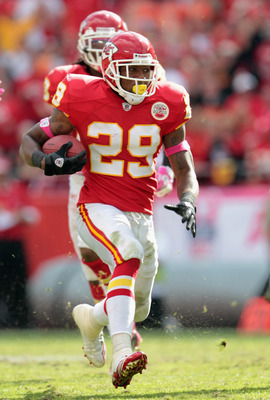 Jamie Squire/Getty Images
Eric Berry's second season was receiving a lot of hype. The anticipation to see what he could do in his sophomore year in the league was hyped up by fans. But that season lasted only four minutes and 28 seconds due to a torn ACL injury.
Since recovering from the injury that occurred in Week 1, Berry has had a lot of time to recharge, giving him a better shot at overcoming the ACL injury.
Berry has some reliable pass-rushers up front on defense, allowing him to be in position to not only succeed, but also make a run for the league's Comeback Player of the Year award and label himself as one of the best safeties in the league.
Stat Predictions
Interceptions: Eight
2011 Leaders: Brandon Flowers and Brandon Carr with four
Keep Reading

Kansas City Chiefs: Like this team?