England vs. Italy Euro 2012: Hapless England Crumble in Penalty Shootout
June 24, 2012

Alex Livesey/Getty Images
For England and its supporters, depressing is the only word I can think of to describe what just happened.
0-0 after extra time.
Italy prevail 4-2 on penalties.
A disturbingly similar feeling to what I experienced in 2004 and 2006.
I think it is safe to say that the entirety of tonight's quarterfinal matchup was comprehensively dictated by the Azzurri.
The better team won, and will advance to take on the Germans in the semifinal.
Andrea Pirlo was a class act. At the age of 33, his delicate passes and single-handed domination of the midfield was unbelievable.
Mario Balotelli managed to keep a lid on his hot head and held the ball up nicely, creating numerous chances for himself and his teammates.
Another standout for the Italians was substitute Alessandro Diamanti. His decisive penalty along with his creativity and hunger added a much needed spark to the attack.
On the English side of things, James Milner once again showed his ineffectiveness on the flank, and really failed to offer anything positive.
England would break and, just when things looked promising, Milner would either lose the ball or play it all the way back to Joe Hart.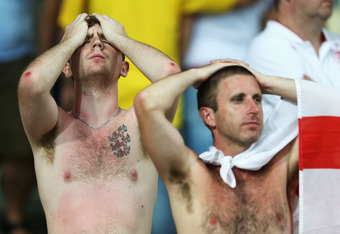 Scott Heavey/Getty Images
Wayne Rooney lazily jogged around up top hoping that the ball would magically end up in the back of the net.
Instead, he was kept a good 40 meters away from the goal at all times by the dogged Italian defenders. His only real moment of promise came with a failed bicycle kick attempt towards the end of the first half.
Minus Scott Parker, who was the only Englishman to do himself justice, the Three Lions were poor.
By all accounts, they were defeated before the first penalty had even been struck.
Things momentarily took a turn for the better when Riccardo Montolivo smashed his penalty wide.
From there, however, Pirlo's cheeky chip down the middle set England into their typical self-destruct mode.
First, one Ashley hit the bar. Then the other had his saved (Ashley Young and Ashley Cole, respectively).
All that was left to do was watch Diamanti stroke his penalty past Hart and wheel away in celebration.
Now it's once again back to the drawing board for Hodgson and his men.
They can either sit around and sulk about it—or take it as something to build upon.
No one expected this young English side to conjure any miracles in Poland and Ukraine but, two years from now in Brazil, the fans and press will likely not be so forgiving.