England vs. Italy: 6 Things We Learned from Euro 2012 Quarterfinal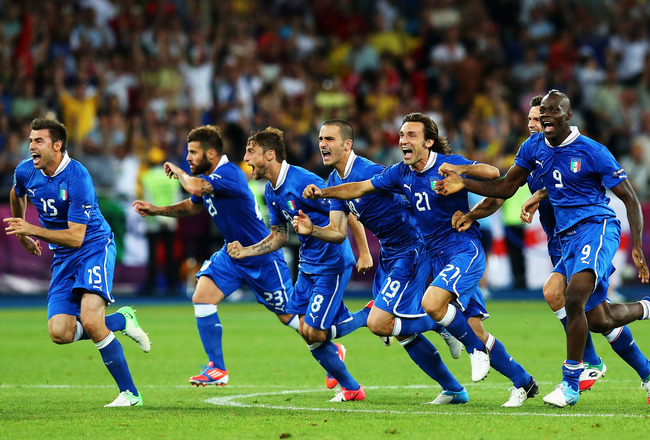 Martin Rose/Getty Images
Been there. Seen that.
Italy knocked England out of Euro 2012 with a 4-2 penalty shootout victory after a scoreless quarterfinal draw in Kiev. And anyone who's ever watched any amount of international football has already read that story before.
Not just in the grand, sweeping, historical sense, either. Even the present-day details felt more than a little familiar.
Andrea Pirlo was peerless, Mario Balotelli was bonkers and England went out at the quarterfinal stage of another international tournament.
England defended doggedly, Italy bossed possession and England still couldn't win a PK shootout.
We knew all that already, but here are six things we learned from the Sunday matchup.
This Isn't the Champions League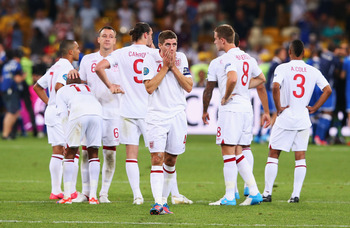 Alex Livesey/Getty Images
This is not the Champions League. At Euro 2012, the better, more deserving team wins—even in the lottery known as the penalty shootout.
This past spring, Chelsea thrilled their fans—but few others—with a dramatic and unlikely run to the UEFA Champions League title. The Blues kept winning despite being outplayed frequently in the knockout stages, eventually claiming the trophy by topping Bayern Munich on penalties in the final.
More than a few fans of England must have been thinking the same thing could happen for them versus the Italians.
Apart from a 10-minute spell early in the first half, Roy Hodgson's men were thoroughly outplayed. But while the Azzurri dominated possession and all the statistics, the best attacks they could mount only resulted in hitting Joe Hart's goalposts. And for a fleeting moment in the shootout, destiny appeared to be with the Three Lions.
England went ahead after Riccardo Montolivo's hideous penalty flew wide of the far post. But then the more familiar version of England showed up.
Ashley Young blasted his shot off Gianluigi Buffon's crossbar before Buffon saved Ashley Cole's weak effort comfortably. Alessandro Diamanti finished England off, mercifully in truth, and after 120 minutes of dogged, determined football, the dream was over.
So, it's a familiar story, then—England losing a penalty shootout in a major tournament. Who would have predicted that?
Exceeding Expectations?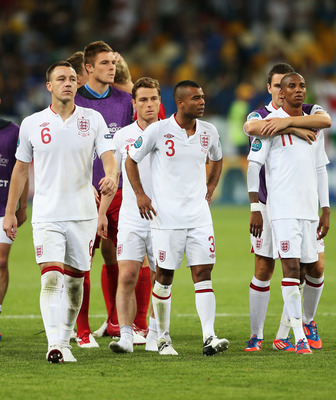 Scott Heavey/Getty Images
After England's demise, the conventional wisdom said Roy Hodgson's team exceeded expectations.
Did they now?
England topped Group D ahead of France, Sweden and Ukraine. The first-place finish was unexpected, but progression to the knockout stage was not.
In truth, bowing out in the quarterfinals—and on penalties, no less—was just about the appropriate ending for England. Certainly any realistic supporter would agree they deserved no more.
In Wayne Rooney, Steven Gerrard, John Terry, Ashley Cole and others, England's Euro 2012 lineup featured a host of big names. But against top-tier opposition, England always looked second-best.
Using rigid tactics and playing dogged defense, England held Italy—probably the third-best team in the tournament—to a scoreless draw. But it's hard to imagine Hodgson's approach yielding anything more than that.
So, where does England go from here?
The Vagaries of Scheduling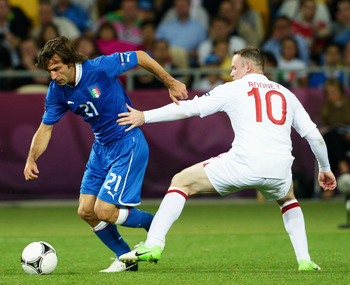 Claudio Villa/Getty Images
Because of a scheduling quirk, Italy will face a distinct disadvantage in their semifinal match against Germany.
The Germans defeated Greece 4-2 on Friday in Euro 2012's second semifinal. Italy needed 120 minutes and penalties to get past England on Sunday.
Actually, make that Sunday and Monday. By the time Italy walked off the pitch in Kiev, the clock had long since struck midnight and Sunday had long since turned into Monday in Ukraine.
That means Cesare Prandelli's team will have only three full days to recover for the match against the tourney co-favorites.
Germany—not that they need the help—will have five.
Misfiring Azzurri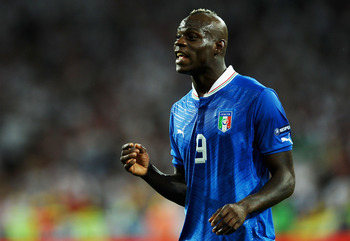 Laurence Griffiths/Getty Images
If Italy are to repeat their 2006 World Cup semifinal victory over Germany, they'll have to shoot better than they did against England.
The Azzurri created chances throughout, starting only moments into the match. Daniele De Rossi struck the post with a wickedly sliced left-footed shot in the third minute, and for a few brief moments, an offensive explosion seemed possible.
It never happened.
Italy hit the post again in the extra period as impressive substitute Alessandro Diamanti curled a cross/shot past Joe Hart. The Azzurri even put the ball in the net six minutes before the end of extra time, but the linesman correctly ruled out Antonio Nocerino's header for offside.
The final stats almost read like a video-game recap: Italy produced 35 shots and a whopping 20 on target compared to England's nine and four. Joe Hart made eight saves to Gianluigi's single stop, and Italy gobbled up 64 percent of possession.
How, again, did Italy fail to score?
Theo Had Little Impact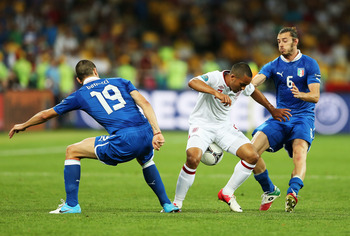 Scott Heavey/Getty Images
Hailed as an impact player for his match-winning substitute's performance against Sweden, England midfielder Theo Walcott was a hot choice for a starting berth against Italy.
Instead he started on the bench, with Roy Hodgson opting to use Walcott's speed and guile in the role of supersub.
It didn't work as well this time.
Walcott helped set up a half-chance with his first contribution to the match, but his speed left Italy's defense largely untroubled.
A Novel Concept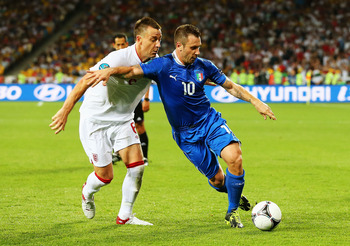 Martin Rose/Getty Images
England's offside trap hardly intimidated Italy's strikers.
Mario Balotelli routinely slipped behind John Terry and Joleon Lescott as Andrea Pirlo played classy through-ball after classy through-ball.
In all fairness, though, England did mark a milestone against the Azzurri.
Antonio Cassano was whistled for offside in the 62nd minute. Ho-hum? Think again.
That was the first time England's defense caught an opponent offside over the course of the entire tournament.
Keep Reading