Charlotte Bobcats: Why Mike Dunlap Is the Right Man for the Job
June 24, 2012

Jim McIsaac/Getty Images
No one knew about him. He wasn't even considered a dark-horse candidate for the job when the Charlotte Bobcats began their pursuit for a new head coach. For the general public, he wasn't even a name on the list.
But I'm about to tell you why I think he's the right man for the job.
It's not like they picked some high school coach without vetting him, handed him a whistle and said do your best. Michael Jordan, as dubious as his management history has been in Charlotte (and elsewhere), has been around basketball his entire life, and he's not running this franchise into the ground on purpose.
In fact, if you take a look at one of my most recent articles, you'll see that I think the fruit of Jordan's labor as owner of this team is going to pay off eventually. He has not had a great draft history, but everyone in the league seems to think Kemba Walker is going to emerge as a star eventually, and everyone knew Bismack Biyombo was a project pick from the beginning.
Jordan has Rich Cho at his side to help guide him to making this franchise competitive, and while many view this organization as being run by Jordan with a bunch of "yes-men," Cho is actually a gifted basketball mind, and I know Jordan takes what he says seriously, even if it is Jordan who makes the decisions at the end of the day.
I've expressed my anger at Jordan for certain decisions he's made. I was mad when he traded Gerald Wallace for virtually nothing, I was mad when he traded Stephen Jackson for virtually nothing, and I was mad that he put together a team that wouldn't have made the Sweet 16 in college basketball this year.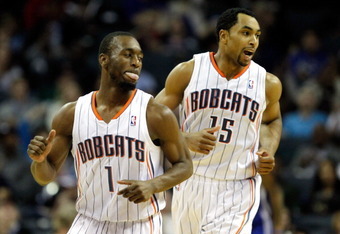 Streeter Lecka/Getty Images
But he's gotten at least one thing right so far—hiring Mike Dunlap to coach a young team.
Think about it: a team full of no-name players playing for a no-name coach, with both the players bursting at the seams with talent and the coach having an elite mind for basketball, according to former boss George Karl. 
Dunlap has extensive coaching experience, just not at the ranks most NBA coaches have. He's served as head coach at several colleges (most notably at Metro State, where he won two Division II NCAA tournaments), he was an assistant coach under George Karl with the Denver Nuggets from 2006-2008 and he has been an assistant coach with Arizona, Oregon and St. John's, where he was also the interim head coach. 
Dunlap has earned a reputation amongst coaches and players as the type of guy who works hands-on, and pushes tempo as hard as he can. He is not afraid to participate in drills if it helps makes their play better, and he runs a faster tempo of offense than the Bobcats had under Paul Silas, which is going to be important with guys like Gerald Henderson, Kemba Walker and, hopefully, Thomas Robinson, who all want to get to the hoop in transition.
More importantly, and perhaps most importantly, Dunlap understands that this is a building project. This is not a win-now or win-anytime-soon situation that he has been thrust into. He was identified as a player developer with elite basketball knowledge, and he was hired regardless of his relatively low-level pedigree.
I formally tip my hat to Michael Jordan for making a decision that will help the Bobcats in the long run. Names like Brian Shaw, Patrick Ewing and Jerry Sloan are all bigger names, and all would have been received well by pretty much anyone. Dunlap was met with criticism at first, but the more people look at him and his work ethic and desired style of play—up-tempo offense, strong lockdown defense, enhanced player development and hands-on work—the more people are beginning to warm up to the idea of having him rebuild a team that is full of talent and in desperate need of a good leader.
Mike Dunlap will be that leader.
This is an excellent hire.
Now let's hope Michael Jordan doesn't do anything silly and pass on Thomas Robinson at No. 2 in the draft and Antawn Jamison (who actually wants to come to Charlotte) in free agency. Don't make me think you're taking steps backward after such a smart hire.