UFC 147: Rich Franklin vs. Michael Bisping Is the Fight to Make
June 24, 2012

Now that we know that Rich Franklin is hoping for one last run at the middleweight title, it seems likely that Dana White and Zuffa will decide to grant him his wish, given how many times he has stepped up for the company.
And what better way to give him his heart's desire than by putting him in the cage against a top-five fighter who is looking for another high-profile win to cement his claim as the No. 1 challenger?
When you consider this, it's clear that Rich Franklin vs. Michael Bisping is the fight to make.
Both men are well-known on the international stage, and both prefer to keep the fight standing, which could make for some serious fireworks if both men show up ready to take the victory by force.
While youth, speed and mobility go to Bisping, experience, power and chin favor Franklin, and that style matchup could result in a very entertaining clash.
It would also provide some answers to the questions surrounding both men.
For Bisping, it would show whether or not he has learned how to protect his chin from heavy punchers who have good footwork and know how to cut off the cage. A win over Franklin would prove he's fixed some of the fundamental holes in his game that Dan Henderson found so easy to exploit.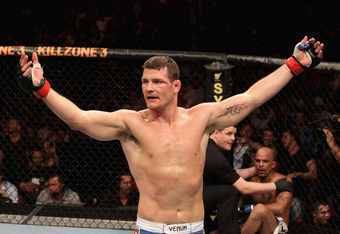 For Franklin, it would show that he's still got the step and timing needed to contend with younger fighters who use their speed to dart in-and-out, scoring and then circling away. A win over Bisping would prove that Franklin can still keep up with the music and deliver the necessary force to punch Bisping's time card and send him home early.
And those tasks won't be easy for either man.
When you look at Bisping's career, many a fighter had proudly proclaimed that they were just going to punch him in the jaw and knock him flat. Fighters like Jorge Rivera, Dan Miller, Chris Leben, Wanderlei Silva and others have learned that's a lot easier said than done.
Bisping's developed a good striking game that allows him to circle as he pleases and move in-and-out, scoring with crisp combinations and then drifting away while his opponent's fists miss him by several inches. It's a style that's used by many a great defensive boxer, and Bisping is quickly becoming so good at it that he looks like he was born to it.
When considering Franklin, it's impressive to see just how effective his footwork has been in the past. He's been able to use those fundamental tools to place himself in prime position to land brutal knockout punches, even when his back is against the cage.
This would be an exciting fight that would provide answers to many of the questions surrounding both men, and as they would have fought as opposing coaches for The Ultimate Fighter season nine, it seems like it's long overdue.