Why Mayweather vs. Martinez Would Be a Better Fight Than Mayweather vs. Pacquiao
June 24, 2012

Al Bello/Getty Images
When Timothy Bradley was shockingly awarded a split decision victory over Manny Pacquiao on June 9, the nearly impossible task of making the Pacquiao-Floyd Mayweather mega-fight became that much more improbable.
Despite Pacquiao (54-4-2, 38 KOs) still exhibiting world-class form against Bradley, his loss gives Mayweather (43-0, 26 KOs) an additional, albeit irrational, justification to tip the monetary scales in his favor. Given the difficulties that the Mayweather and Pacquiao camps have had in conducting civil negotiations, the fight that many—and I don't count myself among the many—think could save boxing is likely nothing but a fantasy.
Enter Sergio Martinez.
Martinez (49-2-2, 28 KOs) has been on a terrific run since winning the lineal middleweight championship from Kelly Pavlik in 2010, and he has done so to relatively little crossover fanfare given the conventional prestige that accompanies the middleweight title.
Since bruising and bloodying Pavlik in a brutal encounter to win the title, Martinez has made four defenses by stoppage in a championship reign that included a gruesome second-round knockout of Paul Williams as well as a dominant, five-knockdown stoppage of former WBO Light Middleweight Champion Sergiy Dzinziruk.
Martinez is now seen as a popular No. 3 pound-for-pound fighter,—behind Mayweather and Pacquiao, of course—and he has developed into one of the most clinical late-fight knockout artists in the sport.
However, given that Martinez is not as marketable of a pay-per-view draw as, say, Mayweather or Pacquiao, and given that the Argentine champion fights 1-2 weight classes above the aforementioned fighters, securing that elusive mega-fight has proved impossible for "Maravilla."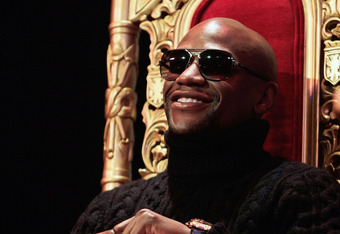 Chris Trotman/Getty Images
Still, Martinez's talent and class are undeniable, and it is now time to seriously consider why a Mayweather-Martinez showdown would prove more satisfactory than the perpetual tease of Mayweather-Pacquiao.
Mayweather-Pacquiao Would Never Live Up to the Hype
Fights that are yearned for by both boxing and casual sports fans are naturally over-analyzed and fail to meet their hypothetical expectations.
People seem inclined to debate the merits of a fight based on whether a prospective matchup can save boxing, but this line of thought seems particularly erroneous. To talk seriously about saving boxing is to discuss an overhaul of sanctioning bodies, promotional outfits and the system of how fighters are ranked or granted title opportunities.
Saving boxing has nothing to do with one fight.
When Mayweather defeated Oscar De La Hoya via split decision in 2007, the fight broke PPV records and was billed as an epic clash between the sport's two most marketable fighters as well as two of its most decorated.
But so what?
Yes, Mayweather-De La Hoya did huge business, and the first six rounds or so were compelling. However, after the dust settled and the two fighters went their separate ways, the reality of Mayweather-De La Hoya faded, and boxing settled back into its tug-of-war reality between fights that remind us of why we love the sport and corrupt decisions that made us question the integrity of those involved in prizefighting.
The proposed Mayweather-Pacquiao fight has had so many false starts and selfish negotiation tactics that it has left a sour taste in the mouths of both diehard boxing fans and casual sports enthusiasts. In order for Mayweather-Pacquiao to live up to expectations, it would have to exceed the likes of, say, Hagler-Hearns.
At this point, given all the absurdly drawn-out hype, Mayweather-Pacquiao seems like it would deflate closer to David Haye's pinky toe excuse than end up being an all-time classic.
Martinez's Size Advantage
Enough about Mayweather-Pacquiao. One aspect of a Mayweather-Martinez matchup that is so intriguing is the natural strength, size and power advantage that Martinez would carry into the fight.
Logistically, this is a legitimate impasse to the fight being made. Mayweather's heaviest weights have come in his two fights at junior middleweight. In 2007, he weighed in at 150 pounds for his clash against De La Hoya, and most recently, Mayweather tipped the scales at 151 when he defeated Miguel Cotto in a tremendous fight.
In the De La Hoya and Cotto fights, Mayweather's opponents each weighed in at the junior middleweight limit of 154 pounds, and despite this size discrepancy, Mayweather comfortably handled the power of his naturally bigger opponents.
Martinez, a former interim junior middleweight titlist, last made 154 pounds in 2009 when he outclassed Kermit Cintron, but was saddled with an absurd majority draw. Martinez, however, moved up to middleweight for more significant opportunities and not necessarily because he outgrew the junior middleweight ranks.
In fact, according to BoxingScene.com, Martinez has stated he is willing to fight Mayweather at a catch weight of 150 pounds with an 80-20 purse split in favor of "Money". While Martinez likely would have to drain himself to make 150, if a more reasonable catch weight could be agreed upon, "Maravilla" would enter the ring with a significant size advantage once he rehydrated.
In his last fight against Cotto, Mayweather felt the force of Cotto's aggression and was drawn into his most grueling fight in a decade. While Martinez is certainly a different stylistic fighter than Cotto, it seems plausible that he could have his moments against Mayweather and dish out his fair share of punishment.
While Mayweather had moments of mastery against Cotto, his defense wasn't impenetrable, and given his strength and size advantage, Martinez would be able to impose his will in spurts—as long as he could effectively cut off the ring, work the jab and land to the body.
Martinez's Athleticism and Southpaw Style
Despite his advanced age of 37, Martinez appears to be a relatively fresh fighter. Since he won the middleweight title, Martinez has recorded stoppages in all of his defenses, and much of this success has to do with his unconventional style.
Martinez is comfortable boxing with his hands held at his waist while using his upper body and leg movement to slip punches. From his waist, Martinez launches punches from unsuspected angles, and his right jab is a solid weapon for setting up his combinations.
Even more impressive is the variety of Martinez's attack. His straight left hand is crisp and accurate, and he possesses enough speed and agility to lead with the punch, which keeps his opponents off-balance.
Martinez also hooks well with both hands. His right hook is an effective counter shot (see his first fight against Paul Williams), and his left can be absolutely devastating (Martinez-Williams II, anyone?).
Because of his southpaw stance, Martinez is difficult enough to begin with. Combine this with his unorthodox movement and punching angles, and you get a stern test for Mayweather. Martinez can counter-punch, and his offensive flurries can be suffocating. It is this versatility and comfort inside the ring that make Mayweather-Martinez such a juicy hypothetical matchup. 
Martinez's Late-Round Power
Martinez's last two title defenses have come via 11th-round stoppage. In October 2011, Martinez knocked out Darren Barker with a right hook behind the ear, and this display of explosive power so late in a championship fight was impressive.
In his most recent fight, Martinez struggled against Matthew Macklin and even suffered a knockdown in Round 7. Still, Martinez rallied to eventually pick apart the hard-charging Macklin, and "Maravilla" fought well off his back foot when Macklin stubbornly moved forward.
In Round 11, Martinez floored Macklin twice, and his barrage at the round's conclusion was emphatic. A bloodied and bruised Macklin survived the round, though his corner mercifully stopped the fight.
Martinez's late-round power can be attributed to both his punch strength and superb conditioning. Given Mayweather's ability to fluster and out-box opponents, Martinez's well-known championship-round power would make a proposed fight that much more compelling. Martinez would be a legitimate threat to hurt Mayweather at any point in the fight, and this would force Mayweather to stay on his toes for the fight's duration.
Martinez will be heavily favored to defeat Julio Cesar Chavez Jr. in their highly anticipated fight at the Thomas & Mack Center in Las Vegas on Sept. 15. Should Martinez defeat Chavez Jr., he deserves a mega-fight, and the amount of intriguing in-ring factors surrounding a bout against Mayweather would make that matchup a logical choice.
Ultimately, business and economics will win the day, and conventional wisdom dictates that Mayweather will have little interest in the fight. Still, Martinez, who has been clamoring for a mega-fight for years, deserves a shot, and the true danger for Mayweather lies in Martinez making the most of his opportunity—which boxing fans know he will.