NBA Trade Rumors: Bulls Need to Keep Noah and Deng for Long-Term Future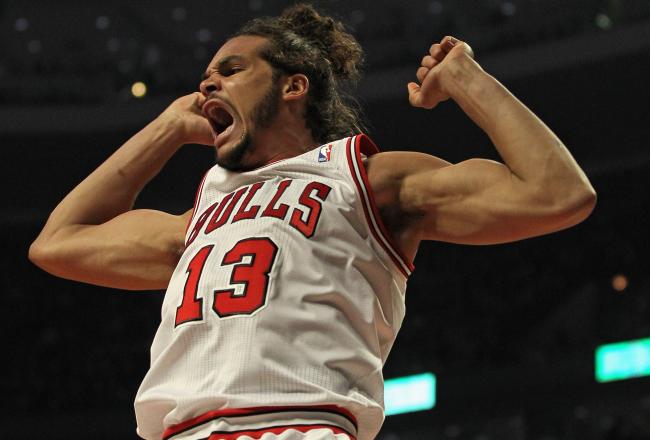 Jonathan Daniel/Getty Images
The Chicago Bulls may be planning a future without Joakim Noah and Luol Deng.
According to Mitch Lawrence of the New York Daily News, the Bulls are in looking at some trade options:
The Bulls want to give Omer Asik and Taj Gibson new deals, so they're exploring ways to trade Luol Deng and/or Joakim Noah to teams that can send them a trade exception and a No. 1 pick.
Now make no mistake about it: vying for a future No. 1 pick isn't the worst idea, but that remains a much bigger investment than any current situation. Noah and Deng are already well-established NBA veterans who are key components to Chicago's success.
There's no reason to start over with a rookie who then has to prove his NBA value. To that end, let's look at why the Bulls must keep Noah and Deng to ensure long-term success.
Rebounding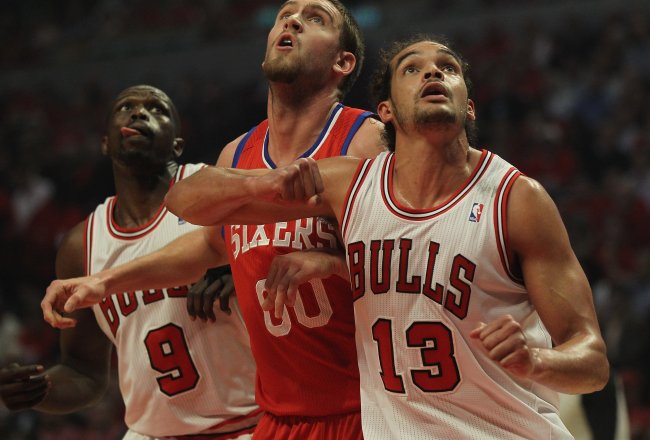 Jonathan Daniel/Getty Images
At each end of the floor Joakim Noah and Luol Deng are two of Chicago's best rebounders. Noah finished the season with 9.8 per game, while Deng averaged 6.5. A side effect of that resulted in the Bulls ranking No. 1 in rebounds, No. 1 on defense, and being the Eastern Conference's No. 1 seed.
As a true center, Noah brings great strength, power, and physical play to the paint. Chicago needs to maintain that presence down low, because it opens up the offense and when on defense, restricts an opponent's inside attack.
Deng, on the other hand, can play effectively on the wing or the post. He's a much better athlete than he's given credit for and gives great effort when scrambling for loose balls. His 6'9" stature alone provides Chicago with a mismatch advantage on the outside and Deng's own physical toughness bodes well against bigger opponents.
From an offensive perspective at rebounding, Chicago gets a lot of second-chance opportunities because of Noah and Deng.
Offensive Impact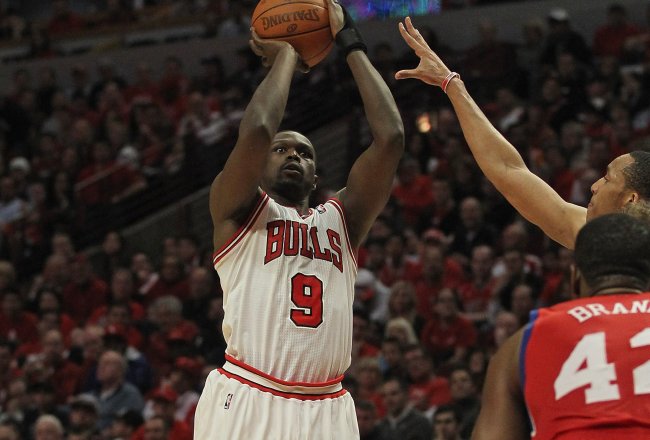 Jonathan Daniel/Getty Images
Chicago ranked only No. 18 in scoring offense but the Bulls did rank No. 5 in assists per game (23.1). Noah and Deng were a large part of that, regardless of who was running the point, because each move quite well off the ball.
Deng can hit shots from anywhere inside or outside the arc, and was 41.2 percent from the field and 36.7 percent from downtown. In addition, Deng is reliable from the line, shooting 77 percent there in 2011-12 and only below 75 percent once in his career (2004-05, his rookie season).
On the contrary, Noah may not move around as much but his unorthodox shooting technique has served Chicago well in four seasons. Averaging 10.2 points per game last year (his third straight season averaging 10-plus), Noah shot a career best 74.8 percent from the line and even dished out 2.5 assists per game (second in the NBA among centers).
The man knows how to draw fouls, maneuver his way in the paint, and dish the rock elsewhere to keep the offense in a rhythm. Not having either playing would significantly reduce the Bulls' offensive potential and considering their consistent production, Chicago can't afford to move on without them.
Who do the Bulls need more to return to the NBA Finals?
Experience
Regardless of how great a college player is considered to be, and no matter their potential, nothing can replace experience.
Joakim Noah and Luol Deng have only played for the Bulls, and combine for 13 years in the association (Noah for five, Deng for eight). The Bulls have also made the postseason every year since Deng got drafted in 2004, except in 2007-08.
Now, Chicago certainly hasn't been dominant in the playoffs (they lost in first round five times during that stretch), but there is great risk in trying to substitute experience for talent. The Bulls have already invested so much with Noah and Deng that they would be starting over by dealing one or both away.
Not to mention there's no guarantee that a top rookie would reach his potential. It's a high-risk, high-reward situation that puts even more pressure on Derrick Rose. Provided that Rose eventually returns to 100 percent, having Noah and Deng on the court keeps that team chemistry intact.
Follow John Rozum on Twitter.

This article is
What is the duplicate article?
Why is this article offensive?
Where is this article plagiarized from?
Why is this article poorly edited?

Chicago Bulls: Like this team?