NBA Draft 2012: Why Portland Trail Blazers Must Avoid Andre Drummond
June 25, 2012

Elsa/Getty Images
The Portland Trail Blazers hold two lottery picks in the 2012 NBA draft, and if they're smart, they'll look somewhere other than Andre Drummond with their first selection.
At 6'11", 278 pounds, Drummond is one of the most physically dominating, athletic prospects in the entire draft, and his tremendous upside is going to be tough to look past.
However, the former Husky will enter the league with more question marks than seemingly any other player taken in the first round.
Despite having the talent and tools to become a superstar center in the NBA, Drummond averaged just 10 points and 7.6 rebounds as a college freshman last season.
With virtually no low-post game and a subpar shot—he shot an abysmal 29.5 percent from the free-throw line—he will be a project from day one.
Even more concerning is the thought that his effort level has not always been as high as you'd hope it would be.
Drummond has the ability to put virtually every big man he faces on a poster, yet he has been known to choose his mid-range jumper—which needs a lot of work—over the aggressive move down low.
Having been known to take plays off in the past, his motor has been questioned all summer.
The biggest reason the team should avoid Drummond, though?
Damian Lillard.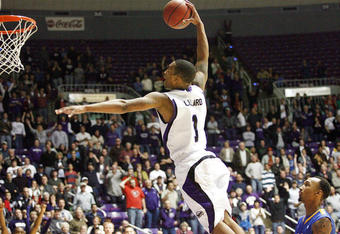 Lillard, a 6'3", 189-pound point guard, fills the team's other big need this summer and has been compared athletically to NBA megastar Derrick Rose.
A score-first point guard, Lillard averaged the second-most points in college basketball last year and had the second-highest PER behind Kentucky's Anthony Davis.
His athleticism is off the charts, and his ability to score from above the rim or beyond the three-point line shows just how dynamic a guard he has been throughout his basketball career.
Like Drummond, Lillard doesn't come without questions, but his concerns have nothing to do with his effort and skill set.
Having averaged just four assists per game last season, the questions of how he'll transition from scorer to facilitator are valid.
At Weber State, however, he was expected to take on the scoring load, and his 15.5 shots per game were far from selfish on a team that needed scoring.
In addition, questions regarding his level of competition in the Big Sky Conference have surrounded him this summer.
Could he fizzle out the same way Jerryd Bayless did in Portland just a few seasons back? It's certainly possible.
But with the NBA shifting to a point guard's game, and Lillard fitting the mold of today's ultra-athletic scoring guard, he could be the best player available to take the team into a new era of Trail Blazers basketball.
If the Blazers do go small with their first pick, the hole at center still needs to be addressed this summer; but don't forget that the team has a second first-round pick in the upcoming draft.
Drummond is a boom-or-bust prospect if the league has ever seen one, but Meyers Leonard and Tyler Zeller could be much safer selections with the No. 11 pick.
Leonard has seen his stock rise quite a bit this summer. A soft shooting touch has helped answer some of the questions about his raw offensive game. Having measured in as the tallest player in the draft class, his athletic ability and defensive presence could help the team immediately.
Zeller is now a late-lottery prospect, but wouldn't be too far a reach with the Blazers' second pick. He needs to add strength to his 7'0", 240-pound frame, but as a big man who can spread the floor and rebound well, he could provide energy in the starting lineup or as a reserve.
Neither of these players project to be the star that Drummond could be, but with an All-Star and go-to power forward in LaMarcus Aldridge, the team needs dependability more than stardom occupying the paint next season.
Whether it stems from bad luck or a bad training staff, the Blazers have also had their fair share of heartbreak when it comes to the health of their big men.
There's no reason to believe Drummond is injury-prone at this point in his career, but with experience comes perspective, and taking a chance on a big man with so many questions may not be worth the risk.
On talent alone, Drummond should be an early pick. If he's chosen in the top five, virtually any team can justify their selection, and the dilemma for Portland will be gone.
His concerns, however, have been well-documented, and if he's available when the Blazers draft at No. 6, the team should avoid the tough choice of choosing him by making the even tougher choice to let him slide.