2012 NBA Mock Draft: Where Every College Star Must Go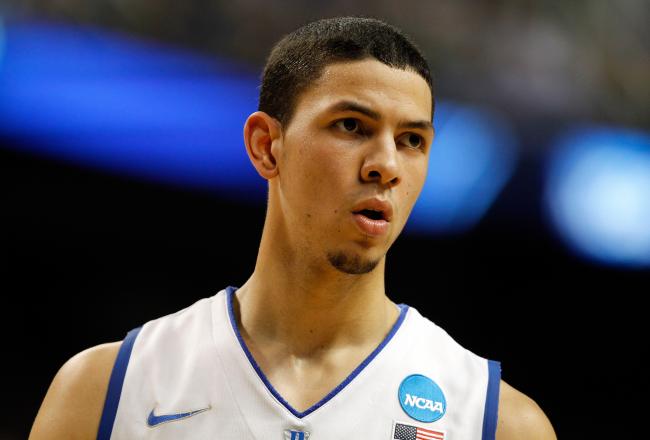 Streeter Lecka/Getty Images
The 2012 NBA draft is just days away as a new NBA champion has been crowned and the offseason has officially begun.
The draft will commence and conclude on Thursday night as both the first and second round are scheduled to play out on ESPN, with coverage beginning at around 7:00 p.m. ET.
But before the commissioner announces the first selection, let's take a look at my latest mock first round to find out where every college star must go.
*2012 NBA Draft Order Courtesy of NBA.com.
1. New Orleans Hornets: Anthony Davis, Kentucky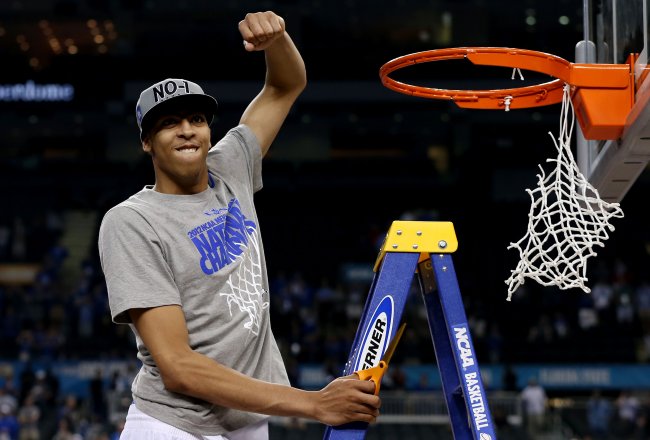 Jeff Gross/Getty Images
Anthony Davis has been the consensus No. 1 overall pick since the Kentucky Wildcats began their march towards a national championship last spring.
2. Charlotte Bobcats: Thomas Robinson, Kansas
The Charlotte Bobcats missed out on a golden opportunity to acquire franchise-altering talent in Anthony Davis, but they can still bolster their frontcourt with Kansas' hard-nosed power forward, Thomas Robinson.
Will Bradley Beal ever be an NBA All-Star?
3. Washington Wizards: Bradley Beal, Florida
Florida's Bradley Beal has NBA strength and looks to be the ideal shooting guard for the Washington Wizards to pair with third-year point guard John Wall.
4. Cleveland Cavaliers: Michael Kidd-Gilchrist, Kentucky
Like Washington, Cleveland could benefit immensely from adding a talented backcourt player to its rotation. Kentucky's Michael Kidd-Gilchrist attacks the rim with reckless abandon and would help take the load off last year's No. 1 overall pick, Kyrie Irving.
5. Sacramento Kings: Andre Drummond, Connecticut
Solid centers are tough to come by in today's NBA, and that's why the Kings will look to build one of the league's most formidable frontcourts, pairing Connecticut star Andre Drummond with former Kentucky Wildcat DeMarcus Cousins.
6. Portland Trail Blazers (via Brooklyn Nets): Damian Lillard, Weber State
Based on the disappointing play of Raymond Felton last season, it seems that the Portland Trail Blazers are eyeing a new point guard. Unless they can find a way to lure Steve Nash from the Phoenix Suns this offseason, they will be best off drafting the best PG available this summer, Weber State's Damian Lillard.
7. Golden State Warriors: Harrison Barnes, North Carolina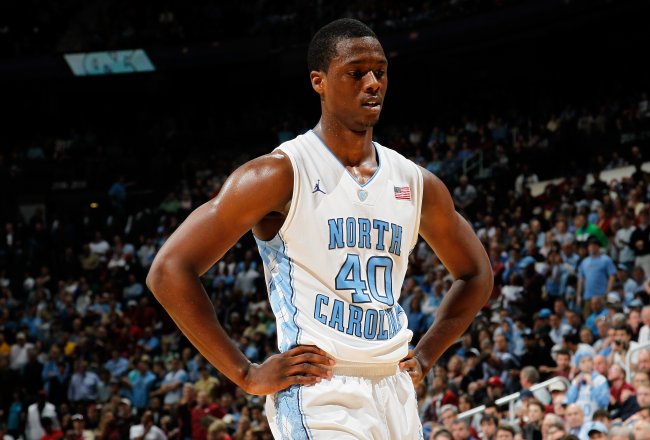 Kevin C. Cox/Getty Images
Harrison Barnes may be surrounded by question marks, but he has all of the physical attributes that scouts love, which is why he will go in the lottery on Thursday night. He will most likely go to a team in need of a solid perimeter player like Golden State.
8. Toronto Raptors: Dion Waiters, Syracuse
Dion Waiters has watched his stock rise tremendously since the end of Syracuse's run in the 2012 NCAA Tournament last March. The relentless 2-guard can score in a variety of ways and that has scouts and coaches excited about his play at the next level.
9. Detroit Pistons: John Henson, North Carolina
John Henson's greatest asset as an NBA prospect is his length. Henson was a superb shot-blocker and rebounder at UNC thanks to his incredible size and wingspan, both of which translate nicely to the NBA game.
10. New Orleans Hornets (via Minnesota Timberwolves): Kendall Marshall, North Carolina
Will Kendall Marshall go in the Top 10 in 2012?
The Hornets have yet to replace Chris Paul, who was traded before the start of last season. Point guards are key to success in the NBA today, and North Carolina's Kendall Marshall has star potential as one of the best passers in the draft.
11. Portland Trail Blazers: Terrence Jones, Kentucky
Kentucky's Terrence Jones has watched his stock drop in 2012 after making the decision to come back to school for his sophomore season. Still, the versatile power forward boasts a strong all-around game that will only get better once he tastes the competition at the next level.
12. Milwaukee Bucks: Meyers Leonard, Illinois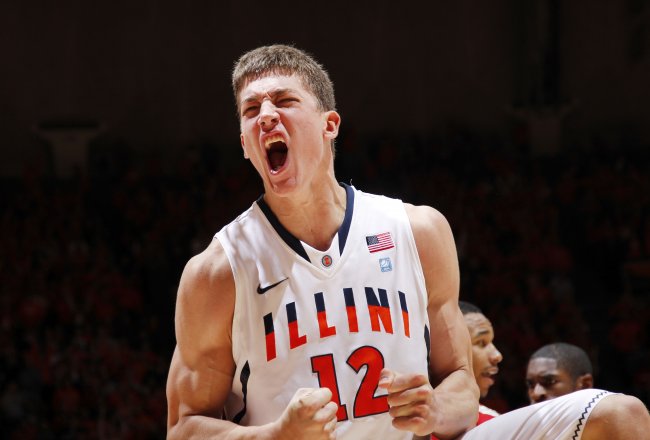 Joe Robbins/Getty Images
Meyers Leonard's stock is rising thanks to the questionable health of Ohio State's Jared Sullinger. Leonard has lottery potential as a seven-footer who can block shots and make a difference at both ends of the floor.
13. Phoenix Suns: Terrence Ross, Washington
There's no way that Terrence Ross makes it past the Phoenix Suns at No. 13. Ross is a 6'7" shooting guard who can shoot and make astonishing plays with his above average athleticism.
14. Houston Rockets: Arnett Moultrie, Mississippi State
Arnett Moultrie can rebound with the best of them and also step out and shoot the basketball with accuracy. The 6'11" power forward is a solid option for a team like Houston who picks late in the lottery this year.
15. Philadelphia 76ers: Tyler Zeller, North Carolina
The Sixers nearly advanced to the Eastern Conference finals in 2012, so they don't need to do a complete overhaul of their roster in order to compete. Picking up a solid big man like seven-footer Tyler Zeller would be a great option at No. 15.
16. Houston Rockets (via New York Knicks): Jeremy Lamb, Connecticut
Jeremy Lamb was a star at Connecticut thanks to his incredible length and versatility on the perimeter. Lamb's size allows him to rebound in traffic as well as shoot the ball at a high percentage.
17. Dallas Mavericks: Quincy Miller, Baylor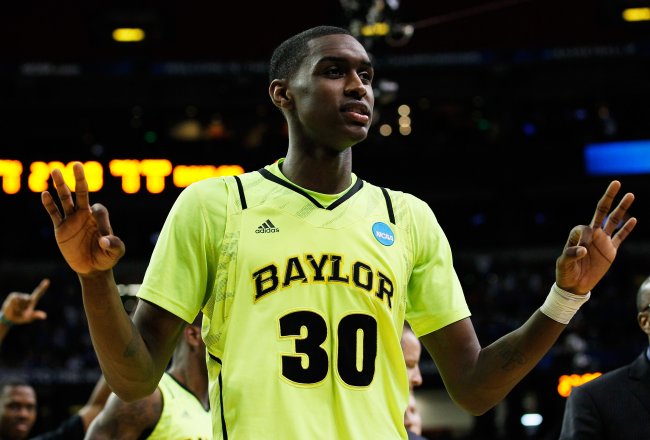 Kevin C. Cox/Getty Images
Baylor's Quincy Miller would help the Dallas Mavericks get both younger and more athletic. If they are going to challenge the likes of the Thunder out west, they will need to improve in both of those categories.
18. Minnesota Timberwolves (via Utah Jazz): Austin Rivers, Duke
Austin Rivers was a star at Duke last season, creating off the dribble and showing off his range from beyond the arc. The Minnesota Timberwolves promise to be a great fit for Rivers, who would most likely succeed playing off the ball as a shooting guard alongside Ricky Rubio.
19. Orlando Magic: Jared Sullinger, Ohio State
Although Jared Sullinger may be a bit of a risk because of the swirling questions about his health, the Magic are headed towards a future without Dwight Howard, and that may warrant a risky pick later in the first round.
20. Denver Nuggets: Perry Jones III, Baylor
Perry Jones III was projected as a lottery pick last year and earlier this season before his inconsistent play at Baylor became a major concern. Still, the reward outweighs the risk at pick No. 20.
21. Boston Celtics: Andrew Nicholson, St. Bonaventure
With Kevin Garnett's future in Beantown uncertain, the Celtics could turn to a power forward in St. Bonaventure's Andrew Nicholson, a big who can develop into a productive NBA frontcourt player.
22. Boston Celtics (via Los Angeles Clippers): Royce White, Iowa State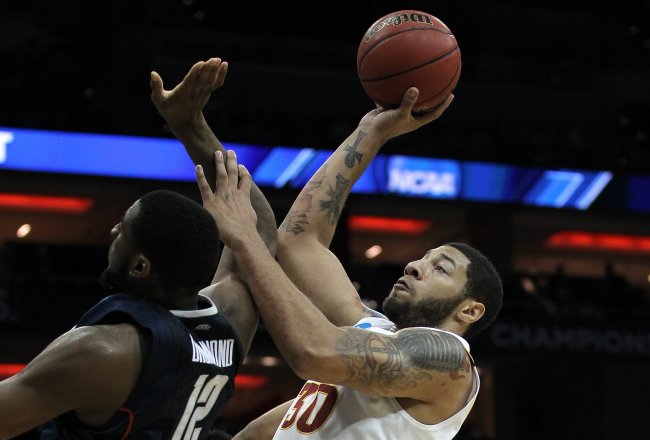 Jonathan Daniel/Getty Images
Iowa State star Royce White is a curious case for any NBA general manager, but if any team can make his transition to the next level a smooth one, it's Doc Rivers and the Boston Celtics.
23. Atlanta Hawks: Tony Wroten Jr., Washington
An excellent change of pace point guard, Washington's Tony Wroten Jr. could help bring another dimension to the Atlanta Hawks offense.
24. Cleveland Cavaliers (via Los Angeles Lakers): Moe Harkless, St. John's
Not many fans have heard of Moe Harkless. The St. John's star is one of the best available this June at attacking the rim and scoring on his own off the dribble. The Cleveland Cavaliers could use his services next season that's for sure.
25. Memphis Grizzlies: Doron Lamb, Kentucky
The Memphis Grizzlies can improve their outside shooting threat by adding Kentucky's Doron Lamb. Lamb proved to be one of college basketball's most clutch scorers last season, helping Kentucky ice the national championship last April.
26. Indiana Pacers: Evan Fournier, France
Evan Fournier will most likely play overseas next season, but he is still a promising piece as an explosive shooting guard with above average size.
Which conference finalist will have the better 2012 NBA Draft?
27. Miami Heat: Fab Melo, Syracuse
The Miami Heat would be even scarier if they had a dominant shot-blocker to back up their already stingy defense. Syracuse's Fab Melo is an exceptional leaper with great size.
28. Oklahoma City Thunder: Draymond Green, Michigan State
Draymond Green was a star in college for Tom Izzo and Michigan State. Green can create as a point-forward type of player for the Thunder, who may not be able to hang onto James Harden forever.
29. Chicago Bulls: John Jenkins, Vanderbilt
John Jenkins makes a lot of sense for the Chicago Bulls, who like to surround the always-penetrating Derrick Rose with dead-eye sharpshooters.
30. Golden State Warriors (via San Antonio Spurs): Scott Machado, Iona
Iona's Scott Machado provides plenty of value at pick No. 30 and could potentially develop into a franchise point guard under the direction of Warriors coach Mark Jackson.
Follow Patrick Clarke on Twitter for more on the 2012 NBA draft.
This article is
What is the duplicate article?
Why is this article offensive?
Where is this article plagiarized from?
Why is this article poorly edited?