Euro 2012 Schedule: Start Times, Live Stream and TV Info for Semifinals Action
June 24, 2012

And then there were four.
Twelve teams have gone down in flames at Euro 2012, with just Portugal, Spain, Germany and Italy standing among the wreckage.
The two Iberian neighbors will kick off the semifinal action on Wednesday, while Germany will face the Italians on Thursday.
Here is everything you need to know about the star-studded final four at Euro 2012.
Portugal vs. Spain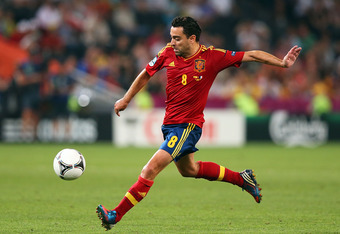 Alex Livesey/Getty Images
Date: Wednesday, June 27
Start Time: 2:45 p.m. ET
TV Coverage: ESPN
Live Stream: ESPN3.com
Player to Watch for Portugal: Cristiano Ronaldo, midfielder
Player to Watch for Spain: Sergio Ramos, defender
How They Got Here
Portugal finished second in Group B behind Germany. After losing to the Germans 1-0, they rebounded well by beating Denmark 3-2 and the Netherlands 2-1. In the quarterfinals, they defeated the Czech Republic 1-0 thanks to a brilliant header from Ronaldo, who has scored Portugal's last three goals.
Meanwhile, Spain has yet to lose a game at Euro 2012, and they've only conceded one goal, which came in their 1-1 draw against Italy. Since then, they have produced three straight shutouts, easily dispatching Ireland (4-0), Croatia (1-0) and France (2-0).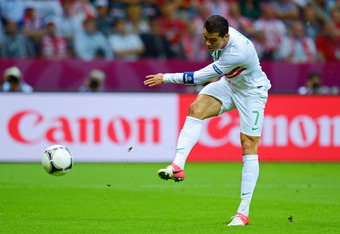 Shaun Botterill/Getty Images
Preview
This will be a fascinating matchup between two similarly potent offenses who go about their business in completely contrasting manners.
The Spaniards are defined by their possession play, their fluid and systematic passing that lulls defenses to sleep before dissecting them with surgical precision. Xavi and Andres Iniesta are the conductors of this beautiful attack, but the performances from Jordi Alba up front and Sergio Ramos in the back will likely decide the Spaniards' fate. 
For Portugal, they will be reliant on the individual brilliance of Cristano Ronaldo and Nani on the counterattack. The two wingers are pure class, and they've been in top form the last few matches.
Spain can usually recover well when opponents break out on the counterattack, but they have yet to face a player as dangerous as Ronaldo. If Spain has any lapses at all on the back line, they will be punished.
Prediction: Portugal 2—Spain 2 (Portugal wins 5-3 in shootout)
Germany vs. Italy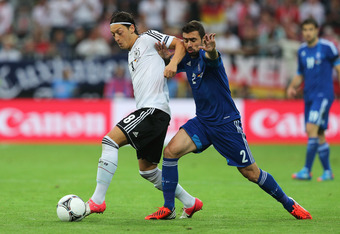 Joern Pollex/Getty Images
Date: Thursday, June 28
Start Time: 2:45 p.m. ET
TV Coverage: ESPN
Live Stream: ESPN3.com
Player to Watch for Germany: Mesut Ozil, midfielder
Player to Watch for Italy: Andrea Pirlo, midfielder
How They Got Here
Germany is the only team to win every game at Euro 2012. They emerged from the Group of Death after beating Portugal (1-0), the Netherlands (2-1) and Denmark (2-1).
In the quarterfinals, they used their superior talent to defeat Greece 4-2 in a game that was even more lopsided than the final scoreline suggests.
On the other side, the Italians have faced plenty of adversity on their way to the semifinals. After scoring draws against Spain and Croatia, they beat Ireland 2-0 to advance out of Group C.
In the quarterfinals, they beat a tough English side on penalty kicks (0-0, 4-2 on PKs). It wasn't pretty, but the Italians did what they needed to survive.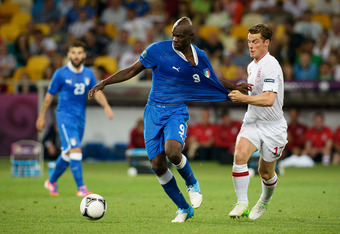 Claudio Villa/Getty Images
Preview
In another salivating matchup, look for the Italians to be on their heels for the first time since their game against Spain.
If they try to attack Germany the same way they did England and Ireland, they will be punished severely. The speed of the Germans is superior, and with the silky-smooth Mesut Ozil creating chances with his passing, Italy will be forced to pack the box with defenders.
Of course, the Italians do have some firepower of their own. Mario Balotelli, Antonio Di Natale and Andrea Pirlo are all capable of finding the net, and if the Germans get sloppy on the back line, Italy can take advantage. If the Italians are as wasteful as they were against England, though, they will have no chance of advancing to the final.
Prediction: Germany 2—Italy 1