Predicting the Offensive and Defensive Stats Leaders for the Philadelphia Eagles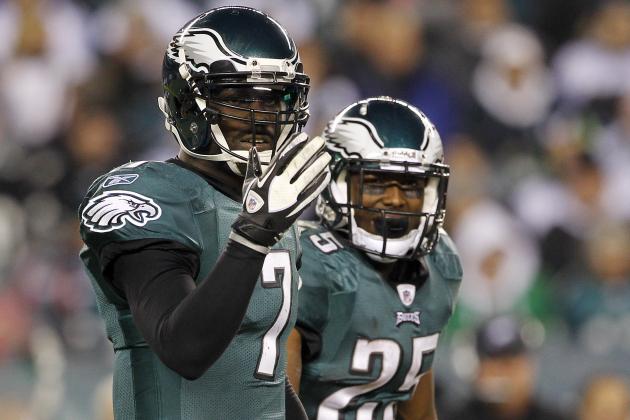 Rich Schultz/Getty Images

The Philadelphia Eagles weren't a championship-caliber team in 2011, they were a stats team. Players like LeSean McCoy, Michael Vick, Brent Celek, Jason Babin and Trent Cole all put up outstanding numbers during the Eagles' 8-8 season.
This year, the Eagles have that feel of a championship-caliber team that still has a lot of players that will put up big numbers. Last year, the Eagles were like a fantasy football team. They got a lot of yards, racked up a lot of sacks and made a lot of big plays, but they also turned the ball over and fell asleep in the fourth quarter at times.
Now this Eagles team is more focused and the chemistry fit is much better. The stars will still put up better numbers but with better chemistry on defense and larger priority on protecting the football, there will be more opportunities to record sacks and score touchdowns.
I'll take a look at the 2012 Eagles and which players have the best chance at leading the team in each major statistical category. It's a case of the usual suspects with a few newcomers having a chance to also put up some big numbers this season for a very hungry Eagles team.
Begin Slideshow

»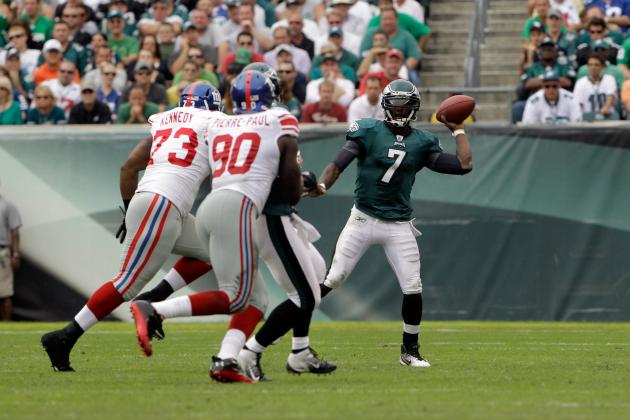 Rob Carr/Getty Images

For pretty much every NFL team outside of the Miami Dolphins and the Seattle Seahawks, there is no competition for the passing statistical categories. Quarterbacks are like an electric company, they are a monopoly in their area of expertise.
Michael Vick, barring a major injury, will lead the Eagles in every passing category. That's the easy prediction. What isn't so easy is projecting exactly what kind of a year he can have. It depends on so many factors like how many games he starts and if he can better take care of the football.
2010 was an MVP-caliber season for Vick despite only playing in 12 games.
He threw for just over 3,000 yards and had 21 touchdowns to just six interceptions. He completed 62.6 percent of his passes and had a quarterback rating of 100.2. He wasn't any healthier than he was in 2011, he just better took care of the football.
In 2011, Vick played in one more game but threw 14 interceptions, three less touchdown passes and his completion percentage fell to under 60 percent. Injuries weren't the culprit, it was more a case of mistakes on top of more mistakes.
Vick just needs to do a better job of reading defenses and not forcing the issue. He will get plenty of opportunities to make big plays, but not every play can be a 20-yard run or a 50-yard bomb. Sometimes, as a quarterback, you just need to throw the ball away and live for another down.
I predict a career year for Vick. And why not? He has a better defense around him, an offensive line built especially for pass blocking and plenty of weapons to spread the ball around to.
He should throw for around 3,500 passing yards with 23 touchdowns and around 10 interceptions. You can also expect his completions percentage to be at least 60 percent this season.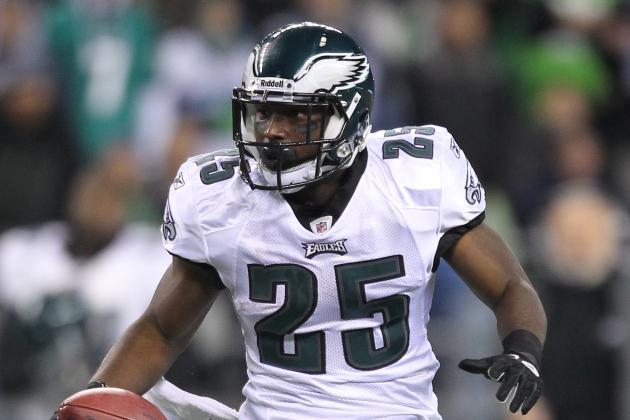 Otto Greule Jr/Getty Images

LeSean McCoy was the Eagles' running game last season. This isn't ideal for any NFL team; you want to have two good running backs ideally.
It allows you to wear defenses out without wearing out your running backs at the same time. You also would like to have two different types of running backs. Whether it's smash and dash or thunder and lightning, you want to have a good speed and power back.
McCoy was both for the Eagles last season. He has gotten a reputation for being just a speed back that can only make tacklers miss. This is a myth, McCoy is the complete package at running back.
He converted his third- and fourth-down carries into first downs or touchdowns 72 percent of the time and, according to Football Outsiders, lead the NFL in broken tackles with 50 in 2011.
McCoy ran for 1,309 yards with 17 rushing touchdowns on 273 carries. Those numbers should go down in 2012 and that's okay. It's hard to improve on 17 rushing touchdowns in the Eagles' offense. His backups, Dion Lewis and Bryce Brown should be able to help shoulder the load more this season.
Last season, the Eagles' backup running backs had just 65 carries for 238 yards. That is an average of four carries a game for 3.6 yards per carry. Dion Lewis is now in his second season and is a much more confident rusher. Bryce Brown is a rookie with a lot of potential.
You can expect the other Eagles' backs to receive a few more carries each week. It all depends on how Lewis and Brown perform during preseason. That will set the tone for the regular season. If they struggle in August, they will have to really prove themselves on limited touches in practice during the regular season.
I would expect around 100 carries this season for the No. 2 back and around 50 to 75 for the No. 3. The Eagles should look to monitor the number of carries McCoy gets going forward. With three capable running backs on the roster, there is no reason why McCoy should get 275 to 300 carries in 2012.
Look for McCoy to rush for around 1,200 yards on about 250 carries with around 12 or 14 rushing touchdowns. The Eagles will be a better running team in 2012 with a three-headed rushing attack as opposed to a one-man show.
Jim McIsaac/Getty Images

| | | | |
| --- | --- | --- | --- |
| DeSean Jackson | Receiving Yards | Receptions | Touchdowns |
| 2009 | 1.156 | 62 | 9 |
| 2010 | 1,056 | 47 | 6 |
| 2011 | 961 | 58 | 4 |
| | | | |
| --- | --- | --- | --- |
| Jermey Maclin | Receiving Yards | Receptions | Touchdowns |
| 2009 | 773 | 56 | 4 |
| 2010 | 964 | 70 | 10 |
| 2011 | 859 | 63 | 5 |
| | | | |
| --- | --- | --- | --- |
| Brent Celek | Receiving Yards | Receptions | Touchdowns |
| 2009 | 971 | 76 | 8 |
| 2010 | 511 | 42 | 4 |
| 2011 | 811 | 62 | 5 |
The Eagles don't have one true go-to receiver at this point. What they do have is three very reliable and very different type of receivers. DeSean Jackson is the speedster, Brent Celek is the physical receiver who makes plays over the middle while Jeremy Maclin is a little bit of both.
Jackson will lead the Eagles in receiving yards. He led them in yards last season when he was clearly upset over his contract and didn't always give his all. Imagine what he could do now that he has a mult-million dollar deal.
He should average between 15 to 20 yards per catch. That means it will take him a lot fewer catches to get to 1,000 yards than any other receiver on the Eagles' roster.
He had 23 catches go for at least 40 yards in his career through 2010, compared to just two last season. Jackson is poised to once again be the most dangerous man in football. With more help around him than ever before, he should put up career numbers in 2012. Over 1,200 receiving yards is not out of the question.
Receptions will be a really close race. Brent Celek is the front-runner in my book. He started to become a security blanket for Vick late in the season; after just nine receptions in the first five games, he finished the last 11 with 53.
Celek battled through a sports hernia and a torn labrum, which were both operated on during the offseason. He also spent a lot of time early in the season helping out in pass protection until the offensive line started to gel.
Celek should haul in anywhere from 70 to 80 receptions this season. The linebackers will be more concerned with LeSean McCoy in the running game while the safeties will be concerned with either Jackson or Maclin beating them deep. That doesn't mean Celek will be wide open, but it does mean he could get a head start on his routes.
I predict Jeremy Maclin will haul in the most touchdowns in 2012 for the Eagles. He had 10 in 2010 when he started all 16 games. He missed three starts in 2011 because of shoulder and hamstring injuries.
Maclin is a pretty complete wide receiver. He has great speed and really good route-running ability to go along with solid hands. He will make an occasional drop here and there, but for the most part he is pretty reliable.
If he was 6'4", he would be a top-three receiver in the NFL. By the end of the 2012 season, he might be considered the best receiver under 6'2". I would expect him to come back to his 2010 form and haul in at least another 10 touchdowns.
So there you have it. The Eagles have their speed guy, They have their possession guy and they have their best of both worlds guy. Should be fun watching these three amigos put up close to 3,000 yards, 200 receptions and 20 touchdowns between them.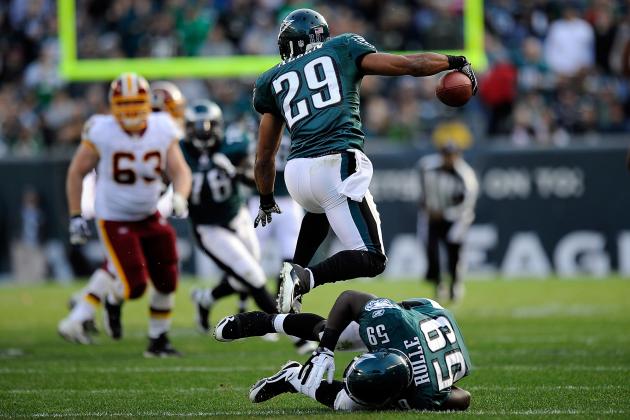 Patrick McDermott/Getty Images

The Eagles' defensive stats were misleading in 2011. They finished eighth-best in yards allowed and finished tied for first with 50 sacks. You would think that would lead to being a really good defense, but the Eagles were far from that in 2011.
The Eagles gave up over 28 points five times in 2011, and lost fourth-quarter lead after fourth-quarter lead because of a lack of defensive stops late in games. That should change in 2012 with a defense that is better suited to play together.
Asante Samuel is a great corner. So are Nnamdi Asomugha and Dominique Rodgers-Cromartie. The problem was they had three outside corners and only two outside corner spots to put them at.
They also had a press corner in Asomugha and a player in Samuel who likes to roam the field and jump routes. That requires a lot of zone coverage. Now the Eagles can strictly play press man coverage with Asomugha and Rodgers-Cromartie.
Sacks will be an exciting race all season long. The Eagles were already a really good pass-rushing team. Their defensive line alone had 46 sacks in 2011. Their top three pass-rushers, Trent Cole, Jason Babin and Cullen Jenkins combined for 34.5 sacks. 14 teams in the NFL didn't have 34.5 sacks.
The Eagles added three more outstanding pass-rushers to their line. One of which was on the roster last season, he was just a shell of his former self. Brandon Graham was out of shape and still recovering from ACL surgery last season. Now he is stronger than ever and his knee is 100 percent.
Fletcher Cox and Vinny Curry were two of the Eagles' first three draft picks last April. Cox is an outstanding inside pass-rusher. He is incredibly strong and athletic. The Eagles will move him all over the defensive line. I could see him developing into the best inside pass-rusher in the game.
Curry is another solid addition to this pass rush. He isn't a complete defensive end just yet. He will struggle in run support early in his career and is more of a pure pass-rusher right now. He will see action mostly on obvious passing downs which means he will have more opportunities to rack up sacks.
Jason Babin should lead the Eagles in sacks again in 2012 after having 18 last season. Trent Cole was second with 11, but Babin is just more of a natural pass-rusher.
There will be plenty of times this season where two defenders get into the backfield and it will depend where the quarterback goes to determine who will get the sack. Still, Babin should get around 15-20 sacks in 2012. I don't see Cole or anyone else getting any more than 12.
Tackles were a problem in 2011 for the Eagles. For the majority of the season, only the Tampa Bay Buccaneers had more missed tackles than the Eagles. Poor play from the linebackers was the major reason for this. That will change now that DeMeco Ryans is manning the middle of the field.
He has had at least 86 solo tackles in each season he has been healthy. He should rack up close to 100 to 110 solo tackles as the Eagles middle linebacker.
I believe that Nate Allen will return to his 2010 form, but with more experience under his belt. He had two interceptions in his first two games as a rookie in 2010, but has had just three in his last 26 games. That number will go way up in 2012.
He will be playing with a ferocious pass rush and two outstanding press corners. He also will play with at least one really good slot corner. and a linebacker in Mychal Kendricks who is expected to be relied on to cover tight ends alone all over the field.
This all means that Allen can really roam the field and start to read the quarterback's eyes and jump on it.