Chicago White Sox: Paul Konerko Batting Title Would Be One for the Ages
June 24, 2012

Jonathan Daniel/Getty Images
There's still a lot of games yet to be played in the season, but we are seeing a couple of interesting developments in the batting-title races for both leagues.
As of June 24, Chicago White Sox first baseman Paul Konerko is sitting atop the American League with a .346 average. Should he eventually win the title, Konerko, age 36, would become the oldest AL batting champ since 1990, when 37-year-old George Brett won the crown.
Since 1987, there have been 21 players age 30-plus who have won a batting title. The last was in 2008 when 36-year-old Chipper Jones won the National League batting title. The last 30-something player to win an American League batting championship was in 2007, when 33-year-old Magglio Ordonez had the highest average.
Following are the oldest players to win a batting crown in the last 25 years.
Player/Age/Batting Average
Barry Bonds/39/.362
Barry Bonds/37/.370
Tony Gwynn/37/.372
George Brett/37/.329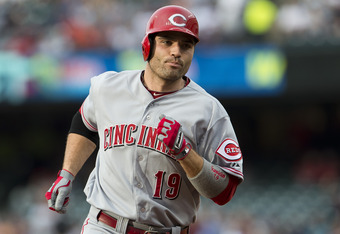 Jason Miller/Getty Images
Chipper Jones/36/.364
Tony Gwynn/36/.353
Tony Gwynn/35/.368
Of the 50 batting champions since 1987 (25 in the AL, 25 in the NL), 22 were in the age range of 25-29 when they won the title. Fifteen were between the ages of 30-34, seven between 35-39, and six between 20-24.
The most common age of a batting champ since 1987 was 29 (eight players).
The Top Five Ages
Age 29: Eight batting champs
Age 32: Five batting champs
Age 28: Five batting champs
Age 26: Four batting champs
Age 30: Four batting champs
Also interesting is—that with Konerko and Cincinnati Reds first baseman Joey Votto leading their respective leagues in batting average—we could be looking at the first pair of first basemen to win batting titles since 1993. 
That year, Colorado's Andres Galarraga won the NL batting crown with a .370 average, and Toronto's John Olerud captured the AL title, batting .363.
Since 1987, outfielders have won the most batting titles (23). Here's a look at the positions that have won the most batting titles in the last 25 seasons.
Position, Batting titles since 1987
Outfielders: 23
First Basemen: 8
Third Basemen: 8
Shortstops: 6
Catchers: 3
Second Baseman: 1
Designated Hitters: 1
Follow Jerry on Twitter @StatsonTapp