New York Giants Pre Combine Mock Draft (Day 1)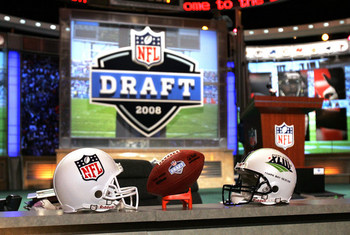 Though The Super Bowl is played in February, Super Bowl Champion teams are shaped in April. Facing a critical offseason, The New York Giants will hope to continue their recent success on draft day and continue to build towards another Lombardi Trophy.
In 2007, The Giants drafted players such as Aaron Roos, Steve Smith, Kevin Boss, and Ahmad Bradshaw. As they hunted down The Lombardi Trophy, these became household names. They truly did become a contender due to the draft class they brought in that April.
This April, The Giants look to fill a few holes on their roster which may have contributed to their fall-off in 2008. The main areas of concern for New Your are linebacker and wide receiver. This draft has alot of depth at linebacker and while the class of receivers is think at the top, there is not much to write home at that position.
Last but not least, lets not forget how the Giants reached their ultimate goal: a pass rush. All of these important areas of need should be addressed this coming April.
With The 29th Pick in the NFL Draft, The New York Giants Select...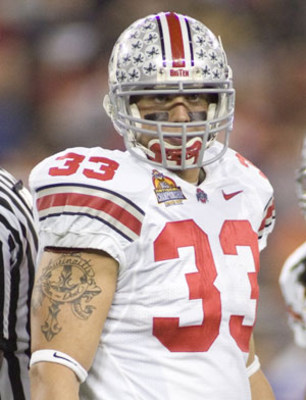 James Laurinaitis- Middle Linebacker, Ohio State University
With about 6 or 7 linebacker projected as first round prospects this year, it is not unreasonable to think that Laurinaitis could fall to #29. Typically 3-4 linebackers go first, and there are sure to be 2 or 3 defensive ends who convert to outside linebackers in the 3-4 scheme.
Antonio Pierce is not longed for the middle spot much longer, and even if he is there in 2009, Laurinaitis can play outside. His coverage skills are something the Giants certainly could use, and he is also a decent blitzer. He has all the tools and leadership skills to be a great Giant for a long time.
With The 46th pick in the NFL Draft, The New York Giants Select...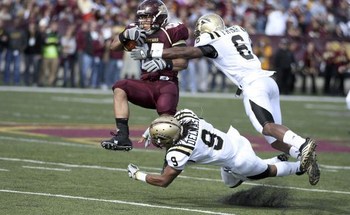 Louis Delmas- Free Saftey, Western Michigan
The Dallas Cowboys have a major need at this position and may try and leap frog The Giants for this pick. Patrick Chung is also an option here, but he is rated higher than Delmas on many draft boards and it is tough to believe that the first safety will not be selected by the #46 spot.
Either way, Delmas fits the Giant's needs ane will join an excellent young secondary in New York. At 5-11, 196, Louis Delmas is just the man New York Is looking for to compliment Kenny Phillips. Delmas is a great run stopper and reacts very quickly... Quickly enough to be the leagues next big hitter.
With The 61st Pick In the NFL Draft, The New York Giants Select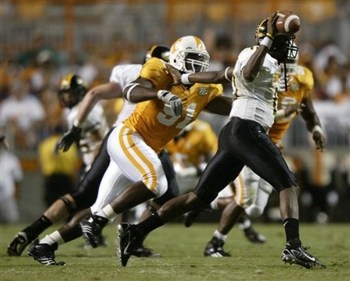 Robert Ayers- Defensive End, Tennessee
The Giants live and die by the phrase "You can never have enough pass rushers". Considering how much Tennessee trailed this year, the stats on this guy may be skewed. He truly possesses talent and has an amazing burst off the edge. His Senior Bowl performance may have risen his stock above this slot. He along with Osi and Tuck will combine to form a fantastic line during pass rush situations.
Ayers also had 27.5 tackles for a loss this year and possesses the talent to play defensive tackle as well.
On to round 3... The New York Giants Select...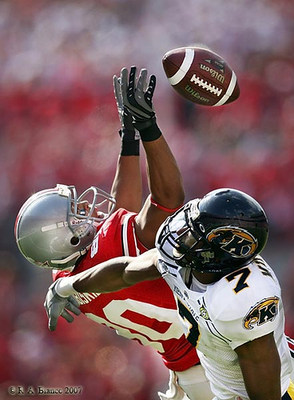 Brian Robiskie- Wide Reciever, Ohio State
In the Third round, there is still plenty of room to acquire a very talented football player, which is what Robiskie is. The Giants have not exactly been great at drafting wideouts in recent history, but with Steve Smith in 07, Mario Manningham in 08, and now Robiskie in 09, they may have just gotten it right. Many were upset with the performance of the Giant wideouts in 2008, but they were very raw. Robiskie, Manningham, and Smith could make a very deadly three wide receiver set for many years to come.
The difference with Robiskie in the scope of Giant receiver busts, is that he is 6-3, 200 lbs. As opposed to guys like Moss, this guy actually has the build of a possible #1 guy, and unlike Tim Carter, this guy has great hands. He runs a 4.5 as it stands right now, which is a speed that many said was too slow when Larry Fitzgerald ran it. At the pro level, Robiskie will make up for it with his route running skills.
Going in- house for receivers, then drafting one may be the route the Giants choose to go. That opens things up to the possibility of a trade for a guy like Tony Gonzalez, who will draw the attention away from the youngsters and into the middle. Big Blue may give up one of these picks to make that happen, but that's what makes the offseason so fascinating. Stay tuned... More Mock drafts to come.
Keep Reading