Mike Shanahan: 5 Things Washington Redskins Coach Must Do Differently in 2012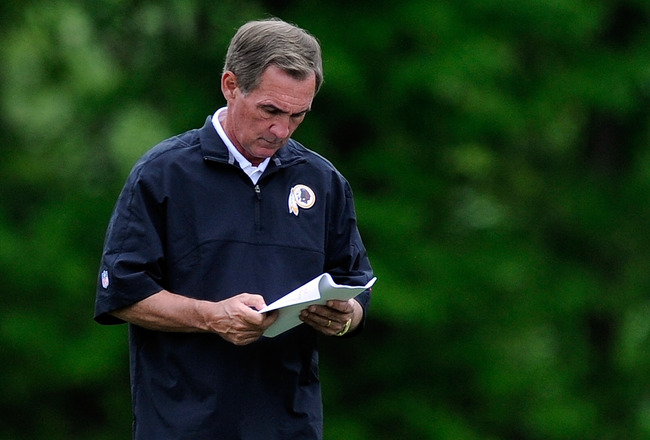 Patrick McDermott/Getty Images
Nobody is perfect, and no one is claiming Mike Shanahan is the exception to that rule. The Washington Redskins are a team with the potential to surprise the NFL depending on the play of their new rookie quarterback.
But none of the new faces or scheme changes will matter if Shanahan doesn't change the way he manages his team.
Shanahan may not be the primary voice on either offense or defense, but he needs to display some level of control over both. Even though consistency is key to the Redskins making progress, there are a number of little things that Shanahan needs to do to keep the team on the right track for the coming season.
Provide Some Transparency for the Fans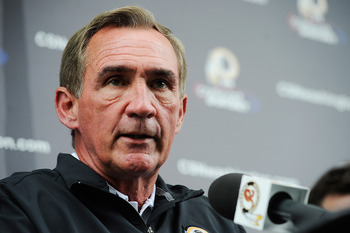 Patrick McDermott/Getty Images
No fan of any sports team wants to feel like he or she is being lied to by an owner or a coach. The majority of fans understand that a certain level of secrecy goes into game-planning, but to deceive or mislead fans is not the way to curry favor.
Mike Shanahan needs to keep the spin to a minimum if he expects fans to respond to his reassurances that the Washington Redskins are going to be competitive.
The prime example of Shanahan controlling the message is last season's quarterback competition between John Beck and Rex Grossman. Shanahan pushed Beck as the starter but preached his confidence in both players.
When Grossman was ultimately named the starter for the season opener, there was a certain level of uncertainty among fans.
Was Grossman really the man for the job after Shanahan spent so much time backing Beck? Was the confidence Shanahan mentioned having in both quarterbacks a matter of saving face after failing to upgrade the position in consecutive seasons?
Shanahan has done some great things with the roster since taking over in 2010, but he needs to be more transparent with the fans if he expects them not to mind the dust from the team's ongoing construction.
Keep Tabs on Kyle Shanahan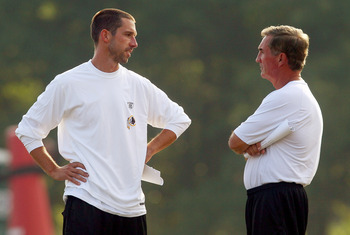 Win McNamee/Getty Images
When Mike Shanahan was hired as the head coach of the Washington Redskins, many fans rejoiced because of his history as an offensive guru.
He assembled great offensive lines, made 1,000-yard backs out of late-round draft picks and got the best out of his quarterbacks regardless of talent.
When Kyle Shanahan was named as the offensive coordinator, there were some concerns regarding Shanahan senior's involvement on offense.
Kyle had some success with the Houston Texans, due in large part to the presence of Andre Johnson. The Redskins did not have that type of receiver on their roster in 2010, but Shanahan didn't adjust his play-calling to suit the Redskins roster.
He was unable to adjust on the fly, and it led to unbalanced play-calling, as evidenced in the first meeting with the Eagles last season. The Redskins ran the ball just 12 times compared to 37 pass attempts between Rex Grossman and John Beck, with Grossman throwing four interceptions in three quarters of play.
Kyle Shanahan is still young in his NFL career, and Mike Shanahan needs to make sure he is not discouraged by stout defense trying to dictate the pace of the game.
Don't Coddle Rookies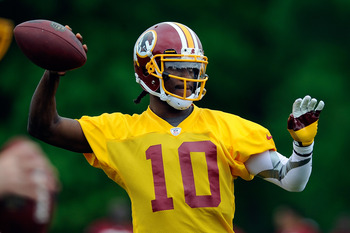 Patrick McDermott/Getty Images
Last season saw rookies Roy Helu Jr. and Evan Royster eased into the offense, mostly due to necessity rather than preparedness.
Mike Shanahan took his time in easing the two running backs into things, with Helu seeing limited touches early in the season and Royster spending most of his time on the practice squad.
The Redskins may simplify the playbook a little for Robert Griffin III's rookie season, but Shanahan can't be tentative in what he demands from his franchise quarterback.
It is natural to want to ease rookies into the NFL, but with Griffin projected to be the unquestioned opening day starter, there is no room for reining him in during the season. Let him make mistakes, and let him learn from them.
Shanahan's reputation for getting the most and the best out of his quarterbacks speaks for itself, but his unwillingness to expose rookies to the fire, let alone throw them into it, can't apply to Griffin this season.
Don't Rely on the Running Back by Committee Approach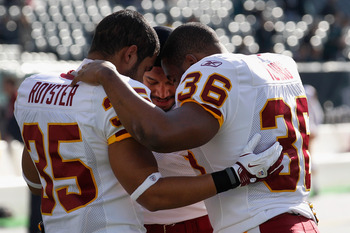 Rob Carr/Getty Images
Mike Shanahan has proven that he can get a lot out of his running backs, regardless of how accomplished they were before playing for him.
After using Terrell Davis as his workhorse in Denver, Shanahan took a running back by committee approach on offense.
The Redskins have an array of talent at running back, but Shanahan can't spend too much time balancing carries between his players.
Tim Hightower, Evan Royster and Roy Helu Jr. each made their case for deserving the bulk of the carries this season. Each player can carry the ball 20 to 25 times a game, but with three backs to appease, it is unlikely that anyone will consistently get so many carries.
Each of the Redskins running backs has his own style that could be implemented depending on the pace of the game and how the defense is playing.
Even so, it doesn't make sense to force a rotation into a game where Helu has 70 yards at halftime or Royster has broken off a couple of 15-yard rumbles through the defense.
Show Some Interest in the Defense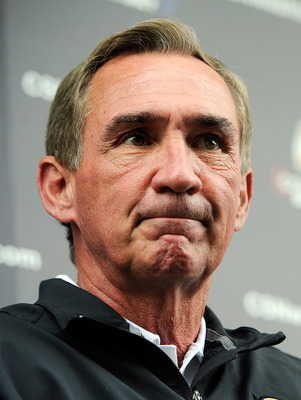 Patrick McDermott/Getty Images
Mike Shanahan is a decidedly offensive-minded coach, and there is no changing that. The Redskins defense has been the better unit and often suffers at the hands of the inept or inconsistent offense.
Though Jim Haslett runs a tight ship on defense, the Redskins cannot thrive without Shanahan paying some attention to his defense as well.
The Redskins have a coordinator on offense and defense, but Shanahan only tends to the offensive side of the ball. However much he trusts Haslett with the defense, he can't allow the unit to run without some kind of accountability.
It isn't as much of a performance issue as a concern of unity.
Washington's locker room has undergone tremendous change in terms of makeup and culture, but it can't be allowed to dissolve into offense and defense with little connection between the two.
With the defense shouldering a ton of responsibility playing with a spotty offense, there is plenty of room for dissension among the ranks.
Keep Reading

Washington Redskins: Like this team?