UFC: Each Weight Class MVP Through the First Six Months of 2012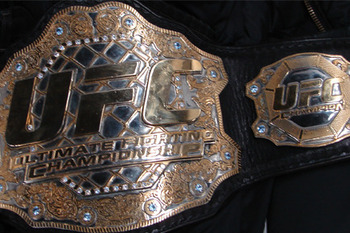 Photo Courtesy of cageinsider.com
After UFC 147 this past weekend, we are now through the first six months of UFC events of 2012. To kick off the second half, the UFC will present one of the most anticipated fight cards in history with UFC 148.
But, before we look forward to that, let's take a look at who shined during the first half of 2012. Here are my picks for the 2012 first half MVPs.
Flyweight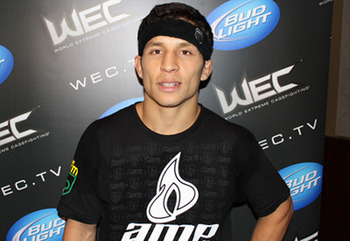 mmajunkie.com
MVP: Joseph Benavidez
Runner-Up: Demetrious Johnson
The UFC's newest division made its debut earlier this year with a four-man tournament to crown the UFC's first ever UFC Flyweight Champion. For Joseph Benavidez, it was cake. He knocked out Japan's Yasuhiro Urushitani early in the second round.
Since then, he's sat and waited for the remainder of the tournament to play out because on the same card he defeated Urushitani, the other two men in the tournament, Demetrious Johnson and Ian McCall, fought to a draw.
They would rematch a few months later, which seen Johnson defeat McCall by unanimous decision. The UFC expects later this year Benavidez and Johnson to fight to crown the first UFC Flyweight Champion.
Bantamweight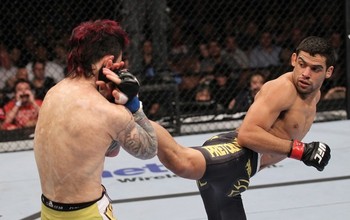 portalbraganca.com.br
MVP: Renan Barao
Runner-Up: Eddie Wineland
It may seem a little crazy to call a man who's only fought once in 2012 the division's MVP, but for Barao, things have just fallen in place.
His one victory in 2012 was against Scott Jorgensen, but now, with UFC Bantamweight Champion Dominick Cruz injured, Barao will take a huge jump in competition when he faces Urijah Faber in the main event at UFC 149.
Eddie Wineland only has one win himself in 2012, but after going 0-2 in the UFC in 2011, he delivered with a much needed win and knockout on Scott Jorgensen at UFC on FX: Johnson vs. McCall.
Featherweight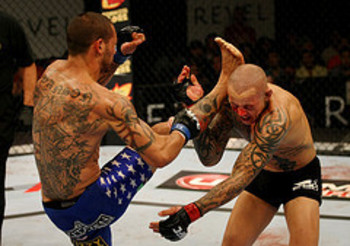 Photo by Nick Laham/Zuffa LLC/Zuffa LLC
MVP: Cub Swanson
Runner-Up: Charles Oliveira
Cub Swanson lone fight in 2011 ended in defeat to Ricardo Lamas by submission. 2012 has already been much more successful for Swanson seeing that he is coming off back-to-back knockouts against George Roop and Ross Pearson.
Swanson is one of the most talented strikers in the UFC's featherweight division and possible match-ups with guys like Dustin Poirier and "The Korean Zombie" make Swanson a must-see fighter for the remainder of 2012.
Oliveria decided to drop to 145 at the beginning of the year and has seemed unstoppable since. He's now 2-0 in 2012 with submission wins over both Eric Wisely and Jonathan Brookins.
Lightweight
Photo by Esther Lin via MMA Fighting
MVP: Ben Henderson
Runner-Up: Nate Diaz
Defeating Frankie Edgar and becoming UFC Lightweight Champion makes Ben Henderson the MVP in my eyes. After the wars Edgar and Gray Maynard put on in 2011, it made Edgar look like a lightweight that couldn't be stopped, but at UFC 144, Henderson put a stop to all that talk.
Former champion Frankie Edgar will receive a rematch against Henderson at UFC 150 in August and another win for Henderson will show if he deserves this MVP slot.
Nate Diaz went 2-2 in 2011, but since dropping back down to lightweight at the end of 2011, we've seen the new and improved Nate Diaz.
After his impressive performance against Donald Cerrone at UFC 141 at the end of 2011, the lightweight division was put on notice, but Diaz's amazing showing against Jim Miller at UFC on Fox 3 was an ever bigger eye opener. Now, Diaz looks to receive a title shot some time towards the end of 2012.
Welterweight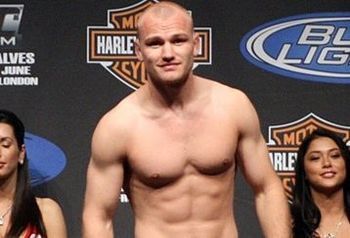 bleacherreport.com
MVP: Martin Kampmann
Runner-Up: Matt Brown
The UFC's welterweight division is a mess to say the least right now; therefore it's hard to pick an MVP. While many might say Condit due to him becoming the Interim Welterweight Champion, it's hard for me to give the MVP to a champion that won't defend the championship.
Therefore, the second obvious choice is Martin Kampmann. After seemingly being just a great gatekeeper for the division, so far in 2012, Kampmann has stepped up significantly defeating former title contender Thiago Alves by submission and Jake Ellenberger by knockout.
In both fights Kampmann looked just minutes away from defeat, but would make his comeback to pick up the wins. Kampmann will now more than likely meet Johny Hendricks to crown a new welterweight number one contender.
Matt Brown has also been very impressive in 2012 going 3-0 with wins over Chris Cope, Stephen Thompson, and Luis Ramos. A few more wins and we could be talking about Brown being a serious contender in the division.
Middleweight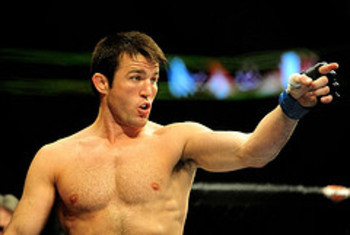 Mark J. Rebilas-US PRESSWIRE
MVP: Chael Sonnen
Runner-Up: Alan Belcher
Chael Sonnen is just a week away from the biggest fight in his career—maybe in the history of the UFC—but with his lone victory over Michael Bisping, he's already my choice for mid-season MVP.
One of the hardest things to do in any sport is get back to the championship and after sitting out for more than a year. In coming back and defeating Brian Stann and Michael Bisping, Sonnen has accomplished just that.
Now, we will all be rewarded with seeing one of the most anticipated rematches in UFC history when Chael meets UFC Middleweight Champion Anderson Silva at UFC 148.
Alan Belcher put the division on notice with his impressive TKO win over leg-lock master Rousimar Palhares. Even when Palhares caught one of Belcher's legs, he remained calm, escaped, and unleashed some serious damaging ground-and-pound on Rousimar to pick-up a huge victory.
Light Heavyweight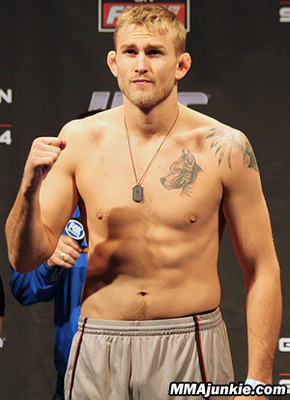 mmajunkie.com
MVP: Alexander Gustafsson
Runner-Up: Jon Jones
The light heavyweight division has been rather quiet in 2012, but one name that stands out to me is Alexander Gustafsson. Gustafsson has only fought once in 2012, but it was an impressive one when he out-struck and overwhelmed Thiago Silva at UFC on Fuel TV: Gustafsson vs. Silva.
Two other men I considered were both Jon Jones and Ryan Bader. Jones, who defeated rival Rashad Evans at UFC 145, has recently been in the limelight for the wrong reasons after he was arrested for DWI in May.
Bader shocked many when he defeated former UFC Light Heavyweight Champion Quinton "Rampage" Jackson at UFC 144 in Japan.
Heavyweight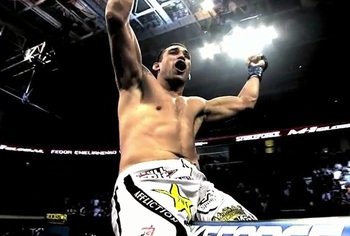 bleacherreport.com
MVP: Fabricio Werdum
Runner-Up: Stefan Struve
After only fighting a total of three times combined in 2009, 2010, and 2011, Fabricio Werdum is already 2-0 in 2012. The usual skillful grappler has had his striking on display in his two victories over "Big Country" Roy Nelson and most recently Mike Russow at UFC 147 in Brazil.
Not to be ignored though is the talented Dutchman Stefan Struve. In 2012, Struve has knocked out Dave Herman and submitted Lavar Johnson. Struve will look to continue his winning ways in the main event at UFC on Fuel 5 in September against Stipe Miocic.
Keep Reading