LeBron James: The Truth on Why Everyone Hated the King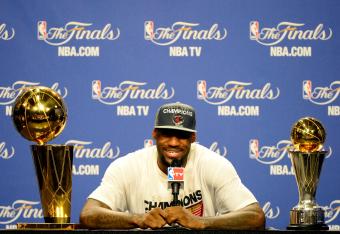 LeBron captured his first NBA championship last week.
Ronald Martinez/Getty Images
It's safe to say that everyone has their own opinions of LeBron James.
It's also safe to say that those who had negative thoughts about the three-time MVP changed significantly when the Miami Heat won the NBA championship on Thursday night, with LeBron averaging over 28 points and 10 rebounds en route to earning the Finals MVP.
But it wasn't always this way.
If you remember back to when he was the big-time baller in Cleveland, his love-hate ratio was very significant. Not many people hated him because they knew that every time LeBron took the floor, he was going to be clearly dominant.
After seven years in the league and only leading the Cavaliers to one NBA Finals appearance, the NBA turned on its head when LeBron made his decision to move to South Beach and play with Chris Bosh and Dwyane Wade.
As we all know, that's where the proverbial hate began. At least, from the start, in Cleveland.
But why did the masses who used to cheer this man because of his greatness begin to boo him in every arena across America? Was it because of the infamous letter that Dan Gilbert wrote to the city of Cleveland, proclaiming the Cavs would win a championship before the Heat did? Was it because many believed he "sold out" by joining forces with two top-15 players?
No and no.
The reason why everyone began to hate LeBron is quite simple, but it hasn't been said as much as it should be: It was because of the media.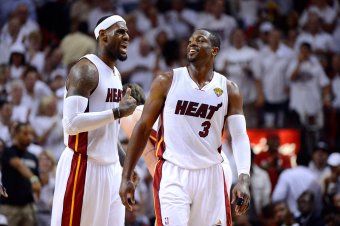 Ronald Martinez/Getty Images
Obviously, there's no question that LeBron could've handled the decision much better than going on ESPN and having an interview with Jim Gray. Sure, the benefits of the special went to the Boys and Girls Club, but it could've been executed much more efficiently.
As a result, in the midst of Cleveland natives turning cars and burning any LeBron jersey they could get their hands on, he officially became the biggest villain in NBA history—nastier than any tough-nosed defender that ever took the court.
But if it wasn't for the media overblowing the issue more than they did, along with pinpointing every move that LeBron and his teammates made on and off the court, who's to say that the general perception of him wouldn't have changed?
Instead, you had nimrods like Skip Bayless get on the air every single day and say the same things he had been saying for the longest time, just to further drive the point home to those who are heavily reliable on any experts' thoughts and opinions.
Then, after the Heat fell short in the NBA Finals against the Dallas Mavericks last year, it became much more easier to hate LeBron and the Heat. Why? Because every topic across the country turned into talking about LeBron and his disappearance in the finals.
Was some of the animosity self-imposed? Sure; there's no one who will say that it wasn't. But was it getting old? Without question.
Even during the NBA lockout, ESPN found any way they could to implement LeBron into their daily conversations, as if there wasn't enough going on already that could've been talked about.
He tweeted ESPN NFL insider John Clayton during the lockout to ask what the deadline was to sign with an NFL team before the season started. Before you knew it, everyone took a harmless, joking tweet and turned it into the biggest problem imaginable.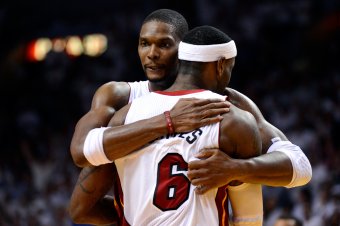 Ronald Martinez/Getty Images
By the time the season started, it was championship or bust for Miami and LeBron. It was clear that they had to win this year, or else big changes would be on the horizon in South Beach.
But when the Heat started dominating in the early portion of the playoffs and LeBron was putting up over 30 points and close to eight rebounds a game, the hate started to cease and the love and hope of him capturing that championship had risen from the grave. But the hate and doubt didn't stop.
Against the Indiana Pacers, down 2-1 without Chris Bosh in the lineup and turmoil brewing between Wade and Erik Spoelstra, LeBron responded with 40 points, 18 rebounds and nine assists as Miami won the next two to finish the series in six.
Yet the doubters still lurked, and they even stuck around for the majority of the Boston series.
Until Game 6, that is. Forty-five points, 15 rebounds and five assists later, along with a clutch three-pointer in Game 7, the end of the hate was inevitable.
Finally, everything that the doubters and critics said LeBron couldn't do was proven wrong in the finals against Oklahoma City, where he proved he could be clutch and could dominate a game in many ways.
The series had LeBron's fingerprints all over it. The two free throws and the tough bank-shot in Game 2 to tie the series at a game apiece, the big-time three after suffering the dreaded cramps in Game 4 and finally posting a triple-double in the close-out Game 5 to seal the deal.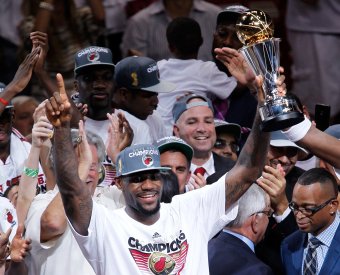 Mike Ehrmann/Getty Images
Now everybody that hated him loves him again?
It just goes to show you that sports media in today's day and age has increasingly made things more complicated than need be, and many people have become easy to manipulate if they listen to someone they know that has a voice and isn't afraid to use it.
It's been awhile that one has gone on YouTube and seen a LeBron video that has the "like" bar outweighing the "dislike" bar. Those are the people who probably say that one ring isn't good enough.
Now that he's won a championship, he finally gets the respect he deserves. In retrospect, that's always beneficial, but it'll become a problem yet again if media members continue to critique every move he makes.
LeBron has finally earned the right to look the haters and critics in the face, show them his ring and walk away. He did what every person wanted him to do.
If that's still not good enough for you, I don't know what to tell you.
This article is
What is the duplicate article?
Why is this article offensive?
Where is this article plagiarized from?
Why is this article poorly edited?

Miami Heat: Like this team?