Rafael Nadal: Why Injury Won't Keep Rafa from Greatest Status
June 25, 2012

Julian Finney/Getty Images
Rafael Nadal will go down as one of the greatest tennis players to ever play the game when he decides to hang it up.
In fact, despite his injury history, Nadal still has the opportunity to go down as the greatest tennis player to ever step onto a court. 
Nadal is the king of the French Open; winner of the Grand Slam seven times. No other tennis player can say they did that at the French Open. He has won all four Grand Slam events in his career; 11 total Grand Slam victories.
Oh, and he's a Gold medal winner, too.
Nadal turned 26 years old earlier this month. He has plenty of Grand Slams and other matches to win before his career is said and done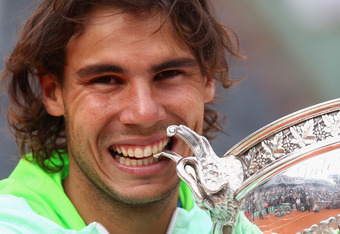 Julian Finney/Getty Images
People were seriously doubting Nadal's status heading into the 2012 French Open. They were saying that he is as beatable in this event as ever before. They were saying that his injuries could be his demise.
They were wrong.
Not only did Nadal dominate, but he only lost one set in the entire tournament—just one. What's more, that was to world No. 1 Novak Djokovic, a player who performed as well as anybody in the history of the sport in a one-year span.
Nadal made Djokovic look like he was two steps below his level of greatness. 
People can bring up his injury history or the fact that he is getting up there in age, but in reality, that's not the case. He has had injuries, but he's battled through them; he's a warrior. 
His age isn't a great argument, either. He just turned 26, an age that is getting up there in tennis, but certainly not an age worth noting yet. 
We have been lucky to watch Roger Federer, Djokovic and Nadal in their prime. As Federer slides down the mountain, Djokovic moves up and Nadal stays the same, tennis is set for another five years of historic battles.
Nadal will have a great opportunity to be the best of all time over the next five years. Injuries won't be an issue. If anything, his injuries and the way he fights back will be one of the things we will remember him for.
Not the other way around.