Deron Williams, Dwight Howard and Dirk Nowitzki Would Beat Miami's Big 3
June 25, 2012

Chris Chambers/Getty Images
Deron Williams could be playing for the Dallas Mavericks during the 2012-13 NBA season. According to ESPN's Marc Stein, the Brooklyn Nets' superstar point guard has narrowed his list of potential destinations to just Dallas and Brooklyn.
Assuming Williams opts for the more immediate shot at a world championship and heads to Dallas, the Mavericks could be an entirely different team next year. Having one of the league's top five point guards would instantly make the Mavericks a very desirable location for another superstar who could potentially be on the move in Dwight Howard.
And because Mark Cuban and Donnie Nelson essentially stood pat during the last two offseasons, Dallas could be in a position to acquire both Howard and Williams. That would arguably be as big a coup as Miami's 2010 spending spree that saw the Heat add LeBron James and Chris Bosh to their roster.
The Mavericks currently have several tradable assets to work with. The list includes proven veterans like Lamar Odom and Shawn Marion, young talents who have shown potential like Rodrigue Beaubois and Brandan Wright, sheer size in Brendan Haywood and multiple draft picks over the next two seasons.
Combine that with the fact that Jason Kidd and Jason Terry's $10 million-plus contracts are coming off the books, and you can start to see how much wiggle room Dallas management has this summer. The only player who isn't going anywhere is Dirk Nowitzki.
If the Mavericks offered the Orlando Magic a package of Lamar Odom, Shawn Marion, Rodrigue Beaubois, Brandan Wright and their first-round draft picks in each of the next two drafts for Howard and then found someone in need of size to take Brendan Haywood off their hands, they'd only have two big contracts on the books (Howard and Nowitzki).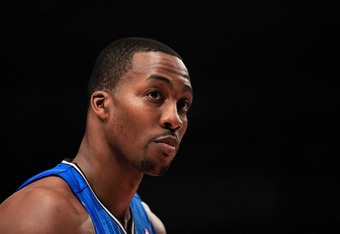 Chris Trotman/Getty Images
With Terry and Kidd's deals expiring, they'd have money to still sign Williams (a sign-and-trade may still be needed to facilitate this).
A "Big Three" of Dirk, Deron and Dwight (Triple-D, if you will) would instantly be considered as strong a contender for a title as Miami and the Oklahoma City Thunder.
The biggest strength of the would-be Dallas trio would be an almost perfect inside/outside balance.
Even after back surgery, Howard will easily be one of the league's top two centers (his only competition is Andrew Bynum). He can dominate a game inside as well as any big man we've seen in the last five years.
As recently as a couple seasons ago, Williams was considered by many to be the best point guard in the NBA. His ability to score and distribute is rivaled only by the Clippers' Chris Paul
Then of course there is Dirk Nowitzki, who led the Mavericks to the 2011 NBA championship with his unrivaled mid-range game. He's the perfect floor-spacer for the potentially devastating pick-and-roll combo of Williams and Howard. 
Throw in a few veteran defenders and shooters like Miami did this past year, and Dallas becomes a nightmare for the rest of the league.
Even the recently crowned King James would have reason to worry. Dwyane Wade is on the way out of his prime, and Chris Bosh is outmatched by both Nowitzki and Howard. The Mavericks wouldn't have an answer for LeBron, but no one else does either.
But Dallas has beaten Miami with complete team basketball under Rick Carlisle's guidance before, and you'd have to like their chances to do that again with a "Big Three" of Dirk, Deron and Dwight in place.
Andy Bailey is on Twitter. Follow @Andy_Bailey.