Predicting Statistics for Each New York Giants Offensive Starters in 2012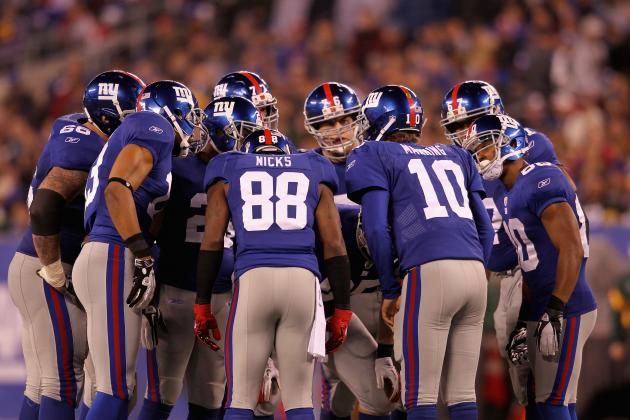 Nick Laham/Getty Images

The New York Giants offense put up some stellar numbers during their 2011 Super Bowl campaign, but will the team be able to duplicate or surpass those numbers in 2012?
That remains to be seen, but there is no denying that the Giants' appear to better on paper coming into this season than they were in 2011.
The team replaced Brandon Jacobs will David Wilson, Jake Ballard with Martellus Bennett and Mario Manningham with Ruben Randle, and while Wilson and Randle are unproven, I believe that they will duplicate or surpass the numbers that their predecessors' put up.
Here are statistical predictions for each New York Giants offensive starter in 2012.
Begin Slideshow

»
Al Bello/Getty Images

2011 Stats: 4,933 yards, 29 touchdown passes, 61 percent completion.
2012 Prediction: 4,850 yards, 34 touchdown passes, 63 percent completion.
Eli Manning was phenomenal throughout the entire 2011 season.
The quarterback had a career year that was finished off with a Super Bowl title, but he was disrespected and is certainly more deserving of a higher placement on the NFL's Top 100 players list after being ranked as the leagues' 31st best player.
I expect Manning to duplicate the numbers that he put up last season, which will guarantee that he receives more respect throughout the league and country.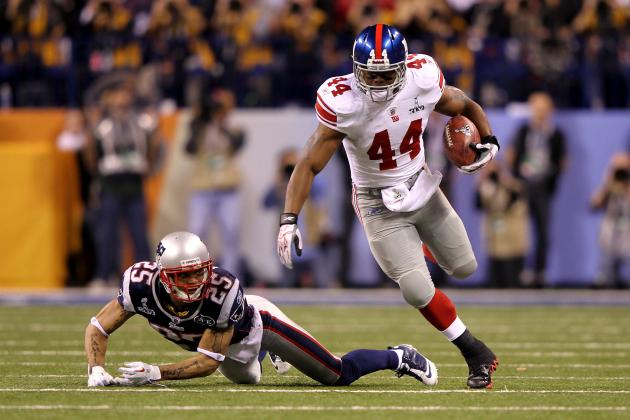 Jamie Squire/Getty Images

2011 Stats: 659 yards, 3.9 yards per carry, nine touchdowns.
2012 Prediction: 800 yards, 4.1 yards per carry, five touchdowns.
Ahmad Bradshaw was the leading rusher on the Giants' 32nd ranked rushing attack last season, which is not saying much.
The running back was banged up all season long, and poor play from the offensive line did little to help his cause.
The offensive line should be improved from last season's horrendous display, and the acquisition of David Wilson should be an upgrade over the aging Brandon Jacobs. Don't be surprised if Wilson takes the starting role from Bradshaw at some point this season.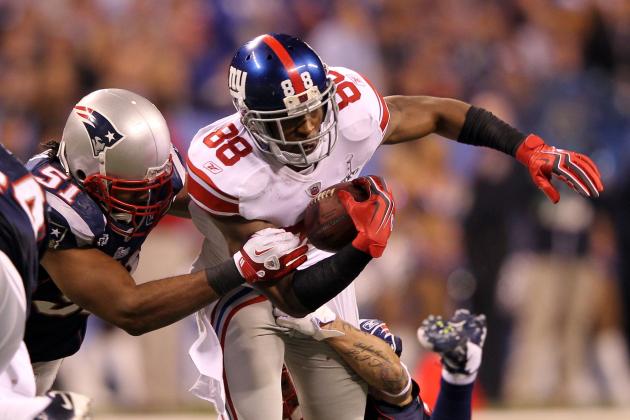 Jamie Squire/Getty Images

2011 Stats: 76 receptions, 1,193 yards, seven touchdowns.
2012 Prediction: 83 receptions, 1,345 yards, nine touchdowns.
Let me begin by saying that Hakeem Nicks is severely underrated.
The receiver is one of the NFL's best route runners and he plays in one of the league's toughest divisions, not to mention one of its toughest environments. Nicks was a man amongst boys in the playoffs as he racked up 444 yards on 28 receptions, with 10 of them coming in the Super Bowl.
Nicks is currently dealing with a broken foot, but I expect the receiver to be completely healthy by the time Week 1 strolls around. Teams will be looking at Victor Cruz more often than they were last season, which will allow Nicks to see more one-on-ones this season.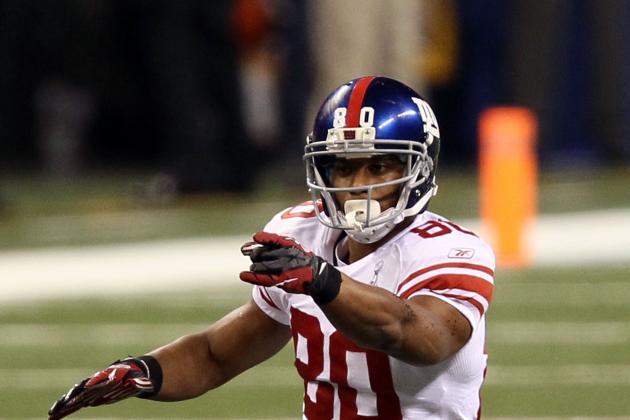 Win McNamee/Getty Images

2011 Stats: 82 receptions, 1,536 yards, nine touchdowns.
2012 Prediction: 89 receptions, 1,270 yards, eight touchdowns.
Victor Cruz literally came out of nowhere last season.
The wide receiver tore up the NFL in 2011 as he finished third amongst receivers in receiving yards for the season. Cruz will attempt to follow up his stellar 2011 campaign, but it will not be easy as teams start to revolve their game plans to shut down the young receiver.
Its hard to see Cruz disappearing after a truly amazing season, but I do expect a drop in numbers as teams learn how to shut him down.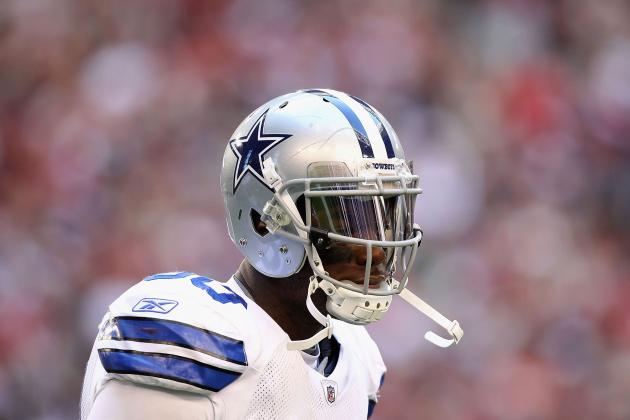 Christian Petersen/Getty Images

2011 Stats: 17 receptions, 144 yards, zero touchdowns.
2012 Prediction: 32 receptions, 312 yards, two touchdowns.
Martellus Bennett has spent his entire career backing up Jason Witten for the Dallas Cowboys, but he will now have the opportunity to be the main weapon with the Giants this season.
Bennett is a much better run blocker than he is as a receiver, but he will see more balls thrown to him as his workload increases. Bennett should be a big time contributor for the Giants this season, especially in the running game.