Fantasy Baseball: 4 Start-or-Sit Matchups for June 25-July 1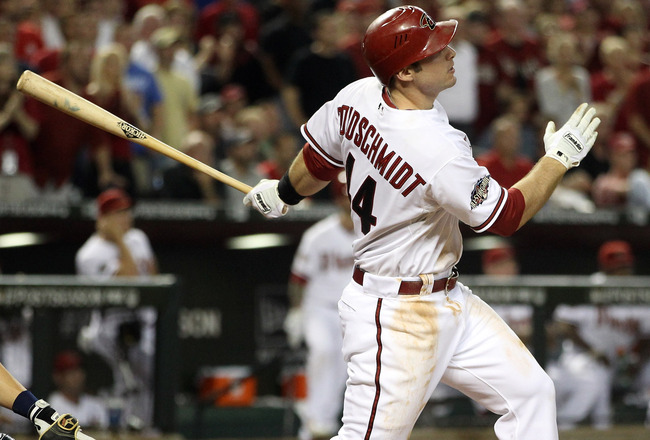 Diamondbacks first baseman Paul Goldschmidt has been raking the ball of late, notching eight homers, 16 RBI, three steals and a .354 batting average since May 26.
Christian Petersen/Getty Images
The following slideshow touts four start-or-sit matchups to consider for fantasy Week 13 (June 25-July 1), featuring four hitters and four starting pitchers.

All four battles involve players at the same position or hitting slot, with similar circumstances heading into this week's action.

For example, the two hitting comparisons feature batters with only six games for the week, and both pitching matchups include one-start assets during the current seven-day window.

Enjoy the show!
Starting Pitcher: Adam Wainwright vs. Jeff Samardzija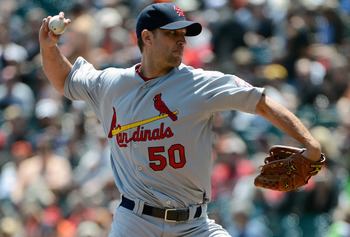 Thearon W. Henderson/Getty Images
Don't look now, but Adam Wainwright (3.69 ERA, 1.18 WHIP since May 26) is steadily recapturing the mojo that preceded his major elbow surgery.

Sure, he had a clunker against the Mets on June 1 (allowing seven runs on the same night Johan Santana threw a no-hitter); but since that historic evening, Wainwright has surrendered only eight runs in 26.2 innings (2.75 ERA), while collecting two wins and 27 strikeouts.

On the flip side, Samardzija (5-6, 4.34 ERA, 1.37 WHIP) has stumbled since his April breakout, losing five of his last six decisions and giving up more runs (16) than innings pitched (14) in his last three outings.

To be fair, though, he has racked up six-plus strikeouts in four of his last five appearances. That has to count for something, right?

Meh. Advantage, Wainwright (vs. Pirates) over Samardzija (vs. Mets).
First Base: Paul Goldschmidt vs. Eric Hosmer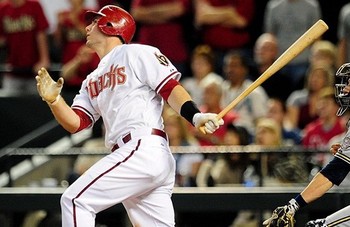 Photo Credit: US PRESSWIRE
Paul Goldschmidt is a confounding fantasy asset right now.

From a seven-day (two homers, .421 batting) and 30-day perspective (three steals, eight homers, .354 batting), he's been one of the most dynamic first basemen in all of fantasy.

But from the 15-day marker, Goldy incredibly found time to wedge a big slump between two bigger surges.

So, what to believe here...two bouts of good Goldy, or one bout of bad Goldy? (The answer in a minute.)

Regarding Hosmer, his numbers since June 18 (.091 batting) and June 10 (.146 batting) have been deflating. Need we go on with this battle of similarly skilled power hitters?

Verdict: Goldschmidt (six road games against Atlanta, Milwaukee) over Hosmer (six games against Tampa Bay and Minnesota).
Starting Pitcher: Felix Hernandez vs. Chris Sale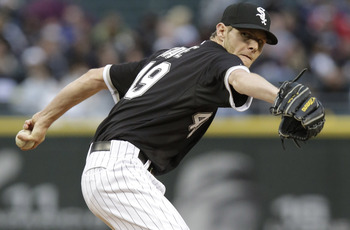 John Gress/Getty Images
Chris Sale hasn't really had a drop-off since his 15-strikeout gem against the Rays on May 28, collecting two wins and 28 more strikeouts in that span.

But the real fantasy greatness occurred before his onslaught of Tampa Bay batters. In eight of his last nine starts (we're conveniently ignoring that one blown save during his infamous 'closer' week), Sale has allowed just two or less runs seven times. In that May 1-June 22 window, Sale boasts a 62/16 K-BB ratio. Jackpot!

King Felix (5-5, 3.36 ERA, 1.27 WHIP, 101 Ks) has certainly adapted the lifestyle of Sale in his last two starts, notching one victory and 17 strikeouts, while yielding only two runs. As for the track record beyond that, does it really matter if Hernandez was struggling or not? (He was.)

After all, fantasy owners have been expertly trained to look for the faintest signs of a Felix cycle of devastation, and convincing victories over two National League clubs just might spark that run.

Obviously, if you have room to start both Sale (@ Twins) and Felix (vs. Red Sox) this week, you do it. But when it comes to a final decision, I'd side with Sale against Minnesota.
Utility Spot: Trevor Plouffe vs. Mark Trumbo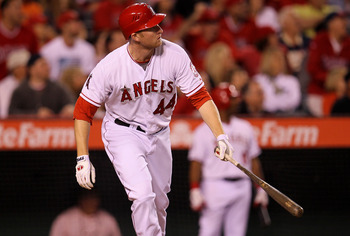 Stephen Dunn/Getty Images
As luck would have it, the Plouffe vs. Trumbo matchup is the precise conundrum that I'm pondering in a weekly league.

Here's the tale of the tape:

Plouffe (11 HR, 19 RBI, .326 BA since May 26) has six home clashes with the White Sox and Royals.

Trumbo (11 HR, 30 RBI, .320 BA since May 26) has six road games against the Orioles and Blue Jays, clubs that are either having trouble getting people out...or fielding the same starting rotation every week.

Verdict: As much as I love Plouffe's progress, I can't deny the opportunity to start Trumbo, and his daily average of 0.3 homers and 0.97 RBI (at least in the last 30 days).

Note: Plan B, which involves benching either Miguel Cabrera or Prince Fielder (seven games this week), was never really an option.

These are the problems that accompany lucky drafters in March.
Keep Reading