England vs. Italy Euro 2012: Key Players to Watch in the Quarterfinal Clash
June 24, 2012

Laurence Griffiths/Getty Images
As England and Italy prepare to meet in the final match of the quarterfinal round, there are many factors that will determine the outcome and who will continue their pursuit of a championship.
The winner advances to the semifinals to face Germany, who knocked off Greece 4-2 in their quarterfinal battle. Neither England nor Italy are considered favorites out of the teams that are left, but for their individual meeting, they are on equal ground.
To tip the balance in their favor, several players will be key to their respective team's success. Here are four players who will be the most crucial.
Andrea Pirlo
Even at age 33, Italy's midfielder is still considered one of the best in the world.
With his unbelievable vision and awareness, Pirlo is a precise passer who can squeeze it through any lane. During the group stage, he was directly involved in all four of Italy's goals.
If Pirlo can get control of the game and contribute, the Italian team should expect a great outcome against England.
Mario Balotelli
Mario Balotelli is the biggest factor in this matchup. The 21-year-old is one of the most talented yet one of the most unpredictable players in the world.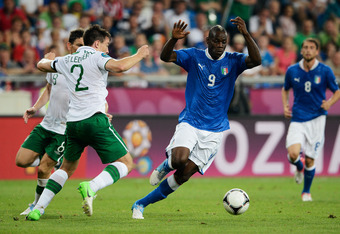 Claudio Villa/Getty Images
When the Italian striker is levelheaded and under control, he is a terror for opposing defenses and goalkeepers. His blazing speed, quick footwork and ball skills allow him to fly by and light up the scoreboard.
However, Balotelli can easily become a distraction. His latest stunt is admitting to having a fling with Wayne Rooney's call girl.
Whichever Balotelli decides to show up against England will play a very important role in determining Italy's fate in their quarterfinal match.
Steven Gerrard resumed his England captaincy at the Euro 2012 Championships, and so far, it seems to have paid off.
At 32, England's leader has shown incredible physicality and an immense ability to control the game. His passing and work on set pieces and crosses have led to several of England's goals and are a major factor in their success.
The central midfield will play a key role in England's matchup with Italy. If Gerrard can get off to a fast start and gain control early, England should have no problem handling the Italians.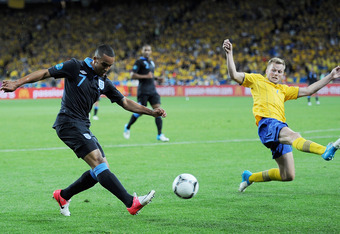 Christopher Lee/Getty Images
Theo Walcott
After his performance in England's second match against Sweden, many people believe Theo Walcott earned himself a spot in the starting lineup.
The wide midfielder entered the match with England trailing 2-1. Walcott tied it up with his own looping shot and then dished the assist for Danny Welbeck's game-winning goal.
Walcott is a valuable substitute for England who can easily be turned to if the match gets tough. His speed is lethal, especially when he comes in fresh off the bench and the opposing defense is tired.
Walcott's quickness and play off the English bench will be crucial to the Three Lions' success in this quarterfinal play against Italy.